LCI Industries Keeps Riding the RV Boom to Growth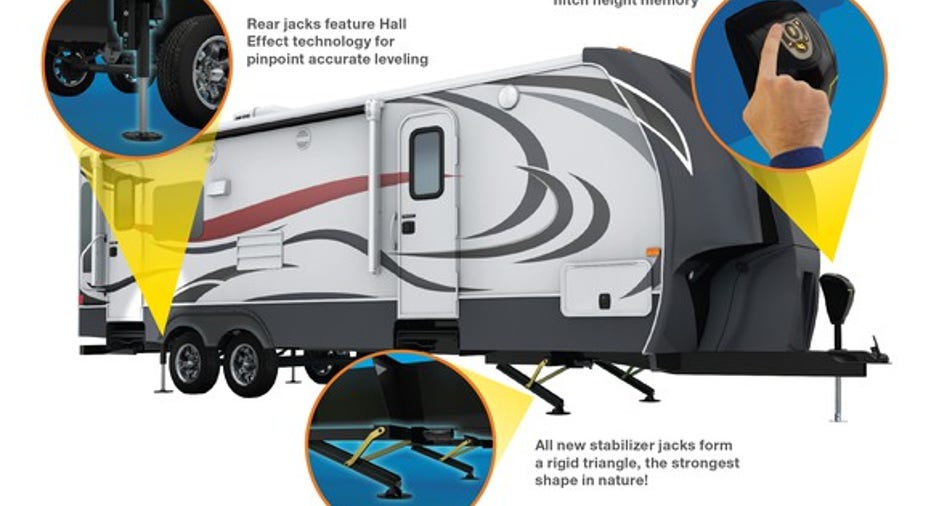 LCI Industries (NYSE: LCII) has a new name, but the company's focus on serving the booming recreational-vehicle (RV) industry remains in full force. The company formerly known as Drew Industries has done a good job of capturing its fair share of the market for making components and other products that show up in a wide variety of RVs.
Coming into Thursday's fourth-quarter financial report, LCI investors were expecting that the component maker would continue to participate in the success of the industry, and LCI largely delivered on that front.Let's look more closely at LCI Industries to see how it did, and what's ahead for the RV-component specialist in 2017.
Image source: LCI Industries.
LCI Industries finished 2016 strong
LCI Industries' fourth-quarter results were extremely encouraging to investors. Sales were up 21%, to $403 million, showing an accelerating growth pace and easily topping the consensus forecast for about $376 million in revenue. Net income climbed more than 60%, to $26.3 million, and that worked out to earnings of $1.05 per share. That was $0.09 better than what most investors had expected to see from LCI.
Looking more closely at the numbers, LCI enjoyed success throughout its business. The key original equipment manufacturing (OEM) division matched the 21% growth rate for the entire company, with solid growth in travel trailers and fifth wheels, and especially strong performance in the motorhome arena, where sales jumped by more than a third.
Acquisitions played a role in LCI's top-line growth, adding $17 million in net sales during the quarter. Adjacent industry revenue picked up the pace, as well, posting revenue growth of 14% for the quarter. Operating profit for the OEM segment climbed by nearly two-thirds from where it was in the fourth quarter of 2015.
LCI's aftermarket segment also had encouraging results. Sales climbed 16%, and operating profit inched upward by a bit more than 1%. However, aftermarket sales still make up a tiny portion of the company's overall business, representing about 7.5% of the total top line and less than 10% of its operating profit.
Every quarter, LCI works to boost the value of the components and products that go into every newly made recreational vehicle, and 2016 was a good year for the company. LCI content per travel trailer or fifth wheel rose $35, to $3,022, over the past 12 months, and content per motorhome climbed a more impressive $201, to $2,011. The company said that new product introductions provided part of the gains, along with acquisitions and a change in product mix sold by industry dealers.
CEO Jason Lippert discussed how strong the industry is right now: "2016 RV industry volume outpaced 2015 each quarter, as 2016 fourth quarter wholesale travel trailers were up nearly 24% and fifth-wheels were up over 10%." The CEO once again noted how a new generation of customers has stepped up to make a big impression in the recreational-vehicle market.
Can LCI Industries go any faster in 2017?
LCI also said that 2017 has started off extremely well. January sales of $149 million were up 18% from the first month of 2016, and Lippert noted that, "as the industry prepares to meet the anticipated demand of the 2017 spring and summer seasons, I am encouraged by January sales following up on a strong fourth quarter."
LCI has a particularly strong opportunity to respond to moves from the RV manufacturers it serves. In its quarterly conference call following the release of the report, Lippert pointed out that, "our RV OEM partners are making serious capital investments by adding several new facilities" to manufacture recreational vehicles more efficiently and in greater numbers. That tells LCI that RV makers don't see any slowdown in sight, and that should help drive sales going forward.
LCI Industries stock went on a roller-coaster ride for a couple of days after the report, jumping 2% in immediate response to the news, but then falling 4% on the following day. Regardless of the stock's movements, LCI's fundamental business prospects look stronger than ever, and the company enters 2017 with some positive momentum and good market conditions to drive it forward.
10 stocks we like better than Drew IndustriesWhen investing geniuses David and Tom Gardner have a stock tip, it can pay to listen. After all, the newsletter they have run for over a decade, Motley Fool Stock Advisor, has tripled the market.*
David and Tom just revealed what they believe are the 10 best stocks for investors to buy right now... and Drew Industries wasn't one of them! That's right -- they think these 10 stocks are even better buys.
Click here to learn about these picks!
*Stock Advisor returns as of February 6, 2017
Dan Caplinger has no position in any stocks mentioned. The Motley Fool recommends Drew Industries. The Motley Fool has a disclosure policy.