Lawyers, prosecutors face off at Samsung heir's appeal case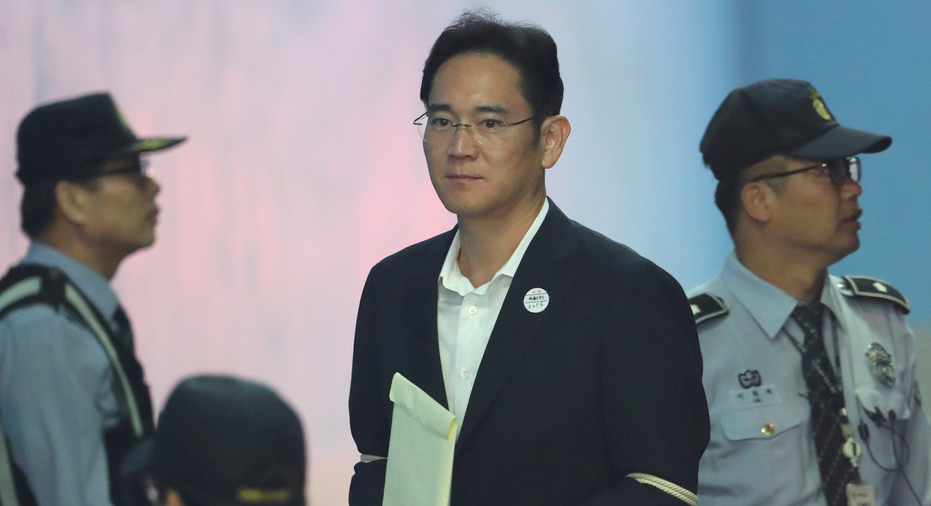 Prosecutors cited a past ruling on a North Korean spy case as one reason why Samsung's billionaire heir deserves a lengthy prison term for his conviction on bribery charges.
The prosecutors and Samsung lawyers sparred Thursday during a first hearing by the appeals court on the effort by Lee Jae-yong, Samsung's vice chairman and de facto leader, to have his five-year prison sentence overturned.
Lee was convicted in August of offering bribes to Park Geun-hye and one of her associates when Park was South Korea's president. Prosecutors had asked judges to sentence him to 12 years in prison. Both sides have appealed.
Lee, 49, the only son of South Korea's richest individual, sat silently in the courtroom except when he told judges his birthdate and home address. Lee appeared relaxed, yawning during the morning hearing as the two sides argued over whether or not notebooks written by a former aide to the ousted president should have been admitted as evidence.
Prosecutors cited the spy case in arguing that the notebooks, which contained memos of Park's comments after meeting with Lee, showed the Samsung heir was guilty. In that case, the Supreme Court ruled that a memo saved in a personal computer was enough to prove there had been contact between South Koreans and a pro-North Korean group, the prosecutors said.
Lee's lawyers said the notebooks were not admissible because the memos were taken by a third person who was not present at the meeting between the former president and Lee.