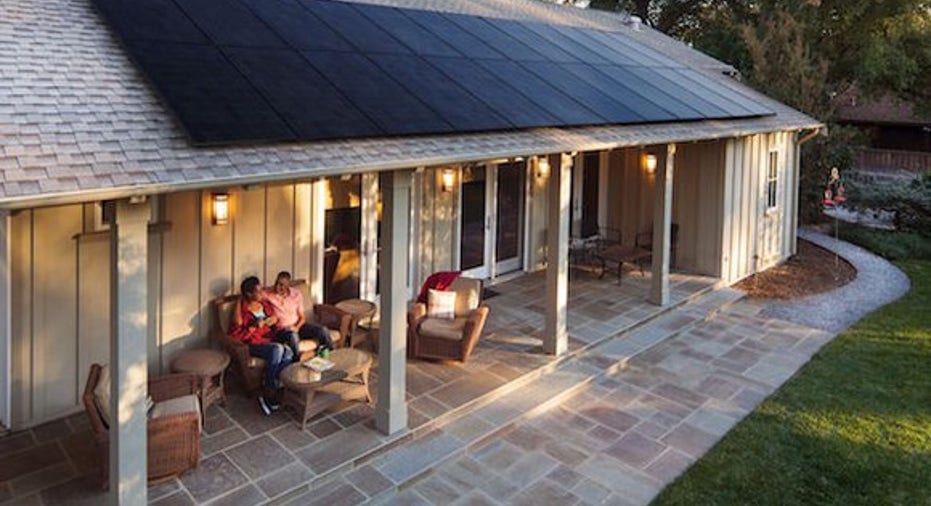 There was one big story in solar last week: the potential divorce of the co-sponsors of 8point3 Energy Partners. I've covered that here, and will discuss it more in the coming week as I talk to those involved in making decisions about the future of the yieldco.
But for my weekly recap, there was some interesting research that may have a big impact on solar stocks over the next year or two. And two tech giants may even make their mark on solar energy.
Image source: SunPower.
Big tech bets on microgrids
Facebook (NASDAQ: FB) and Microsoft (NASDAQ: MSFT) are joining with investment firm Allotrope Partners to build a microgrid investment fund that will help bring electricity to developing regions around the world. Between 2018 and 2020, the fund expects to deploy around $50 million in India, Indonesia, and East Africa.
Microgrids have an opportunity to transform the energy landscape in developing regions that don't have access to electricity. Transmission lines are expensive to buildout, but if solar and energy storage can be built cost effectively to serve communities it will be a big win for the industry. And partners like Facebook and Microsoft, which have a vested interest in getting electricity to people around the world, could help advance these efforts by financing needed capital investments.
The U.K.'s solar growth
National Grid (NYSE: NGG) came out with some interesting information last week, saying 2.4 GW of distributed solar was added in the U.K. between February 2016 and February 2017 and another 1.5 GW is expected in the next year. The U.K. isn't exactly a hotbed for solar activity, but it's growing as an important market.
As more markets become multi-GW markets for the solar industry, there are more opportunities for businesses to fill niches in each region, and more stability as they're less dependent on a single market. So, while the U.K. may not seem like a big solar hotspot, it's a key place for distributed solar energy.
Maybe 2017 won't be so bad after all
A couple of months ago, I wrote that projections in the solar industry were that installations may fall from 74 GW in 2016 to 69 GW globally in 2017. Last week, GTM Research upped that estimate and said that they expect installations to grow to 85 GW this year.
The driver of the increased projections is a new flood of Chinese installations in the first half of 2017 and India's solar market doubling in the past year alone. And as the cost of solar energy falls, the opportunity for the industry only grows. In fact, new projections from GTM Research suggest that solar energy could fall below 2 cents per kWh by the end of this year. That would truly be a game changer for the energy industry.
10 stocks we like better thanWal-MartWhen investing geniuses David and TomGardner have a stock tip, it can pay to listen. After all, the newsletter theyhave run for over a decade, the Motley Fool Stock Advisor, has tripled the market.*
David and Tomjust revealed what they believe are theten best stocksfor investors to buy right now... and Wal-Mart wasn't one of them! That's right -- theythink these 10 stocks are even better buys.
Click hereto learn about these picks!
*StockAdvisor returns as of April 3, 2017The author(s) may have a position in any stocks mentioned.
Teresa Kersten is an employee of LinkedIn and is a member of The Motley Fool's board of directors. LinkedIn is owned by Microsoft. Travis Hoium owns shares of 8point3 Energy Partners and SunPower. The Motley Fool owns shares of and recommends Facebook and National Grid. The Motley Fool has a disclosure policy.