Las Vegas Sands in 2015: Why It's Fallen 21%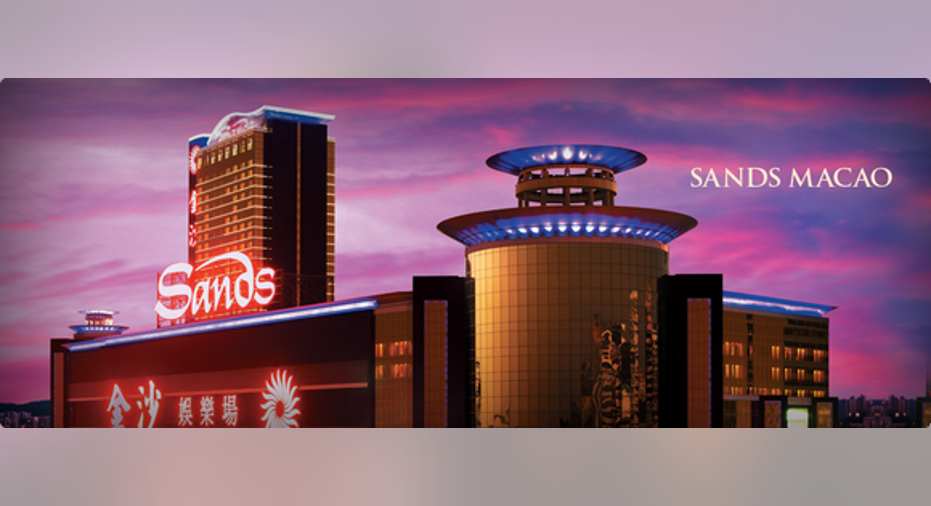 Image source: Las Vegas Sands.
Casino resort giant Las Vegas Sands has had to deal with a tough couple of years. The former growth mecca of Macau has seen its success turned on its end, and that has left both Sands and rival Wynn Resorts dealing with the huge fallout from shrinking revenue from what for years has been their biggest source of prosperity. After a big drop in 2014, Las Vegas Sands has continued to see share-price declines this year. Let's take a closer look at why Las Vegas Sands has fallen so far again in 2015 and whether the gaming stock could finally be hitting bottom.
What has happened to Las Vegas Sands in 2015? Las Vegas Sands came into 2015 having lost a quarter of its value in the previous year. Investors were hoping that the company would start 2015 on a strong note, and the company's fourth-quarter earnings report in February seemed to point in the right direction. The company saw adjusted EBITDA rise 11% from the previous year to a new fourth-quarter record. Despite troubling drops in its Macau business, success in Singapore kept earnings moving upward. Moreover, a dividend increase and signs of potential expansion throughout Asia suggested that 2014's sluggishness might quickly come to an end.
Indeed, throughout much of the year, Las Vegas Sands avoided much of the downward pressure that sent Wynn Resorts stock to much bigger losses. Sands boasts a stronger existing position in Macau that is less reliant on future expansion, and much of the concern in the Macau market stems from the fact that local regulators have signaled that they'll be less liberal in granting concessions for table games and other key features for the large group of casinos that will open in the next couple of years.
During the summer, Las Vegas Sands finally fell prey to broader concerns about the Asian economy overall. Stocks in China plunged more than 40% between mid-June and August, sending shockwaves throughout the regional economy and pulling down major stock markets around the world. The dual threat of less traffic in Macau and fewer Asian players venturing to the company's resorts in Las Vegas finally sent Sands stock downward.
LVS Total Return Price data by YCharts.
By October, Sands was able to mount a successful rebound. Chinese officials suggested that they would find ways to support Macau's economy, potentially bringing to an end the regulatory restrictions that had hurt Sands' and Wynn Resorts' financial prospects so much. Moreover, Sands' third-quarter earnings weren't as bad as many had thought they'd be, and even though revenue and earnings fell sharply from year-earlier levels, CEO Sheldon Adelson remained optimistic that the rise of the mass market in Macau would drive future growth to a far greater extent than bearish investors believed at the time.
Las Vegas Sands: Sales and Earnings
Source: S&P Capital IQ.
Will Las Vegas Sands end up a big winner?Unfortunately, Macau officials don't see an imminent rebound in the gaming capital's economy. In a press conference in mid-November, Macau's chief government officer predicted a 12% drop in tax revenue for 2016. Given just how much of Macau's revenue comes from gaming activity, the prediction is consistent with a similar decline in gaming revenue. That bodes ill for Las Vegas Sands, which hopes to open the Parisian there next year and already depends on Macau for much of its overall sales.
In the long run, Las Vegas Sands has established itself as a groundbreaking innovator in new markets. Unless you believe that the entire Asian economy will never recover, then eventually, countries like Japan and Korea will turn to Sands for its expertise in opening up their untapped markets for resorts of their own. That won't happen overnight, but it does offer a positive perspective in looking at Las Vegas Sands' current woes.
The article Las Vegas Sands in 2015: Why It's Fallen 21% originally appeared on Fool.com.
Dan Caplinger owns shares of Wynn Resorts, Limited. The Motley Fool has no position in any of the stocks mentioned. Try any of our Foolish newsletter services free for 30 days. We Fools may not all hold the same opinions, but we all believe that considering a diverse range of insights makes us better investors. The Motley Fool has a disclosure policy.
Copyright 1995 - 2015 The Motley Fool, LLC. All rights reserved. The Motley Fool has a disclosure policy.