Las Vegas Sands Corp. Is Losing Its Hold on Macau's Gaming Market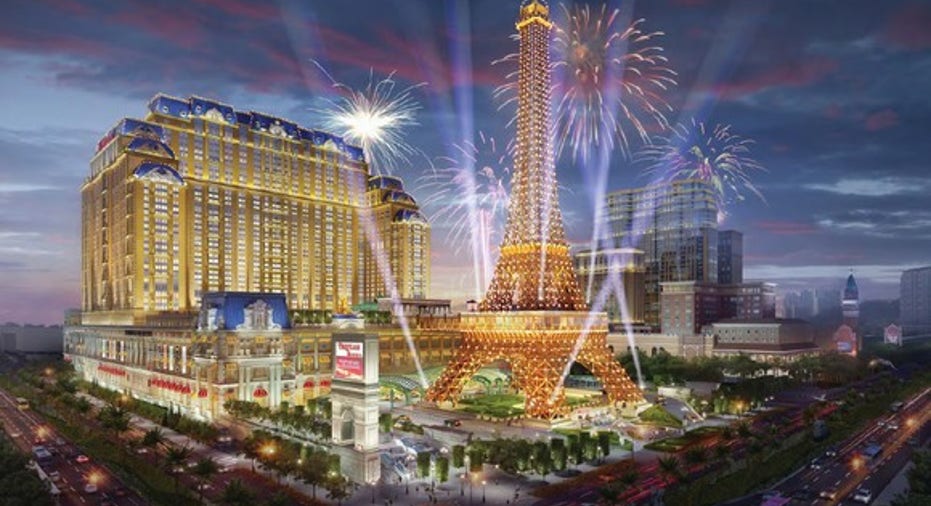 Competition is starting to eat into Las Vegas Sands Corp.'s (NYSE: LVS) dominant position in Macau. The company built three massive resorts on the territory's Cotai Strip before most other developers got there, and it had been capitalizing on its early-mover advantage.
But in the last few years, Melco Resorts (NASDAQ: MLCO) and Wynn Resorts (NASDAQ: WYNN) have built new resorts there too, and Galaxy expanded its presence. By the end of next year, MGM and SJM will have new Cotai Strip properties as well. Naturally, Las Vegas Sands is trying to hold on to as much market share as possible, and the first quarter provides a good look at how it's doing so far.
The Parisian, Las Vegas Sands' newest resort in Macau. Image source: Las Vegas Sands.
Las Vegas Sands' struggles on Macau
The headline numbers don't look bad for Las Vegas Sands. Revenue was up 14.3% to $3.11 billion, and net income rose 41.3% to $578 million. Property EBITDA was up 24.9% to $1.15 billion, but on a hold-adjusted basis, EBITDA was up just 9.5% to $1.14 billion, showing that a lot of the headline growth was from good luck.
To properly judge Las Vegas Sands' performance in Macau, we need to look at gaming volume because that gives an idea how much money people are gambling, removing luck from the equation. And on that basis, Las Vegas Sands' properties on Cotai are losing a lot of market share to competitors.
| Resort | Change in VIP Volume | Change in Mass Market Volume |
| --- | --- | --- |
| Macau | 16.8% | 6.5% |
| Venetian Macau | (25.2%) | (2.4%) |
| Sands Cotai Central | (19.5%) | (2.3%) |
| Four Seasons Macau | (30.2%) | 1% |
Data source: Las Vegas Sands.
Wynn Palace in Cotai is likely the biggest factor pulling VIP players from Las Vegas Sands. And with about two-thirds of Macau's gaming revenue generated by the VIP market, that's a big loss. The good news is that Singapore performed much better.
The highlight for Las Vegas Sands
The positive news for Las Vegas Sands came from the Marina Bay Sands in Singapore. Thatresort saw a 15.9% increase in revenue to $700 million, and EBITDA was up 32.7% to $365 million.
But as it did on Macau, luck played a role inMarina Bay's results. VIP gaming play was actually down 7.4% and mass market play fell 4% in the quarter. But these are games of chance: Some volatility is to be expected. People are still seeking out the resorts, as indicated by a 9.3% increase in revenue per available room to $422, an incredibly high figure for the gaming industry.
Losing its hold on Asian gaming
As competitors crowd into the Asian market, Las Vegas Sands is losing its former hold on the gaming industry there. It's still a highly profitable company with plenty of room to keep paying the $0.73 per share dividend it set for the quarter, but if results continue to decline, the company may have to reconsider what the best uses for its cash are. This just isn't the growth stock it used to be.
10 stocks we like better than Las Vegas SandsWhen investing geniuses David and Tom Gardner have a stock tip, it can pay to listen. After all, the newsletter they have run for over a decade, Motley Fool Stock Advisor, has tripled the market.*
David and Tom just revealed what they believe are the 10 best stocks for investors to buy right now... and Las Vegas Sands wasn't one of them! That's right -- they think these 10 stocks are even better buys.
Click here to learn about these picks!
*Stock Advisor returns as of April 3, 2017
Travis Hoium owns shares of Wynn Resorts. The Motley Fool has no position in any of the stocks mentioned. The Motley Fool has a disclosure policy.