Large Orders Fueled Surprisingly Strong Results for MSA Safety Inc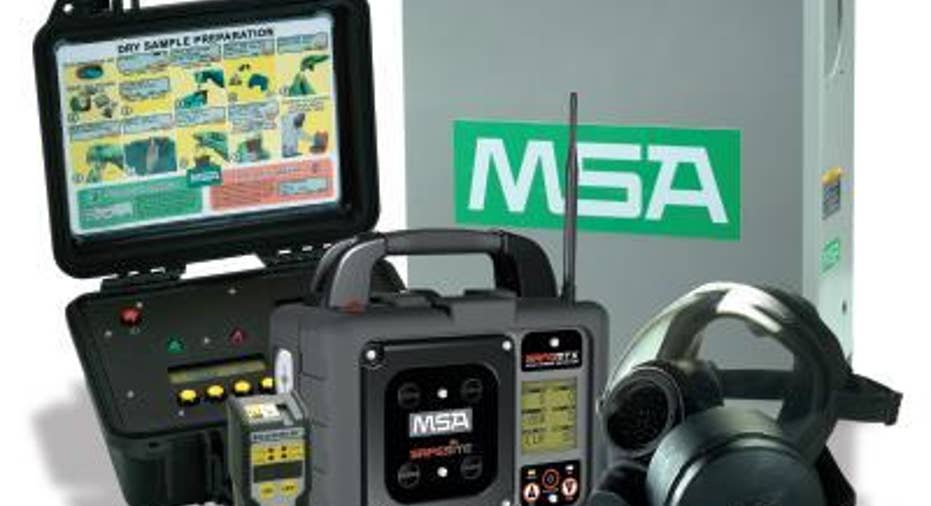 While the global economic headwinds that have been beating against MSA Safety over the past few quarters didn't abate during the first quarter, the company did do a solid job of mitigating the impact. That enabled it to deliver strong growth on both the top and bottom lines. However, it still remains cautious on 2016, given that the global economic headwinds remain.
MSA Safety's results: The raw numbers
| | Q1 2016 Actuals | Q1 2015 Actuals | Growth (YOY) |
| --- | --- | --- | --- |
| Revenue | $280.2 million | $257.3 million | 8.9% |
| Adjusted earnings | $18.0 million | $15.7 million | 14.3% |
| Adjusted EPS | $0.48 | $0.42 | 14.3% |
Data source: MSA Safety.
What happened with MSA Safety this quarter?MSA Safety benefited from strong sales and lower costs.
Revenue jumped nearly 9% due in part to the company's recent acquisition of Latchways, which increased sales by 6%. Meanwhile, sales growth actually would have been 13% if it wasn't for the strong U.S. dollar, which continues to impact revenue.
Aside from Latchways, the other big driver of sales growth was the continued strong shipping activity of the company's new SCBA to the fire service markets, which boosted sales in its breathing apparatus segment by 40%. In addition to that, the company saw a higher level of new orders in the Middle East and Mexico for fixed gas and flame detection systems.
Earnings jumped more than 14% due to strong revenue growth as well as lower costs with the company's selling, general, and administrative costs sinking 5% from the year-ago quarter. Latchways was also accretive to earnings, boosting the company's bottom line by $1 million, or $0.03 per share.
What management had to sayAs CEO William Lambert, commenting on the quarter in the company's earnings press release, said:
Image source: MSA Safety.
Lambert notes that the company is working hard to overcome the headwinds from the strong dollar as well as lower demand from the energy market by boosting sales elsewhere and cutting costs. That being said, it still has to keep working hard given that the energy market remains weak and it can't always count on unusually strong sales or the benefit from acquisitions to provide a lift.
Looking forwardWhile MSA Safety continues to focus on driving revenue and market share growth, it is also keeping an eye on costs in light of the current environment. With the restructuring program it executed last year paying big dividends during the current quarter, it's possible the company will undertake additional restructuring if the headwinds it's facing increase. However, at the moment, it remains committed to its current strategy of focusing on long-term value creation, even if the short term remains a bit challenging.
The article Large Orders Fueled Surprisingly Strong Results for MSA Safety Inc originally appeared on Fool.com.
Matt DiLallo has no position in any stocks mentioned. The Motley Fool owns shares of and recommends MSA Safety. Try any of our Foolish newsletter services free for 30 days. We Fools may not all hold the same opinions, but we all believe that considering a diverse range of insights makes us better investors. The Motley Fool has a disclosure policy.
Copyright 1995 - 2016 The Motley Fool, LLC. All rights reserved. The Motley Fool has a disclosure policy.