Kroger shares plunge on lowered guidance amid fierce competition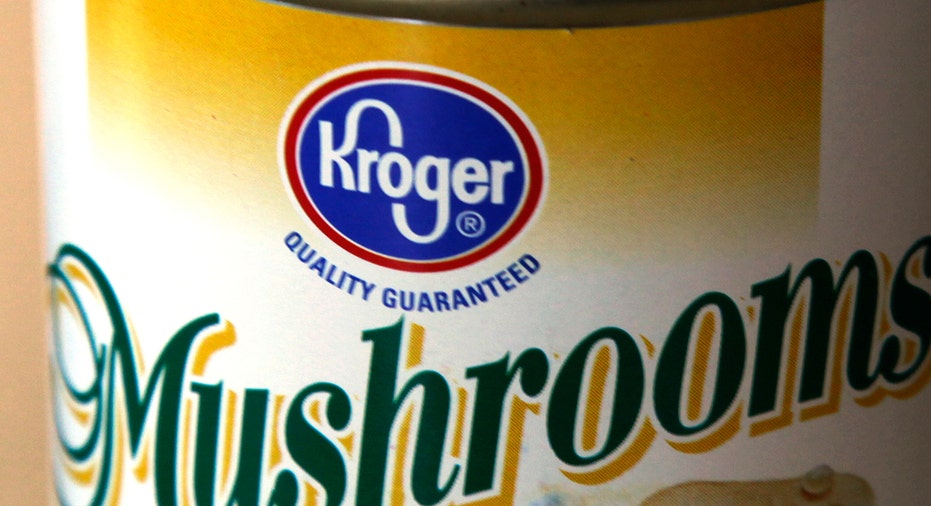 Grocery chain Kroger on Thursday revealed its second-straight quarter of same-store sales declines as it lowered its 2017 guidance, signaling more pressure ahead as it battles for customer wallets against the likes of Walmart (NYSE:WMT), Whole Foods (NYSE:WFM) and Aldi.
The Cincinnati-based grocer said adjusted profits per share were 58 cents in the first quarter, down from 71 cents a year ago. Over the first three months of the year, the company said revenues dropped nearly 5% from the 2016 period to $36.3 billion as sales at stores open at least 12 months, excluding fuel, slipped 0.2%. In the first quarter last year, the company saw a 2.4% increase in same-store sales.
Also weighing on investors, who sent the company's shares plunging more than 18%, the biggest drop since 1999, on Thursday to $24.56, was a lowered full-year outlook. Kroger said it now expects 2017 diluted earnings per share in a $2 - $2.05 range, down from previous guidance of $2.21 to $2.25. Same-store sales growth is expected to range between flat or small growth up to 1%.
The company's chairman and CEO Rodney McMullen sought to reassure Wall Street in a statement, pointing to a recent string of 13 years of same-store sales growth before the most recent downturn.
"Customers tell us they want to connect with us in multiple ways with the help of friendly associates to easily provide meals to their families at prices that enable them to stretch their budgets. We are committed to providing that experience and we will not lose on price," McMullen said in a statement.
Kroger has found itself recently under pressure from its competitors – both in store and online from the likes of Amazon's (NASDAQ:AMZN) Fresh delivery service – that continue to lower prices on fresh foods in an effort to lure customers through the door. On Wednesday, German-based discount grocer Lidl opened its first highly-anticipated U.S. stores, just the first step in the company's plans to open 100 locations across the east coast over the next year.
Like many other well-known grocery brands in the U.S., Lidl is looking to appeal to consumers on a value basis; it boasts "quality goods and groceries at up to 50% less than other supermarkets in the U.S." with new shops, fresh baked goods, organic and gluten-free options, and a range of exclusive-branded offerings.
The increasingly competitive environment has already taken a toll on industry titans like Whole Foods, which has been the target of an activist investor pushing for changes like more robust technology offerings and personalized discounts. But on a call with Wall Street analysts, Kroger's McMullen attempted to differentiate his company, pointing to a 30% increase from last year in online visits during the first quarter and positive same-store sales figures seen during the final nine weeks of 1Q 2017 and so far in the second quarter as the company worked to provide customized recipes and price discounts to loyal consumers.
"We are laser focused on providing customers with the right value proposition….we will continue to do this regardless of external factors. We know ultimately that also delivers shareholder value," he said on the call.
In an effort to appeal to its core customer, Kroger executives said they will continue to place a large emphasis on the experience and convenience of shopping in-store including a "friendly face and fresh products," but also online through targeted promotions.
The company's executives emphasized the need to compete on price so that the company's loyal customers aren't lured to a better value elsewhere.
"We do a ton of work in understanding where customers' wants and needs are and we are increasingly focused on differentiating our experience versus the competition…increasingly, we're also differentiating ourselves with the engage any way you want aspect. On price, we're just making sure we don't' lose customers because of price," McMullen said on the call.