Kroger Co. and Dollar General Corp. Jump as Stocks Sink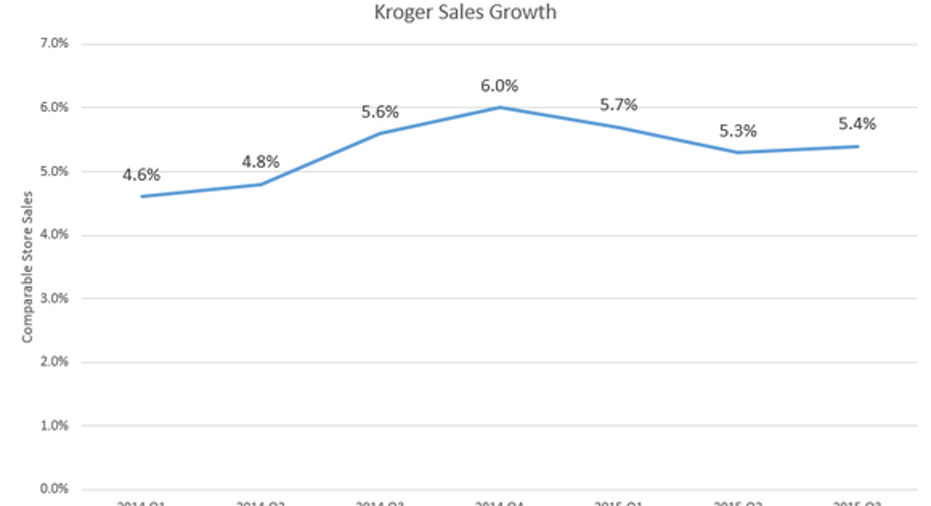 Stocks slumped today. The S&P 500 and the Dow Jones Industrial Average both lost 1.4% to slip back into negative territory for the year.
U.S. indexes appeared to take their direction from overseas markets: European shares fell hard after the European Central Bank announced stimulus measures that were less aggressive than investors were expecting.
Yet many individual stocks bucked that overall negative downtrend. Kroger and Dollar General were among the biggest percentage-gainers of the day after the retailers posted their third quarter results and gave updated guidance for the quarter ahead.
Kroger's market share gainsKroger's third-quarter results included much of the same good news that's been powering its stock to record highs all year. As it did in the previous two quarters, the supermarket chain beat Wall Street expectations while raising its 2015 profit and sales guidance.
Kroger managed 5.4% comparable-store sales growth, marking its fifth straight quarter of at least 5% gains by that metric. This track record is particularly impressive given the the flat or declining comps that many other major national food retailers have been booking lately.
Kroger comparable-store sales growth excluding fuel. Source: Financial filings.
Kroger is winning customers from competitors, with especially strong growth coming in the organic and natural foods sector thanks to the blockbuster success of in-store brand, Simple Truth. "We continue to see outstanding, double-digit [comps] growth in our Natural Foods department," Chief Financial Officer Mike Schlotman said in a conference call with analysts.
The strong overall growth this quarter convinced executives to hike both their sales and profit targets for the full year. They now expect to post comps of 5%, up from the 4.5% they projected three months ago (and the 4% they forecast three months before that). Earnings should now weigh in at $2.02, up from the prior $1.98 target and 15% higher than 2014's annual haul.
Dollar General's double-digit profit growthDollar General's stock jumped on nearly double its average trading volume after posting 7% higher third-quarter sales that powered an 11% gain in per-share earnings. Both the $5.1 billion in sales and $0.88 in profit met consensus estimates. "Our initiatives are showing success relative to our long-term goals as we continued to deliver profitable sales growth coupled with disciplined cost management," CEO Todd Vasos said in a press release.
Comps growth was 2.3% this quarter, which was a minor slowdown from the prior quarter's 2.8% increase. Yet the company was still able to generate strong profit growth off of those soft sales gains. Net income rose 5% to $253 million. And a shrinking share count gave an added boost to per-share earnings, which jumped by 11% to $0.86 per share.
Dollar General lowered its full-year sales and profit growth projections slightly, citing uncertainty in forecasting around a core customer that "tends to shop closer to events." But it still expects to post steady growth by both metrics. Looking further out, having spent $1 billion in the last three quarters on stock buybacks, the company approved a new $1 billion share repurchase program.
Management also hinted that significant cost cuts could be on the way next year. "For 2016, we are adopting a zero-based budgeting process to reinforce our commitment as a low cost operator to better serve our consumers with the everyday low prices they know and trust," Vasos said.
The article Kroger Co. and Dollar General Corp. Jump as Stocks Sink originally appeared on Fool.com.
Demitrios Kalogeropoulos has no position in any stocks mentioned. The Motley Fool has no position in any of the stocks mentioned. Try any of our Foolish newsletter services free for 30 days. We Fools may not all hold the same opinions, but we all believe that considering a diverse range of insights makes us better investors. The Motley Fool has a disclosure policy.
Copyright 1995 - 2015 The Motley Fool, LLC. All rights reserved. The Motley Fool has a disclosure policy.