Krispy Kreme Books Sweetest Profit in 7 Years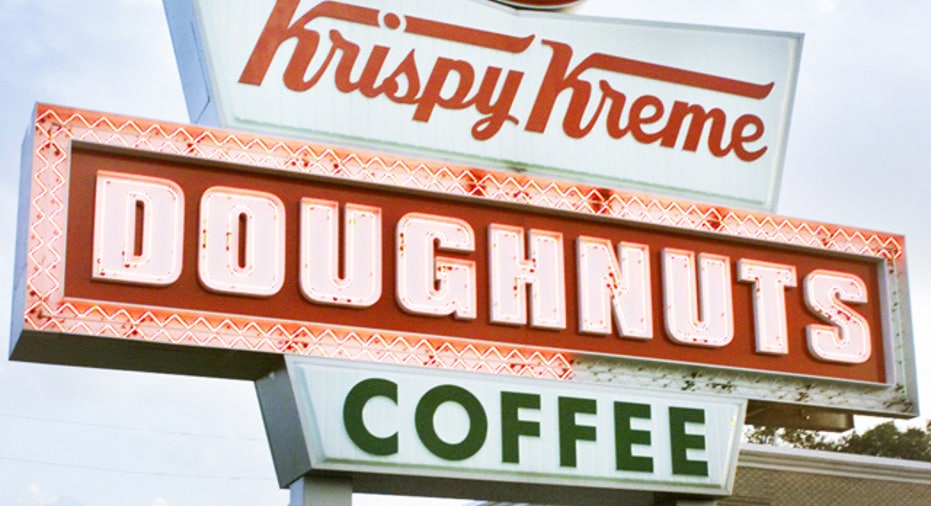 Shares of Krispy Kreme (NYSE:KKD) soared nearly 17% after the company revealed its strongest quarterly profit in seven years, sharply beating Wall Street estimates, as sales continued to trump higher commodity costs.
The Winston-Salem, N.C.-based maker of doughnuts and packaged sweets posted net income of $9.2 million, or 13 cents a share, compared with $4.5 million, or 6 cents a share, in the same quarter last year, beating the Street's view of 9 cents.
Revenues for the three-months ended May 1 was $104.6 million, up 13.6% from $92.1 million a year ago, ahead of average analyst estimates polled by Thomson Reuters of $96.5 million.
"We delivered a strong performance in the first quarter, characterized by double-digit revenue growth, a significant increase in consolidated operating income, and our best quarterly net profit since the fourth quarter of fiscal 2004," Krispy Kreme CEO James Morgan said in a statement. "While commodity costs created some headwinds, and will continue to do so for the remainder of the year, we believe we are off to a good start in fiscal 2012."
Fueling the results was growth in its company stores segment, up 11.1% to $62.5 million, and lower impairment charges and lease termination costs. Same store sales rose 5.8%, marking the company's tenth consecutive quarterly increase, while price increases helped to offset higher input costs.
Krispy's international franchise climbed 18.4% during the quarter to $5.6 million, benefiting from its unit in Mexico, while domestic sales grew 7.7%to $2.4 million.