Kratos Stock's Fantastic Run in 2016 Was Way Too Much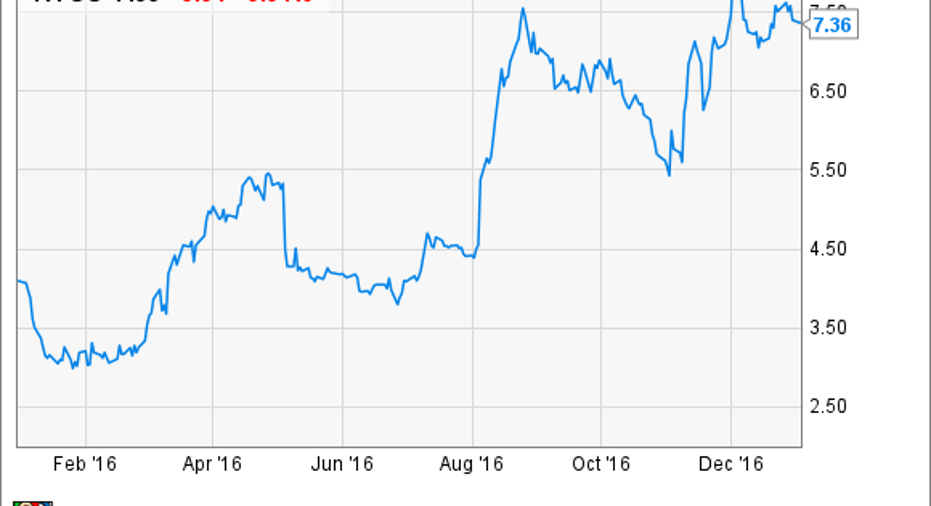 Kratos Defense & Security (NASDAQ: KTOS) had a terrific time in 2016, with its stock nearly doubling in price over the course of the year. But now 2016 is history. Can Kratos can repeat this strong performance in 2017?
I don't think it can -- and I'll tell you why not.
ARTIST'S DEPICTION OF KRATOS' UTAP-22 DRONE IN FLIGHT. IMAGE SOURCE:KRATOS DEFENSE.
2016: A year of downs and ups
Although Kratos stock ended the year up strongly, not everything went smoothly for this tiny defense contractor. In May, for example, the company's fiscal first quarter 2016 showed declining earnings and swelling losses. It actually wasn't until August, and the company's fiscal Q2 report, that things began to look up for Kratos.
It was in August that the company finally reported a surprise profit (albeit only a pro forma profit) of a penny a share, along with stronger revenue -- but a big net loss. More even than the pro forma profit, though, what really got investors excited was Kratos' revelation that after competing for three big military drone contracts, it had succeeded in winning all three -- including a low-cost attritable strike unmanned aerial system demonstration contract that management predicted could be worth up to $100 million in new revenue for the company.
Then in November, Kratos repeated the feat -- again reporting positive (pro forma) profit, a sliver of revenue growth, and another big net loss. The positive revenue momentum, while small over the past six months, when combined with the prospect of further growth from military drone contracts, encouraged management to make a bold prediction: Kratos' drones business would "approximately double in size over the next 24 months."
2017: The year Kratos proves the bulls right?
Kratos owes most of its stock success to bullish investors bidding shares up following its two late-year earnings releases-- first in August 2016 and then again in November.
Each surge in the stock, however, has been followed rather quickly by a slump. So what could that be telling us about Kratos the company?
Crunching the numbers
Call me a pessimist, but I think it's telling us that despite all the positive news coming out of Kratos' drones program, investors still have serious misgivings about the state of Kratos' balance sheet, and its inability to earn a profit from its business.
At last report, Kratos had just $20.5 million in cash on its balance sheet -- its lowest level of cash reserves in seven years. Long-term debt stood at $445 million, and was 20 times cash reserves. At the same time, the high-profile drone contracts Kratos has been winning have brought only modest cash rewards from the Pentagon -- a few million dollars here, and a few million more dollars there, but so far, no "$100 million" contract wins at all.
Obviously, this situation was untenable. And so, in November, Kratos conducted a secondary offering, selling 13.4 million shares of stock at $6 per share, and raising $80.5 million in much-needed cash (before fees). While the cash-raise gives Kratos more financial flexibility, though, it diluted Kratos' existing shareholders -- and probably still leaves the company with $340 million more debt than cash on its books.
Meanwhile, Kratos' guidance continues to center heavily on revenue growth -- $665 million projected for the current fiscal 2016, followed by mid-single-digit-growth to $700 million, or even $720 million in fiscal 2017, with little promise of profits. In its post-earnings conference call in November, the closest management came to predicting profits was an estimation that it would have "adjusted" earnings before interest, taxes, depreciation, and amortization of $52 million to $54 million in 2017. But that's far from a promise of bottom-line net profit.
What it means to investors
Lacking profit, or even strong revenue growth, Kratos remains a "story stock." As the story goes, Kratos still has the potential to win revenue in the billions of dollars from its groundbreaking (and self-funded) research into drone technology. To date, however, the contracts the company has won fall far short of these billions in size.
To hear management tell it, 2017 could be the year that makes the company, with big awards on the line from Gremlins, from UTAP, and from the company's other drone programs. But until Kratos' awards grow out of the seven-figure range and into the hundred million- and billion-dollar range, investors will continue to have their doubts about the company -- preventing the stock from reaching its full potential.
10 stocks we like better than Kratos Defense and Security Solutions When investing geniuses David and Tom Gardner have a stock tip, it can pay to listen. After all, the newsletter they have run for over a decade, Motley Fool Stock Advisor, has tripled the market.*
David and Tom just revealed what they believe are the 10 best stocks for investors to buy right now... and Kratos Defense and Security Solutions wasn't one of them! That's right -- they think these 10 stocks are even better buys.
Click here to learn about these picks!
*Stock Advisor returns as of January 4, 2017
Rich Smith has no position in any stocks mentioned. The Motley Fool has no position in any of the stocks mentioned. The Motley Fool has a disclosure policy.