Kinder Morgan Inc Sets Its Course for 2017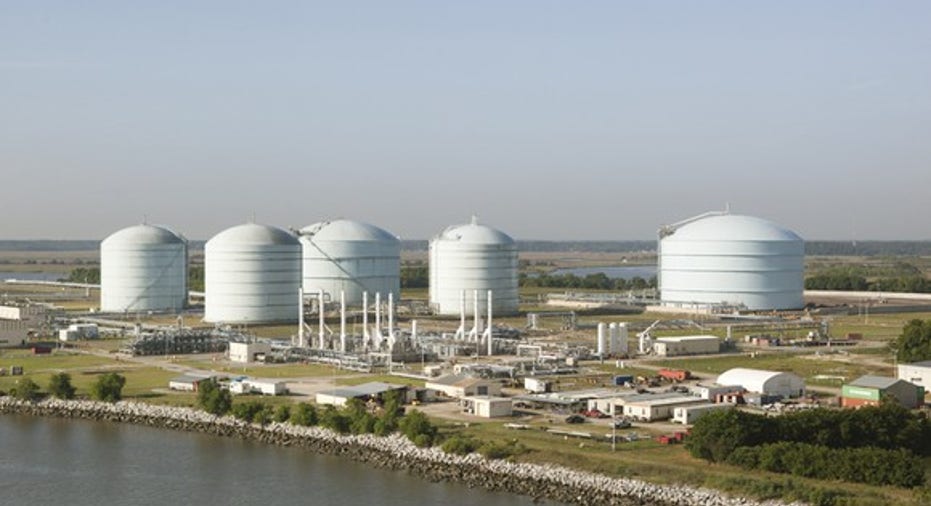 Image source: Kinder Morgan Inc.
Pipeline giant Kinder Morgan (NYSE: KMI) recently released its preliminary plans for 2017. For the most part, it represents a continuation of the 2016 program, with the company keeping its dividend intact, which will allow it to generate excess cash flow for growth capex and debt reduction. However, those actions and several yet to come, set the company up to start growing the dividend as it heads into 2018.
Drilling down into the plan
At the heart of Kinder Morgan's plan is the expectation that it will generate $4.46 billion of distributable cash flow next year thanks to its portfolio of primarily fee-based assets. While that number is essentially flat with 2016 despite the benefit from several new projects entering service next year, the company is also facing several headwinds. These include the full-year impact of the sale of a 50% stake in Southern Natural Gas, a decline in realized oil prices as hedges roll off, lower contributions from some gathering and processing assets, and the impact of a rate case on the Colorado Interstate Gas system.
That said, the company's expected cash flow will be more than enough to support its $3.2 billion expansion project budget, which is up from the $2.7 billion it expects to spend this year. However, even at that level, the company has no need to access the equity markets next year. Further, the company will have plenty of excess cash to maintain its current dividend of $0.125 per share each quarter ($0.50 per share on an annual basis). Any excess cash flow above the dividend and capex will go toward debt reduction.
One reason the company intends to hold the dividend flat next year is that it expects to end 2017 with debt-to-adjusted EBITDA of 5.4 times. That ratio is slightly higher than the 5.3 times level it anticipates at the end of this year and above its 5.0 times target. However, the company has several initiatives under way to push leverage lower.
Image source: Kinder Morgan Inc.
What to watch in 2017
One of the initiatives the company intends to complete is finding a joint venture partner to help fund the construction of its recently approved Trans Mountain Pipeline expansion in Canada. In fact, the budget assumes that the company secures a partner to fund a portion of that project's 2017 investment. However, Kinder Morgan does not assume that it will realize any of the value created on the project thus far. So, if a partner agrees to a valuation above the project's estimated $5.4 billion price tag, that realized premium would give Kinder Morgan additional cash for debt reduction.
For an example of this in action, we can look at the blueprint set by Energy Transfer Partners (NYSE: ETP) and Sunoco Logistic Partners (NYSE: SXL) on their controversial Bakken Pipeline Project. Earlier this year the Energy Transfer-led effort signed an agreement to sell a stake in the project to a joint venture owned by Enbridge Energy Partners (NYSE: EEP) and Marathon Petroleum (NYSE: MPC). That venture agreed to pay $2 billion for a 36.75% stake in the $4.8 billion project. The percentage is worth noting because the $2 billion investment represents 42% of the project's budget. In other words, Energy Transfer Partners and Sunoco Logistics Partners stand to earn a roughly 5% premium, or about $236 million, for the value they created on the project thus far.
Kinder Morgan is also said to be looking to joint venture several other expansion projects, which could accelerate its ability to push down the year-end leverage ratio. Among the largest potential projects is the $2 billion Elba Island LNG project, which is expected to go into service during 2018. The company reportedly shopped the project earlier in 2016 but has yet to find a partner. If the company can securepartners for this or other projects, then it will not need to spend as much capital going forward, freeing up cash flow for other uses.
While the company will spend the bulk of 2017 on securing partners, those efforts should put it in the position where it needs less cash flow for investment purposes in 2018 and beyond. The company said that it intends to use a "significant portion of the excess cash to increase the dividend" with the intention of providing guidance on a new dividend policy by the end of next year. Those statements suggest the payout could increase by a meaningful amount in 2018, with many analysts projecting that the company could double the dividend by the middle of the year.
Investor takeaway
Some investors might think Kinder Morgan's 2017 plan is a letdown because there's no indication that the company will increase the dividend. However, that decision to hold the line on the payout is for the best as the company works toward firming up its financial foundation. Doing so will put the pipeline giant on a path to deliver sustainable future growth, which should reward investors over the long term.
10 stocks we like better than Kinder Morgan When investing geniuses David and Tom Gardner have a stock tip, it can pay to listen. After all, the newsletter they have run for over a decade, Motley Fool Stock Advisor, has tripled the market.*
David and Tom just revealed what they believe are the 10 best stocks for investors to buy right now... and Kinder Morgan wasn't one of them! That's right -- they think these 10 stocks are even better buys.
Click here to learn about these picks!
*Stock Advisor returns as of Nov. 7, 2016
Matt DiLallo owns shares of Kinder Morgan and has the following options: short January 2018 $30 puts on Kinder Morgan and long January 2018 $30 calls on Kinder Morgan. The Motley Fool owns shares of and recommends Kinder Morgan. The Motley Fool recommends Enbridge Energy Partners. Try any of our Foolish newsletter services free for 30 days. We Fools may not all hold the same opinions, but we all believe that considering a diverse range of insights makes us better investors. The Motley Fool has a disclosure policy.