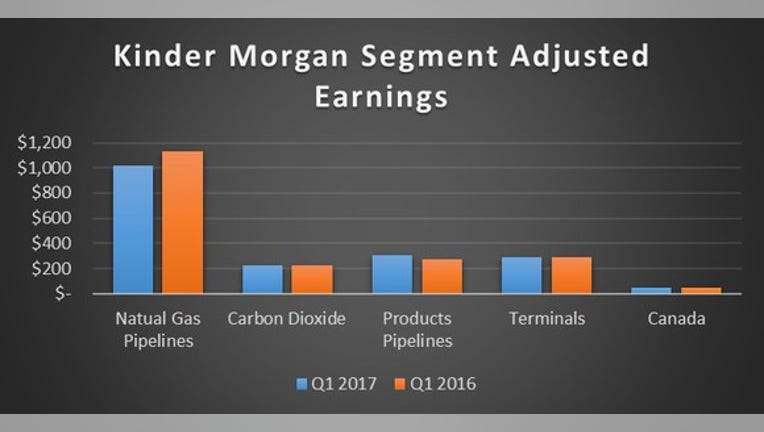 Kinder Morgan (NYSE: KMI) started 2017 off with a solid performance in the first quarter, after its results came in slightly ahead of expectations. That performance gave the company the confidence to reaffirm its full-year guidance.
Meanwhile, the company announced progress on several strategic initiatives during the quarter, which puts it on pace to potentially boost the dividend by year's end.
Kinder Morgan Inc. results: The raw numbers
Data source: Kinder Morgan Inc. Chart byauthor. In millions of dollars.
What happened with Kinder Morgan this quarter?
The pipeline giant's results were down but still ahead of expectations:
Natural-gas pipeline segment earnings were slightly more than $1 billion, down about 10% from last year's first quarter. Driving that decline was the sale of a 50% stake in the Southern Natural Gas system to Southern Company (NYSE: SO) and lower tariffs on the Colorado Interstate Gas system. Partially offsetting those declines were incremental revenue from the recently completed Elba Express pipeline and improved results from Natural Gas Pipeline Company of America thanks to the completion of an expansion project. Overall, natural-gas transport volumes were up 1% during the quarter across the company's systems.
Earnings in the carbon-dioxide segment slipped 1% to $222 million because of lower oil prices and reduced oil production after the company deferred projects at two of its fields.
Terminals segment earnings were up an impressive 9% during the quarter to $302 million, because of strong performance at its liquids terminals. Driving the increase was the contribution from several Jones Act tankers that entered service last year, as well as the recently commissioned Kinder Morgan Export Terminal along the Houston Ship Channel.
Product pipeline earnings were up 1% to $287 million thanks to improving volumes. The company noted that crude-oil volumes were up 1% as a result of the strong performance on the Kinder Morgan Crude and Condensate Pipeline, as a result of an increase in shale drilling.
Kinder Morgan Canada earnings dipped 7% to $43 million because of the timing of operating expense charges and a 17% decrease in oil volumes flowing to Washington state because of an increase in oil from competing sources.
Overall, segment earnings before depreciation and amortization, before certain items, slipped 5% year over year. However, distributable cash flow was basically flat with last year, at $1.2 billion.
Image source: Getty Images.
What management had to say
CEO Steve Kean commented on the results:
As Kean noted, the company didn't run into any problems during the first quarter, putting it on pace to meet its full-year guidance. Instead, the most noteworthy events during the quarter were its strategic moves. Founder Richard Kinder provided those details by noting that the company "made additional progress on our two largest growth projects: Trans Mountain expansion and Elba Island liquefaction." He continued:
Looking forward
Kinder Morgan still does have some work left to do on Trans Mountain. The company's goal is to find a financing alternative for the project similar to Elba Island. The company continues to explore both a joint-venture option and an IPO of Trans Mountain and its other Canadian assets. The culmination of that process will enable the company to remain on track to hit its leverage target of around 5.0 times net debt-to-adjusted EBITDA. That will improve the company's financial flexibility so it can allocate capital to other options, including share buybacks, new growth projects, additional debt reduction, and a dividend increase.
10 stocks we like better than Kinder MorganWhen investing geniuses David and Tom Gardner have a stock tip, it can pay to listen. After all, the newsletter they have run for over a decade, Motley Fool Stock Advisor, has tripled the market.*
David and Tom just revealed what they believe are the 10 best stocks for investors to buy right now... and Kinder Morgan wasn't one of them! That's right -- they think these 10 stocks are even better buys.
Click here to learn about these picks!
*Stock Advisor returns as of April 3, 2017
Matt DiLallo owns shares of Kinder Morgan and has the following options: short January 2018 $30 puts on Kinder Morgan and long January 2018 $30 calls on Kinder Morgan. The Motley Fool owns shares of and recommends Kinder Morgan. The Motley Fool has a disclosure policy.