Kinder Morgan Inc. Bulks Up Its Terminals Business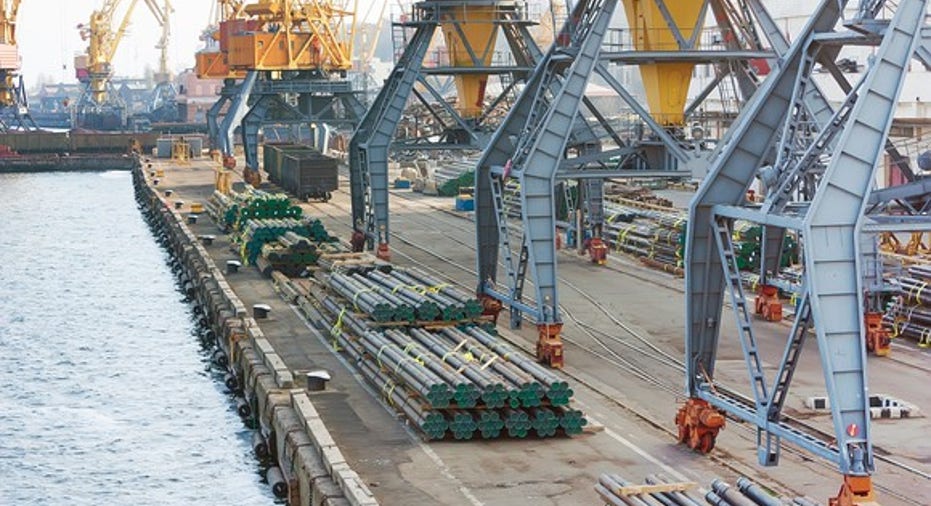 Image source: Getty Images.
Energy infrastructure giant Kinder Morgan built its foundation upon owning and operating fee-based assets. While the bulk of those are pipelines, the company has been expanding its infrastructure empire to handle other materials such as coal, steel, and chemicals. Like its bread-and-butter pipeline segment, these services are secured through long-term fee-based contracts. In fact, the company recently signed a 10-year $900 million contract to continue providing services to Nucor , the largest U.S. steelmaker. It is an important deal because it will help shore up the company's underperforming terminals segment.
Details on the deal
Earlier this week, Kinder Morgan announced that it had entered into a new agreement with Nucor to provide in-plant services at five of Nucor's facilities. Those plants produce roughly 13.4 million tons of steel each year. Under the contract, Kinder Morgan will handle about 14.8 million tons of scrap steel, direct-reduced iron, pig iron, and other feedstocks for Nucor at its facilities. The agreement also ensures that the company will continue to provide handling, processing, warehousing, and marine services to Nucor, which is already one of the largest customers of its terminals segment.
The deal reconfirms Kinder Morgan's ability to grow its terminals business by providing ancillary services to its core warehousing and shipping operations.
The growing importance of terminals
While best known for its natural gas pipelines, Kinder Morgan's terminals business is a major contributor to its earnings. In fact, the company is the largest independent terminal operator in North America. Those facilities supply roughly 15% of the company's annual earnings, which is about the same percentage as its products pipeline segment. The terminals segment, however, has been under pressure after three of its coal customers filed for bankruptcy. Those bankruptcies took $27 million out of the segment's earnings last quarter, offsettingmuch of its growth.
While most of its growth in that sector is coming from expansions to its liquids terminal facilities, such as those that handle oil and refined petroleum products, the company's bulk terminals still provide a significant share of its revenue. About a quarter of this segment's earnings come from the handling of approximately 65 million metric tons of dry bulk products each year, with ores and metals contributing 29% of this revenue. Overall, the company's income from this segment is supported by long-term contracts that have an average of 3.7 years remaining, though that number will edge up when the new Nucor contract is factored in.
With those bulk terminals, the company is diversifying away from the volatile energy sector. While that has exposed it to the downside of the coal market, it has also opened new doors to other markets such as steel. Further, there is a lot of potential to expand into handling other products, and growing its revenue streams from fertilizers, salt, cement, aggregate, and soda ash. Future expansions could come from bolt-on acquisitions or organic development at its current terminal locations. While these might never be huge growth drivers for the company, they are opportunities that few of its peers are pursuing.
Investor takeaway
Kinder Morgan's diverse asset base provides it the opportunity to grow in ways its peers cannot match. While the company's bulk terminal business is not a major growth driver, it is a relatively steady source of cash flow. Further, as the Nucor contract demonstrates, the company can consistently grow the segment with the security of long-term fee-based contracts similar to those that back its pipeline assets.
The article Kinder Morgan Inc. Bulks Up Its Terminals Business originally appeared on Fool.com.
Matt DiLallo owns shares of Kinder Morgan and has the following options: short January 2018 $30 puts on Kinder Morgan and long January 2018 $30 calls on Kinder Morgan. The Motley Fool owns shares of and recommends Kinder Morgan. The Motley Fool recommends Nucor. Try any of our Foolish newsletter services free for 30 days. We Fools may not all hold the same opinions, but we all believe that considering a diverse range of insights makes us better investors. The Motley Fool has a disclosure policy.
Copyright 1995 - 2016 The Motley Fool, LLC. All rights reserved. The Motley Fool has a disclosure policy.