Kevin Brady reaches out across the aisle to build bipartisan support on tax reform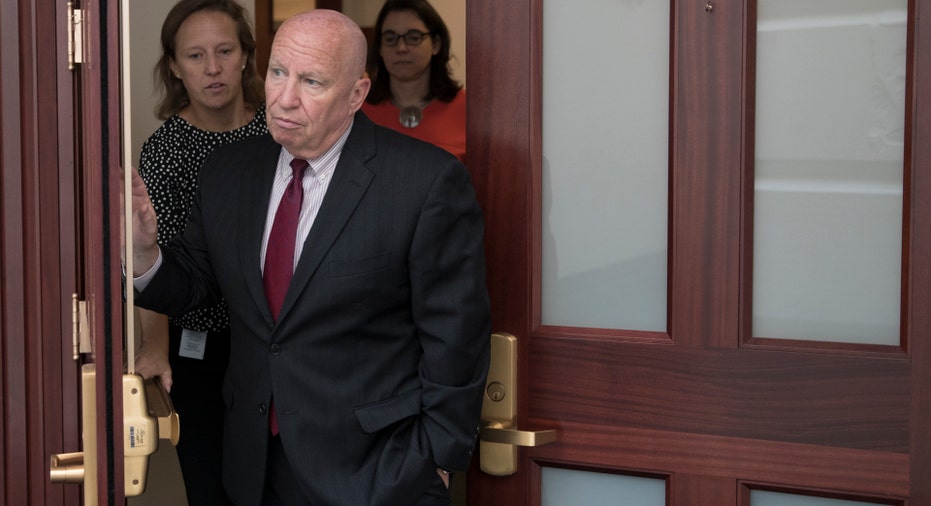 House, Ways and Means Committee Chairman Kevin Brady (R-TX) reached out across the aisle last Wednesday to moderate Democrats to get their pulse on what they hope to see in a final tax reform bill, FOX Business has learned.
The day the House Blue Dogs released their tax reform principles, Brady met with leadership from their caucus as well as the leaders of the New Democrat Coalition, according to a senior Blue Dog aide.
"Rep. Brady expressed an openness to working with Democrats… He said Republicans feel that their framework is early enough along that it invites negotiation on the bill that the framework will lead to, and Rep. Brady felt we could find some common ground based on the Blue Dog tax reform principles and member statements, including—most notably—on revenue neutrality," the aide told FOX Business.
"Blue Dog leadership walked out feeling it was positive and that the door to bipartisan efforts on tax reform is certainly not closed," the same aide later added.
A spokeswoman for the House, Ways and Means Committee confirmed the meeting in a statement to FOX Business.
"Chairman Brady met with Democrat caucus members last week. He has said repeatedly that he welcomes ideas from members on both sides of the aisle about pro-growth tax reform that will create jobs and improve lives in districts across our country," the statement read.
A spokeswoman for the Democrat Coalition did not respond to requests for comment before the time of publication. A spokeswoman for the Blue Dogs declined to comment.
Brady's meeting with moderate Democrats came the same week he met with Reps. Steve Scalise (R-L.A.), Kevin McCarthy (R-C.A.) and two dozen disgruntled Republican lawmakers from New York, New Jersey and California who are already voicing their concerns with the goal of eliminating the state and local tax deduction (SALT).
In a recent interview with Rep. Peter King (R-NY), an attendee at last weeks meeting, he explained that in order for a tax reform bill to pass in the House, the state and local deduction has to remain in the tax code.
"To have a chance of passing, it has to be negotiated and it has to be negotiated on good terms. That's not a threat, it's a reality. My district won't survive if this goes away," King said.
New York, along with New Jersey and California, are considered high-tax states that give taxpayers a break with the deduction. About one-third of the value of the tax break, which in total is estimated to be $1.3 trillion in savings, is used by filers in these states according to a study by the nonpartisan Center for a Responsible Federal Budget.
New Democrat Coalition leaders, according to a source close to the group, raised their own concerns with Brady about eliminating SALT as many of their members represent the three states that would be impacted if the loophole is eradicated.
The meeting also comes the same day as the 18 member Blue Dog group released their proposed tax principles which in some ways looks similar to the nine page Republican framework.
While the Blue Dog principles did not include specific tax rates within their proposal, they showed a desire to lower the corporate tax for corporations and pass through businesses.
The Republican blueprint calls for the corporate tax rate to be cut from 35 percent to 20 percent and bring the pass through business rate down to 25 percent from the current rate of 39.6 percent.
The Blue Dog framework also called for a bipartisan approach to passing tax reform.
"As co-chair of the Task Force on Economic Growth, I support fiscally-responsible, pro-growth tax reform for the people," said Rep. Charlie Crist (D-FL), Co-Chair of the Task Force on Economic Growth in a statement outlining the Blue Dog principals. "I am hopeful that Congress can work together to enact much-needed tax reform in a bipartisan manner, bolstering Main Street and our middle class."