Keurig Green Mountain, Coke, JAB: Win, Win, Win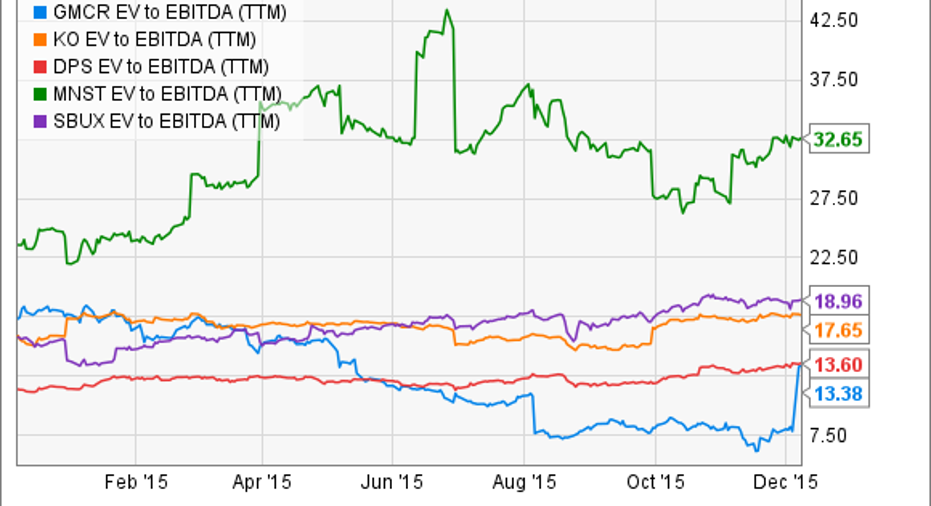 Keurig commercial brewing system. Source: www.keuriggreenmountain.com
When the final trade of $88.89 ofKeurig Green Mountain Inc'sshares crossed the wires late Monday afternoon, ecstatic shareholders had witnesseda prodigious 72% single-day increase in their holdings. The announcement by European private equity firmJAB Holding Company (JAB) that it will lead an investor group to acquire the Waterbury, Vt. K-cup retailer for $92 per share -- translating to a deal size of $13.9 billion -- invigorated a ticker that was facing a year-to-date loss of more than 61% at the end of last week.
I'm going to take such enormous stock-price movement as license to roll with some hyperbolic language, and a choice cliche: This transaction is a win-win-win. Let's see where the benefits lie for each company.
The Coca-Cola Company winsJAB's acquisition makes whole Keurig Green Mountain's largest stakeholder, The Coca-Cola Co, which was previously nursing an unrealized loss of roughly $1 billion through its 16% equity position in Keurig.
While news outlets made Coke seem lucky to have been "bailed out" by the huge 78% premium offered by JAB relative to the December 4th Keurig closing price, this simply isn't the case. Coca-Cola is a patient investor, with vast resources it could have brought to bear if the stock price of Keurig had continued to stay depressed during the next year or two. Coke's primary focus was -- and will remain, even after the transaction -- its 10-year deal with Keurig to place trademark Coca-Cola and other brands on the Keurig Kold carbonated beverage platform, fledgling as that effort is at present.
Coke didn't purchase shares in Keurig for speculative purposes, as the company isn't a stock investor per se. Rather, Coke put a slice of Keurig's equity pie on its own balance sheet to hold the management influence that a 10%-plus stake enjoys. The ownership allowed Coca-Cola's management team to work closely with Keurig executives on development of the Kold system and its long-term distribution opportunities.
Far from a bailout, Coke will receive what can be interpreted as the minimum price it would consider to relinquish its shares now versus some years in the future. JAB wouldn't be able to take Keurig private without Coke's acquiescence; thus, the firm and its investors came to the table with a price that would, at minimum, restore the beverage giant's investment basis. That's why the purchase premium appears astronomic, and perhaps irrational at first glance.
Keurig Green Mountain winsEntering the JAB fold turns Keurig back into a coffee-first company versus the hot and cold beverage leader it's recently attempted to morph into. The Keurig Kold system may yet gain wide acceptance, and Coca-Cola will remain a committed partner as Keurig refines the technology and develops potentially more affordable future versions of the Kold machine. Yet Keurig's new owners will reset the organization's priorities.
Joining the coffee consortium that JAB controls through its majority interest in coffee giantJacobs Douwe Egberts (JDE) will allow Keurig to eventually speed up international coffee K-cup expansion, a natural avenue to increasing revenue. Keurig's patents may also help JDE challenge Nestle, SA's single-serve coffee dominance in Europe. However, this won't be an overnight process, as it makes more sense to set up manufacturing of Keurig machines and cups at scale in Europe rather than to import them from the U.S., due to current dollar strength.
JAB Holding Company winsWhile the headlines make this purchase appear to be a very expensive one for JAB and its investors, it's actually an efficiently priced transaction. If you're going to buy a public company, take it private, and utilize its assets while assuming its liabilities, it makes sense to evaluate the target's enterprise value relative to earnings before submitting a bid.
A company's enterprise value (EV) is its total equity capitalization, including common and preferred shares, as well as minority interests, plus net debt.To a potential acquirer, EV represents a more complete valuation than that of simple market capitalization, because it includes not just a company's public and private equity, but its debt, as well.
The "EV to EBITDA" multiple provides a common sense, thumbnail valuation to a purchaser on the hunt for takeover candidates. Using EBITDA (Earnings Before Interest, Taxes, Depreciation and Amortization) instead of net income removes the non-cash items and tax expenses that can make apples-to-apples valuation comparisons between separate companies difficult.
I've pulled Green Mountain Keurig's EV to EBITDA multiple both before and after the purchase announcement -- you can see below the spike in the blue trend line at the beginning of December, post celebratory press release. For context, I've added three other beverage companies with a similar retail distribution model: investor Coca-Cola, Dr Pepper Snapple Group, and fast growingMonster Beverage Corporation.
I've also includedfellow coffee retailer Starbucks Corporation, which happens to license Keurig's K-cups:
GMCR EV to EBITDA (TTM) data by YCharts.
Before the acquisition announcement, Keurig's EV to EBITDA multiple of just more than 7.5 showed it to be relatively undervalued compared to the peer group above. But even after adjusting for the share price explosion last week, Keurig still looks reasonably cheap against this sample.
JAB can take advantage of the purchase efficiency by investing its own cash into Keurig, and by placing some of its existing brands on the K-cup platform. It can also add leverage to Keurig's own fairly clean balance sheet to help push international sales.
Last year, I applauded JAB's similarly large purchase of Mondelez International's coffee businessthrough Jacobs Douwe Egberts -- a transaction that was finally completed this summer. This deal has the makings of another win for JAB's coffee portfolio.
The article Keurig Green Mountain, Coke, JAB: Win, Win, Win originally appeared on Fool.com.
Asit Sharma has no position in any stocks mentioned. The Motley Fool owns shares of and recommends Monster Beverage and Starbucks. The Motley Fool has the following options: long January 2016 $37 calls on Coca-Cola, short January 2016 $43 calls on Coca-Cola, and short January 2016 $37 puts on Coca-Cola. The Motley Fool recommends Coca-Cola. Try any of our Foolish newsletter services free for 30 days. We Fools may not all hold the same opinions, but we all believe that considering a diverse range of insights makes us better investors. The Motley Fool has a disclosure policy.
Copyright 1995 - 2015 The Motley Fool, LLC. All rights reserved. The Motley Fool has a disclosure policy.