Kentucky seeks big pension changes to stem tide of red ink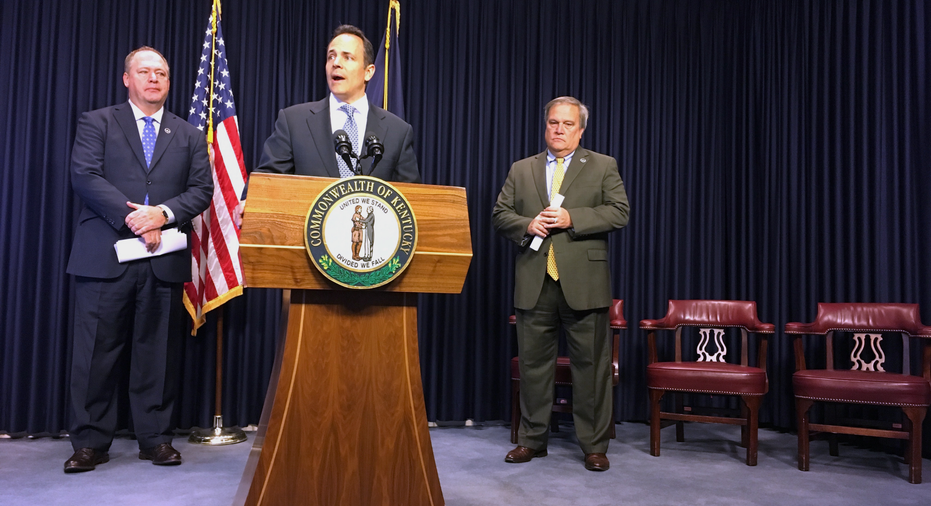 Most of Kentucky's future public employees would not get guaranteed pension payments under a deal announced Wednesday by the state's Republican leaders who are trying to salvage one of the worst-funded public retirement systems in a country where many such plans are hopelessly underfunded.
The plan to move most new hires into a 401(k)-style system would still put pressure on state taxpayers, who would be legally required to make annual payments of nearly $2 billion to the system. That's more than 20 percent of the state's annual general fund spending.
"This is a big, big cost to the people of Kentucky," Republican Gov. Matt Bevin said, but added it will keep the plans solvent. "If you are working toward retirement and hoping to be a retiree at some point, you should be rejoicing at this bill."
The proposal unveiled by Bevin and the state's top two legislative leaders still must pass the legislature, most likely during a special session Bevin plans to call before the end of the year. Democrats, who have a minority in both chambers, appeared opposed to the plan.
"This is purely a move touted by ultraconservative groups across the nation to privatize state services, remove a skilled state workforce and drive down wages for our future educators," said Sannie Overly, a state representative and chairwoman of the Kentucky Democratic party. "The war on the working class and public education must stop."
No one knows how much the proposal would save, or how much it would require taxpayers to spend every year. Actuaries across the state's various retirement systems are calculating that. The governor's office said lawmakers won't vote on the proposal until those numbers are ready.
The plan spares the state's more than 166,000 current retirees from reductions in their pension checks. Kentucky would become the fourth state to embrace a 401(k)-style plan as the savior for their massively underfunded systems.
In 401(k)-style plans, a public worker contributes to a retirement savings account that also gets contributions from taxpayers.
Under the current plan, workers earn predetermined benefits during their careers and receive guaranteed monthly checks once they retire. Kentucky is at least $33 billion short of the money required to pay those retirement benefits over the next 30 years, with some estimates putting that figure much higher.
The idea is controversial. West Virginia moved to a 401(k) style plan for its public school teachers in 1991, but switched back to a pension plan in 2008. Bevin's office noted Kentucky's plan is much more generous. It would require teachers to contribute 9 percent of their pay to their savings account — about the same percentage teachers now must contribute to the current plan — and would get a combined 6 percent match from state and local governments.
Kentucky's pension system routinely ranks among the worst-funded in the country. The Center for Retirement Research at Boston College tracks 170 plans that accept new members. It found that in 2016, none of those plans had a worse funding ratio than Kentucky's, which had enough funds to cover less than one-fifth of its obligations. Retirement systems in Illinois and New Jersey are also in bad shape.
In a June report, Moody's Investors Service found the unfunded obligations for all public employers to be $ 4 trillion. That's more than the federal government spends in a year.
For decades, governments across the country have promised pension benefits without clear plans on how to pay for them. Many, including Kentucky, have skimped on payments into the system to help balance their budgets. They relied instead on expected investment returns that haven't materialized.
Kentucky's plan would change some of that, requiring lawmakers to appropriate the full retirement payment every year. Bevin warned that could be as much as $2 billion per year, which will require cuts to other government services.
"We are going to see a brutally difficult budget session," Bevin said.
Most new hires, plus anyone hired after Jan. 1, 2014, would move into the 401(k)-style plan, with the exception of most police officers and firefighters. But the plan would cap benefits for most current employees, including public school teachers. Those workers can continue earning benefits until they hit 27 years of service, when they will be moved into a 401(k)-style plan.
That concerns some teachers in Jefferson County Public Schools, one of the largest districts in the country, who say the change breaks the promise the state made to them when they took the job.
"That provision clearly violates the state's inviolable contract and will generate expensive lawsuits that the state is likely to lose," said Brent McKim, president of the Jefferson County Teachers' Association.
___
Associated Press reporter Geoff Mulvihill in Philadelphia contributed reporting.