Kansas lawmakers mix up stew of tax hikes, school aid cuts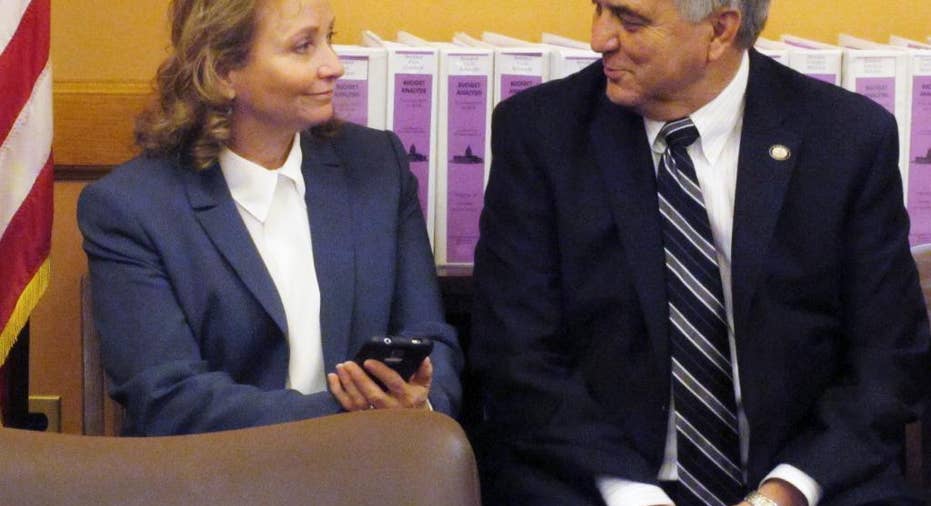 Top Republican legislators in Kansas on Tuesday cooked up an unappetizing budget-balancing stew of personal income tax increases and education spending cuts, defying GOP Gov. Sam Brownback on taxes and past court rulings on education funding.
The state Senate Assessment and Taxation Committee endorsed a bill that would boost income taxes to raise $660 million over two years. It would backtrack on past cuts in rates and end an exemption for farmers and business owners that Brownback has championed. The committee advanced it on a voice vote.
Within two hours, the Senate Ways and Means Committee voted 9-4 to endorse a bill that would reduce aid to public schools by $128 million by June 30, or $279 per student. The measure also would trim spending on the state's higher education system by nearly $23 million.
The Republican-controlled Senate expects to debate both bills Thursday after GOP leaders drew up the measures to start the debate over balancing the budget. Kansas faces a projected shortfall of about $320 million its current budget that must be closed before July 1 and total gaps of nearly $1.1 billion through June 2019.
The state has struggled to balance its budget since Republican lawmakers slashed personal income taxes in 2012 and 2013 at Brownback's urging. Even some GOP voters concluded last year that the experiment was a bust in stimulating the economy, and they ousted two dozen of Brownback's allies from the Legislature, giving Democrats and moderate Republicans more power.
"We're just trying to structurally balance the budget," said Senate Majority Leader Jim Denning, an Overland Park Republican.
Brownback said he's willing to look at the education spending cuts, though he proposed internal borrowing, scaling back contributions to public employee pensions and other accounting moves to avoid such reductions. Lawmakers can't raise taxes quickly enough to generate new revenues before July.
The governor criticized the proposals to increase income taxes, which would hit all taxpayers, even the poorest ones. Brownback blames the state's budget woes on sluggishness in agriculture and energy production. He contends Kansas is a model for "pro-growth" policies and has repeatedly noted that President Donald Trump promised to cut federal income taxes.
"This is going against national trends. It's going against what's in the best interest of Kansas to grow," Brownback said.
The Republican-controlled Legislature already has enacted tax increases to fill budget holes since passing the first personal income tax cuts in 2012, including by boosting sales and cigarette taxes in 2015. Yet Republicans have preserved core Brownback policies: moving from three to two income tax brackets, decreasing rates and giving an exemption to more than 330,000 farmers and business owners.
Brownback has proposed increasing cigarette and liquor taxes, and increasing for-profit companies' annual filing fees. He also would tax farmers' and business owners' royalties and rents.
But he has less sway over the Legislature than in the past.
"He can say whatever he wants. I don't have to agree with it," said Sen. Dan Kerschen, a Garden Plain Republican.
Still, the proposal to cut aid to public schools drew immediate bipartisan criticism.
Four school districts sued the state over education funding in 2010, and multiple Kansas Supreme Court rulings have forced legislators to increase aid to poor districts. The high court is expect to rule soon on whether the state's total spending of about $4.1 billion a year, or $8,900 per student, fulfills lawmakers' duty under the state constitution to finance a suitable education for every child.
While lawmakers and educators acknowledge that many of the state's 286 school districts could tap cash reserves to tide themselves over once, districts could face staff cuts if the aid is not restored. John Robb, an attorney for the four school districts, said cutting education funding is "tremendously ill-advised."
"That's moving the ball the wrong way down the field," Robb said. "It doesn't make much sense to me."
___
Follow John Hanna on Twitter at https://twitter.com/apjdhanna .