Justice Department Challenges Deere's Planned Deal With Monsanto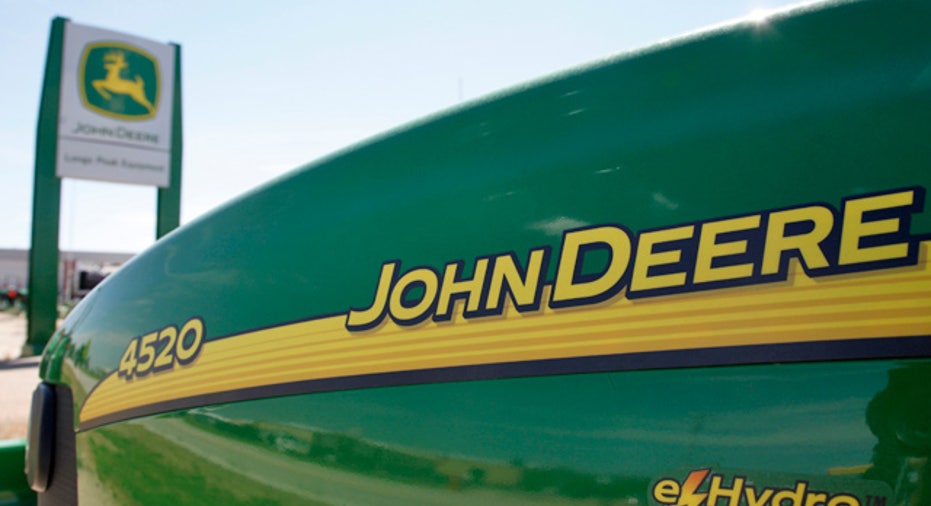 The Justice Department on Wednesday filed a lawsuit challenging Deere & Co.'s planned acquisition of a line of high-tech farming equipment from Monsanto Co., saying the deal would suppress competition for technology that allows farmers to plant crops at higher speeds.
At issue is a deal from last November in which Deere said it agreed to pay an undisclosed sum to buy Monsanto's Precision Planting equipment business.
The Justice Department said Monsanto's equipment line had been a leading innovator in high-speed planting technology, with Deere as its only significant competitor.
"If this deal were allowed to proceed, Deere would dominate the market for high-speed precision planting systems and be able to raise prices and slow innovation at the expense of American farmers who rely on these systems," said Renata Hesse, the acting head of the Justice Department's antitrust division.
The department filed the lawsuit in an Illinois federal court, asking a judge to block the deal.
The companies couldn't immediately be reached to comment.
The case is the latest from Obama administration antitrust enforcers who have been particularly active in the twilight of their tenure.
The Justice Department is currently litigating challenges to two major health insurance mergers: Anthem Inc.'s acquisition of Cigna Corp.; and Aetna Inc.'s deal to combine with Humana Inc. Earlier this year it blocked Halliburton Co.'s acquisition of oil-field-services rival Baker Hughes.
The department also is continuing to review the proposed merger of Dow Chemical Co. and DuPont Co.
Agricultural giants such as Monsanto, Deere, DuPont and Cargill are jockeying with venture capital-powered startups to capture a growing stream of data flowing off U.S. farms, enabled by cutting-edge combines and planters that collect detailed information on seeding rates and crop yields. Data-powered products and services are one way for agricultural companies to offset slumping sales in their core business lines.
Some farmers are looking to sensors and big-data services as a way to trim costs as a multiyear slide in commodity prices has U.S. farm incomes on track this year to hit their lowest point since 2009, according to the U.S. Department of Agriculture.
The Justice Department lawsuit could deal a blow to Deere's ambitions to expand its suite of high-tech farm offerings as farmers are sharply scrutinizing their spending on everything from machinery to seeds and insecticides. Deere last year signed a string of small deals, purchasing a French planter company and forming a joint venture centered on farm-management software. Both are aimed at helping farmers maximize efficiency as crop prices continue to grind along at low levels.
Monsanto acquired Precision Planting for $210 million in 2012 as part of a broader push into data-powered farming services, hastened a year later when the seed giant paid $930 million for the weather modeling startup Climate Corp. Since then Monsanto has expanded Climate's range of algorithm-powered advisory services and struck data-sharing agreements with software developers and farmer cooperatives.
Both Deere and Monsanto are building virtual networks that collect and sift data on farmers' crop yields, equipment use and farm management, to formulate advice on how to grow bigger crops at lower cost. Alongside Monsanto's planned sale of Precision Planting to Deere, the companies struck a connectivity agreement that would make it easier for farmers to link their Deere machinery with Monsanto's Climate unit.
By Brent Kendall and Jacob Bunge