Just Because Amazon Can Buy Back Shares Doesn't Mean It Will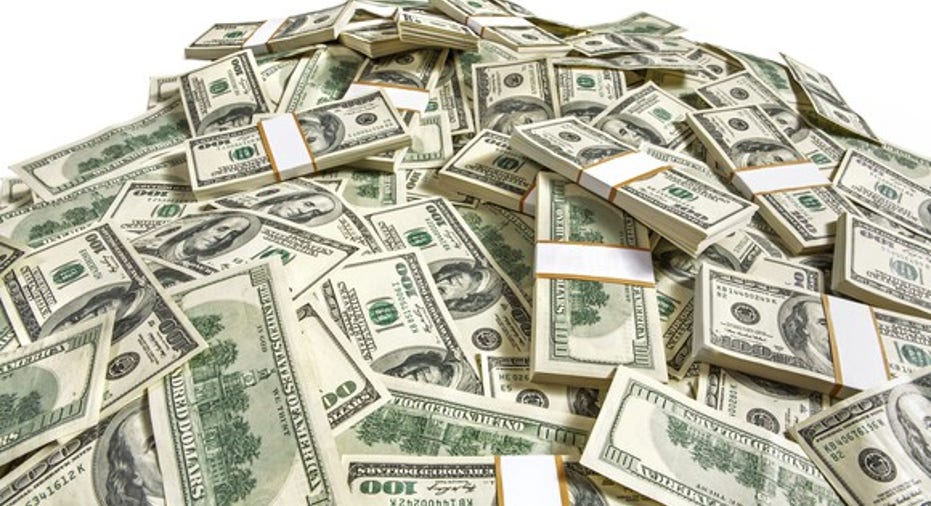 There's a growing problem at Amazon (NASDAQ: AMZN), and it's one most companies would love to have. Despite aggressive investments in fulfillment centers, data centers, and new technology, Amazon's cash pile continues to grow. At the end of the first quarter, it had nearly $16 billion in cash and marketable securities, 15% more than it did last year.
Sure, that number pales in comparison to a tech stalwart likeAlphabet (NASDAQ: GOOG) (NASDAQ: GOOGL), which has $81 billion, but Amazon is stockpiling more cash than it knows what to do with. After such significant growth in its cash reserves over the past year or so, Amazon's board authorized a new share buyback totalling $5 billion to help return some of that capital to shareholders.
Just because it can ...
Amazon has previously taken almost all of its profits and reinvested them in its businesses, that's changed over the last year. The company just reported its fourth straight profitable quarter, something it hasn't done since 2012. Moreover, the first quarter of this year was Amazon's most profitable quarter in history, breaking the record it just set the quarter before. The new run of profits is being fueled by growth of Amazon Web Services and Amazon Prime memberships.
Analysts are forecasting robust profit growth over the next couple of years as both its retail and cloud businesses generate cash faster than Amazon can reinvest it. In a research note earlier this month, Sanford Bernstein analyst Carlos Kiljner told investors, "We think Amazon's businesses are now so large, fast-growing, and profitable that it is harder and harder for the company to find new areas of investment."
That may be why Amazon's board authorized the new $5 billion share buyback in February, more than doubling its previous authorization from 2010. The company still had about $750 million left in that authorization at the time -- more than one-third of its original authorization.
Only Alphabet has been more stingy with its money. The tech giant only recently announced its first buyback authorized for just over $5 billion. And, remember, this is a company with five times as much cash as Amazon. Like Amazon, Alphabet has invested lots of cash into its business, focusing on 'moonshots', other products and experiments. Similarly, it's seen its cash pile steadily gain momentum as it runs out of new areas to invest and its businesses become more profitable.
Doesn't mean it will
Just because management is authorized to buy back shares of a stock doesn't mean it will. And if any management team has reason to be cautious with its stock buybacks, it's Amazon. A buyback is only a successful return of capital to shareholders if management buys shares below value. Up to now all of management's buyback decisions have been successful, but that's only because the stock currently trades at its all-time high.
While most analysts are bullish on Amazon's stock, shares are trading at an extremely high valuation, witha price-to-free-cash-flow ratio of 54. Even Alphabet is only valued at about half of that, at 28 times free cash flow.
Buying back shares may not be the most effective form of returning capital to shareholders, but Amazon is still finding enough new areas of investment to justify not consistently paying out a dividend. It's still building out more fulfillment centers and logistics plans to support services like Prime Now (1-hour delivery). Its investment in R&D slowed sequentially for the first time in three years last quarter, but it still increased 17% year over year as it looks to expand its Kindle, Fire TV, and Echo lines of devices. And its never clear when an opportunity to buy a company like Twitch (bought for $1.1 billion) will come along again.
As such, Amazon may find its best course of action is to only buy back a small amount of shares.
Amazon is throwing off more cash than ever before. Over the past 12 months, its free cash flow doubled year over year to $6.4 billion. Even when you account for its capital leases and financed assets, it brought in $1.6 billion in cash flow. As its retail and cloud businesses grow and Amazon reinvests a smaller percentage of profits, free cash flow will continue to climb. It's unlikely management buys back enough shares to make a significant dent in its cash flow, so investors should expect Amazon's cash pile to keep growing in 2016.
The article Just Because Amazon Can Buy Back Shares Doesn't Mean It Will originally appeared on Fool.com.
Suzanne Frey, an executive at Alphabet, is a member of The Motley Fools board of directors. Adam Levy owns shares of Amazon.com. The Motley Fool owns shares of and recommends Alphabet (A shares), Alphabet (C shares), and Amazon.com. Try any of our Foolish newsletter services free for 30 days. We Fools may not all hold the same opinions, but we all believe that considering a diverse range of insights makes us better investors. The Motley Fool has a disclosure policy.
Copyright 1995 - 2016 The Motley Fool, LLC. All rights reserved. The Motley Fool has a disclosure policy.