June 23 Is a Very Important Day for Bank of America and Citigroup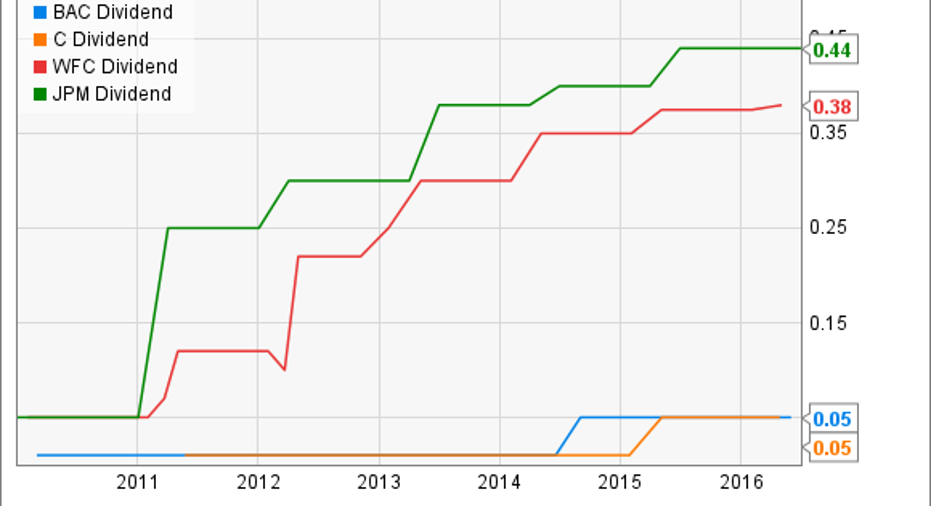 There are two dates this month that bank investors will want to circle on their calendars.
If there's one day out of the year that towers over the others in terms of importance to Bank of America and Citigroup , it's the day that the Federal Reserve reports the results of the annual stress tests. That day this year is June 23.
The Fed instituted the stress tests five years ago. Their purpose is to ascertain whether the nation's biggest banks -- those with $50 billion or more in assets on their balance sheets -- will be able to survive an economic downturn akin to the financial crisis of 2008 without government support.
To determine this, the Fed conjures up hypothetical adverse economic scenarios and then estimates how much capital the participating banks will lose as a result. The most extreme scenario in this year's test, according to the central bank, assumes, among other things, that the U.S. unemployment rate rises 5 percentage points to 10%, accompanied by a heightened period of corporate financial stress and negative yields for short-term U.S. Treasury securities.
Banks that maintain a satisfactory level of capital through the hypothetical scenarios, and also have sufficiently robust systems for measuring the impact on their businesses, are said to pass the test. These are the results of the Dodd-Frank stress tests, or DFAST, that we'll get on June 23.
One week later on June 29th, in the Comprehensive Capital Analysis and Review, the Fed will report which of the large banks can increase the amount of capital that they return to shareholders through dividends and stock buybacks. This goes hand in hand with DFAST, the difference being that the CCAR forecasts the impact on banks' solvency after their proposed capital plans are factored into the analysis.
The stress tests and the CCAR process are particularly important for Bank of America and Citigroup. Both banks have struggled through them in years past, failing or only conditionally passing the ritual on multiple occasions. The net result is that Bank of America and Citigroup have each received approval to boost their dividends only once since the 2008 crisis.
BAC Dividend data by YCharts.
A recent analysis by Merrill Lynch also showed that shares of banks that perform well on the tests tend to outperform the shares of banks that perform poorly on them. "[W]e believe investors remain highly focused on the outcome of the stress tests and a strong capital return plan could signal that a bank feels comfortable with its regulatory position," wrote Merrill Lynch's Erika Najarian. "We expect those banks with high capital payouts or significant improvements in capital return to outperform."
Regardless of how Bank of America and Citigroup perform on this year's tests, it's still fair to say that their stocks are cheap, trading for approximately 35% below their respective book values. The issue, then, is less about if their share prices will improve, in my opinion, but rather when they'll do so. This is why investors in these banks should circle June 23 and June 29 on their calendars, as one of these days the results of the stress tests could be the catalyst that finally sends these stocks soaring.
The article June 23 Is a Very Important Day for Bank of America and Citigroup originally appeared on Fool.com.
John Maxfield owns shares of Bank of America. The Motley Fool recommends Bank of America. Try any of our Foolish newsletter services free for 30 days. We Fools may not all hold the same opinions, but we all believe that considering a diverse range of insights makes us better investors. The Motley Fool has a disclosure policy.
Copyright 1995 - 2016 The Motley Fool, LLC. All rights reserved. The Motley Fool has a disclosure policy.