Jump in Oil, Energy Names Propel Dow Higher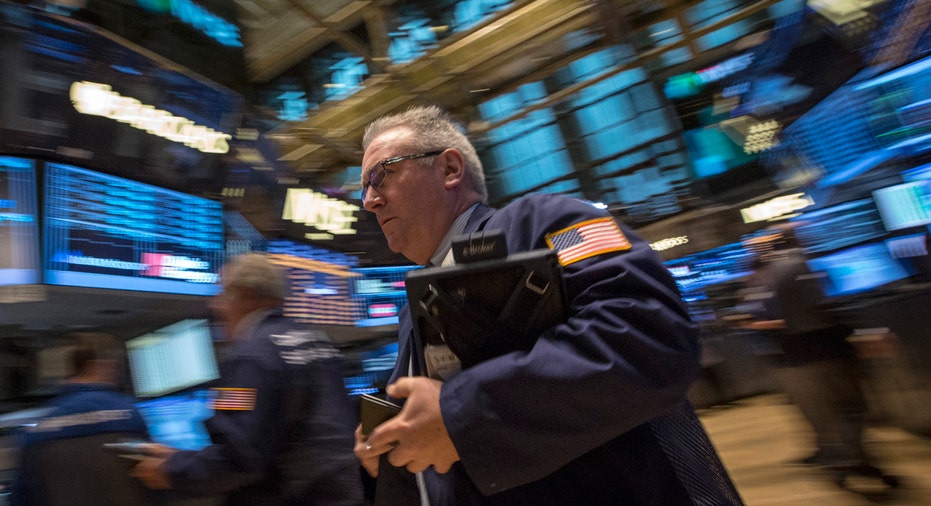 Wall Street was higher on Tuesday as energy names helped propel the Dow.
The Dow Jones Industrial Average was 89 points higher, or 0.50% to 17918. The S&P 500 added 5 points, or 0.27% to 2109, while the Nasdaq Composite gained 17 points, or 0.35% to 5145.
The energy sector saw the most gains on the session, while consumer discretionary lost the most ground.
Today's Market
Big gains in the energy sector helped propel the Dow higher in afternoon action. Global oil prices surged, touching a three-week high on expectations a report on heating oil and gasoline inventories will show a decline, while the prospect of falling shale production is also adding fuel to the gains. On the international front: A strike by Brazilian oil workers and the closure of an export terminal in Libya amid political tension is supporting prices.
U.S. crude jumped to close up 3.81% to $47.90 a barrel, while Brent, the international benchmark, gained 3.59% to $50.54 a barrel.
Chevron (NYSE:CVX) and Exxon (NYSE:XOM) were among the Dow's biggest gainers on the session, rising 3.8% and 2.3%, respectively in recent action.
Apple (NASDAQ:AAPL), Visa (NYSE:V), and DuPont (NYSE:DD) also helped support the Dow's big gains.
Meanwhile, investors in the U.S. awaited Friday's all-important October jobs report as they parsed other key figures throughout the week. On Tuesday, the focus turned to factory orders from the Commerce Department, which fell for the second-straight month, and last month's auto sales.
Fiat Chrysler (NYSE:FCAU) said its U.S. sales rose 15% last month, it's best October since 2001, led by its Dodge, Jeep and Ram Truck brands. Ford (NYSE:F) saw a 13% rise in last month's sales from a year ago, it's best October in 11 years. The company said increases in the truck business were strong as its F-Series saw its fourth-consecutive month of sales gains.
General Motors (NYSE:GM), meanwhile, said it saw a 16% gain for the month
No speeches from Federal Reserve members were expected ahead of Wednesday's testimony by Janet Yellen on Capitol Hill. She is set to discuss bank regulation at 10:00 a.m.
In recent trade, the yield on the benchmark 10-year U.S. Treasury bond was 0.031 percentage point higher, or 2.216%.
In the M&A space, King Digital (NYSE:KING), the maker of popular mobile gaming app Candy Crush, agreed to be bought by Activision Blizzard (NASDAQ:ATVI) for $5.9 billion in an effort to beef-up its mobile-games offering. King priced its IPO at $22.50 a share, but the stock fell as much as 16% to $18.90 in its 2014 NYSE debut. On news of the deal on Tuesday, King shares were up 14% to $17.75.
Elsewhere, European markets were weighed after Standard Chartered, an Asia-focused UK bank, revealed a $139-million loss in the third quarter, compared to a $1.5 billion profit during the same time last year. Worse, the bank said its revenue fell for the fifth-straight year. The company's CEO said in a turnaround effort, it will cut 15,000 jobs, or 17% of its workforce, and raise $5.1 billion by selling new shares.
"As Bill Winters attempts to arrest the decline of the firm, it is clear that this restructuring could take some time, and with staples such as the dividend being junked, this will no doubt drop off the investment list for many looking for consistent returns," IG market analyst Joshua Mahony said in a note.
Shares of the bank dropped as much as 9.5%.
Shares of German carmaker Volkswagen fell more than 3% during the trading day after U.S. regulators from the Environmental Protection Agency accused the company of cheating on emissions tests with luxury brands Porsche and Audi. Volkswagen has admitted to installing software to cheat on up to 11 million of its diesel-engine vehicles worldwide, but denied the accusations on its larger engines.
In recent trade, European averages turned higher before the close of trade. The Euro Stoxx 50, which tracks large-cap companies in the eurozone, gained 0.24%. The German Dax was flat, while the French CAC 40 added 0.41%, and the UK's FTSE 100 gained 0.34%.
Asia shares ended their trading day mixed.
Elsewhere in commodities, metals were mixed as gold shed 1.82 % to $1,115 a troy ounce. Silver declined 1.03% to $15.25 an ounce, and copper gained 0.75% to $2.37 a pound.