Judge, Sabathia help Yankees beat Astros 8-1, trail ALCS 2-1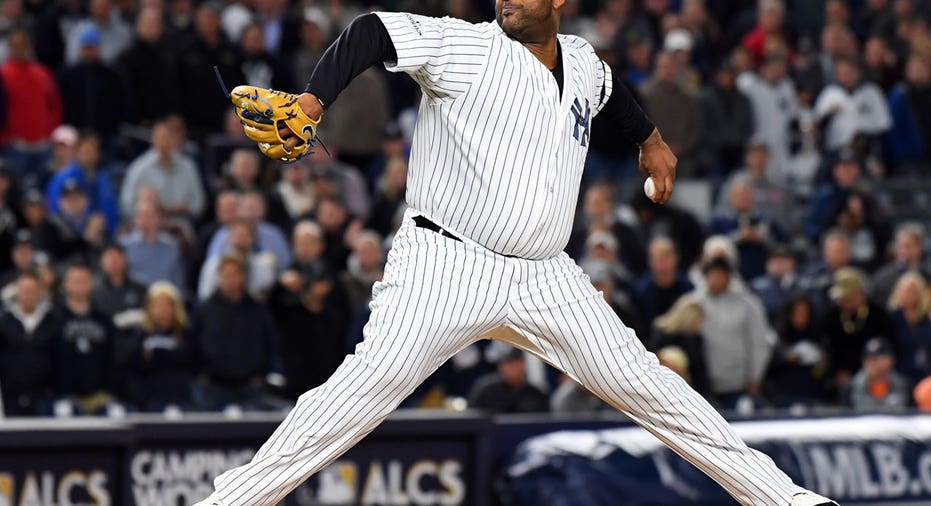 Back in the Bronx, the big guys delivered.
 Greeted by an array of "All Rise" signs in a ballpark that fits their style, Aaron Judge hit a three-run homer and made a pair of sparkling catches, leading CC Sabathia and the New York Yankees over the Houston Astros 8-1 Monday night and cutting their deficit to 2-1 in the AL Championship Series.
 Todd Frazier hit a go-ahead, three-run homer into the short porch in right field in the second against Charlie Morton.
 The 6-foot-7 Judge entered in a 4-for-31 (.129) postseason slump that included one home run, four RBIs and 19 strikeouts. The slugger capped a five-run fourth with a laser of a drive to left field off Will Harris and robbed Yuri Gurriel and Cameron Maybin of extra-base hits.
 Sabathia, almost as big at 6-foot-6, allowed three hits over six scoreless innings for his first postseason win in five years. The Yankees stopped a seven-game ALCS losing streak dating to Sabathia's victory over Texas in 2010 -- when Judge had just started his freshman year at Fresno State.
 At home after a pair of 2-1 losses in Houston, the Yankees led 8-0 after four innings. Houston scored on a bases-loaded walk in the ninth before postseason star Jose Altuve grounded into a game-ending double play with the bases loaded.
 Sonny Gray starts Game 4 for New York in the best-of-seven series on 11 days' rest Wednesday against Lance McCullers Jr. The Yankees are 4-0 at home this postseason.
 Frazier got the Yankees rolling, taking an awkward hack at a low, outside fastball and slicing it into the seats.
 "That was unorthodox, but I'll take a hundred like that," Frazier said.
 Judge used his height and long left arm to make a leaping catch with his left shoulder slamming into the right-field wall against Yuri Gurriel starting the fourth.
 Being a rookie, he politely waited outside the dugout for all the veterans to descend the steps after the third out -- as he always does -- then capped a five-run bottom half with a laser of a line drive that just cleared the left-field wall.
 Then in the fifth, he sprinted into short right for a diving backhand catch on Cameron Maybin in the fifth.
 On the first chilly night of the autumn with a game-time temperature of 57, Sabathia relied on the sharp, slow slider that has helped revive the former flame-thrower's career.
 Pitching with caution to Houston's dangerous lineup, he walked four, struck out five and pitched shutout ball for the first time in 21 career postseason starts. During the regular season, he was 9-0 in 10 starts following Yankees' losses.
 Adam Warren followed with two hitless innings. Houston has just 15 hits over the first three games and is batting .169 in the matchup.
 Morton was chased after 3 2/3 innings and allowed seven runs and six hits -- including three infield singles, a bloop single to center, a double that Maybin allowed to fall in left and Frazier's homer.
 Frazier, a New Jersey native who grew up a Yankees fan, entered 7 for 18 against Morton with two home runs. With Frank Sinatra's version of "Fly Me to the Moon" as his walkup music, Frazier hit not-quite a moonshot in the second inning, driving a pitch just 18 1/2 inches above the dirt 365 feet with pretty much just his left arm. That gave the Yankees their first lead of the series.
 Starting eight right-handed batters against Sabathia, Houston loaded the bases with two outs in the third on a pair of two-out walks around Alex Bregman's single. But Carlos Correa popped out on a fastball in on his fists.
 Judge made a leaping catch with his left shoulder slamming into the right-field wall against Gurriel starting the fourth, prompting Sabathia to raise both arms and point to him with his glove.
 "I don't know what got hurt worse, the wall or him," plate umpire Gary Cederstrom was heard to say by one of Fox's microphones.
 New York broke open the game in the bottom half. Chase Headley hit a run-scoring infield single -- ending an 0-for-28 slide by New York designated hitters in the postseason. Brett Gardner was hit on a leg by a pitch, loading the bases, and Harris came in and threw a wild pitch that allowed Frazier to come home from third.