JPMorgan Chase and GoPro Inc. Jump As Stocks Soar -- Again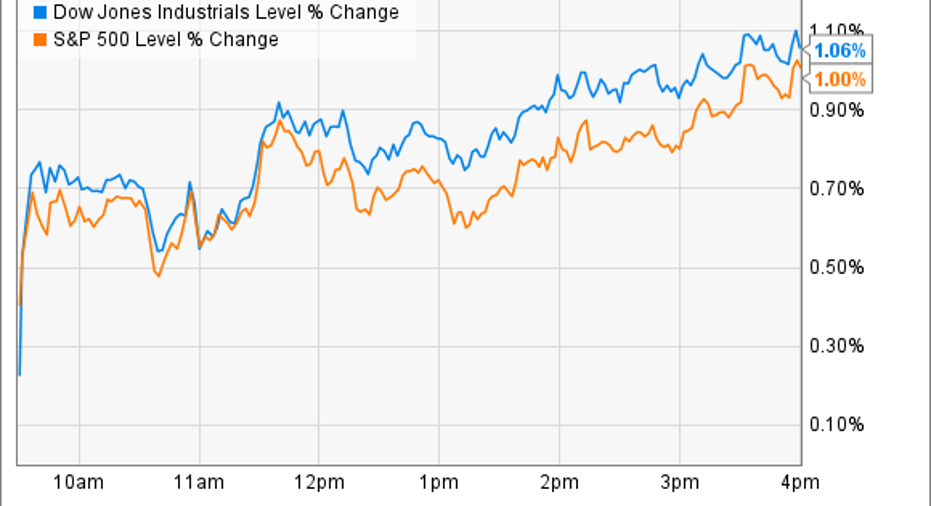 Stocks booked their second straight day of big gains on Wednesday as the Dow Jones Industrial Average jumped higher by 187 points, or 1.1%, while the S&P 500 gained 21 points, or 1%.
The moves pushed both indexes further into positive territory for the year and left the Dow just 2% below the all-time high it set last May.
Individual stocks making notable daily moves included JPMorgan Chase , whose earnings results helped spark a rally for the beaten-down financial sector. Meanwhile, camera device maker GoPro soared on Wednesday after nabbing a key executive from Apple .
JPMorgan's not-so-bad quarter JPMorgan Chase was the Dow's biggest gainer, logging a 4% jump after the banking giant posted surprisingly strong first-quarter results. Top- and bottom-line figures both worsened when compared to the prior year, but not by as much as Wall Street had feared.
JPMorgan Chase CEO Jamie Dimon. Image source: JPMorgan Chase.
Revenue fell 3%, and earnings dropped 10% while consensus estimates called for 7% and 13% slumps, respectively. The encouraging results helped push rival financial stocks higher on the day.
JPMorgan's consumer business showed strength as revenue and profits grew thanks to improvements in bank deposits, mortgages, and credit card accounts. "The U.S. consumer remains healthy, and consumer credit trends are favorable," CEO Jamie Dimon explained in a press release.
That success offset much of the sting from lower investment banking and trading revenues. Meanwhile, JPMorgan's exposure to an oil and gas industry that's navigating plunging commodity prices convinced management to set aside $1.8 billion for potential credit losses, or about double last year's result.
JPMorgan's outlook calls for a maximum $5 billion hit from energy-related loan losses this year, which would still leave the company in a strong enough financial position to fund increasing cash returns to shareholders, mainly through stock buyback spending.
GoPro's new hire Video camera device specialist GoPro saw its stock jump 19% on heavy trading volume after it announced making a key strategic hire. The company's new lead product designer is Daniel Coster, who for the last two decades has worked at Apple, where he shaped blockbuster consumer electronics products including the iPhone 4 and iPad wireless keyboard.
Image source: GoPro.
GoPro described Coster as "a core member of Apple's elite design team," and one who will now "influence all aspects of design at GoPro ... including hardware and software and services." The new hire starts working at the end of April and will report directly to CEO Nick Woodman.
An injection of fresh design perspective should help GoPro make its devices and software solutions easier to use, which was a problem Woodman highlighted after sales growth and profitability plunged last quarter. That's especially true considering that Coster's perspective is backed by 20 years of experience working for the most successful consumer electronics maker on Earth.
GoPro's more immediate problem is getting its operating results back on track. Woodman and his executive team project sales will fall by 50% in Q1 even as profitability sinks to 36% of sales from 45% last year.
The article JPMorgan Chase and GoPro Inc. Jump As Stocks Soar -- Again originally appeared on Fool.com.
Demitrios Kalogeropoulos owns shares of Apple. The Motley Fool owns shares of and recommends Apple and GoPro. Try any of our Foolish newsletter services free for 30 days. We Fools may not all hold the same opinions, but we all believe that considering a diverse range of insights makes us better investors. The Motley Fool has a disclosure policy.
Copyright 1995 - 2016 The Motley Fool, LLC. All rights reserved. The Motley Fool has a disclosure policy.