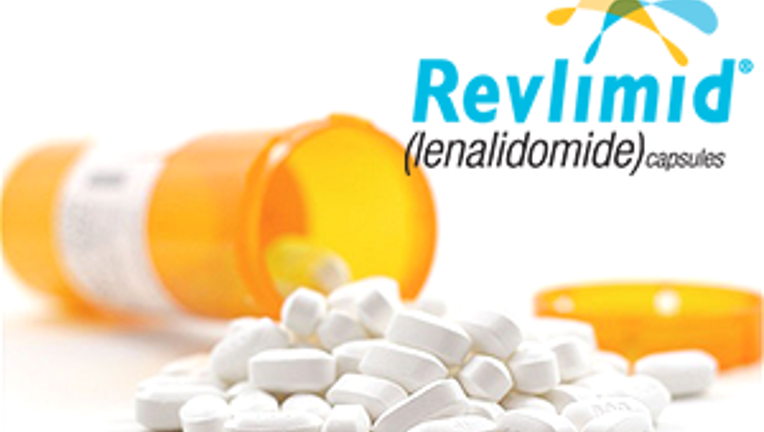 Image source: Johnson & Johnson.
Healthcare conglomerate Johnson & Johnson's share price may be up only marginally since the week began, but make no mistake about it: The week couldn't have possibly started off better for its long-term shareholders.
Johnson & Johnson nabs a rare approval On Monday, Nov. 16, Johnson & Johnson announced that the Food and Drug Administration had approved Darzalex (scientifically known as daratumumab) for the treatment of relapsed multiple myeloma in patients who have tried and progressed on at least three therapies. Multiple myeloma is a form of blood cancer that occurs in a type of white blood cell within a patient's bone marrow, and while there are current FDA-approved treatments for the disease, there is no cure. Each year, according to the National Cancer Institute, nearly 27,000 new cases of multiple myeloma are diagnosed.
Darzalex's approval was notable for two particular reasons. One is the remarkable efficacy of the drug. In two open-label clinical studies, Darzalex demonstrated an overall response rate (i.e., a complete or partial response) in 36% and 29% of patients. The trial with the 29% response rate, which had more than twice as many participants (106), also showed that Darzalex delivered a durable response lasting an average of 7.4 months.
I know what you might be thinking: "How exactly is 7.4 months a resounding breakthrough?" Keep in mind that Darzalex is specifically designed for patients who have progressed on three prior therapies. Just a few years prior there really weren't any therapies available for multiple myeloma patients once they'd progressed past a third-line treatment, so to see around a third of these patients responding is quite impressive.
Image source: National Cancer Institute.
The other interesting note here is the FDA's approval on Nov. 16 comes well -- and I do mean well -- ahead of the scheduled PDUFA action date for Darzalex, which was set as March 9. The FDA had already granted Darzalex a breakthrough designation and a priority review, but it ultimately wound up granting approval more than three and a half months earlier than expected.
Approvals three months or more ahead of a PDUFA date are quite rare, but one such drug that comes to mind is Medivation's and Astellas Pharma's Xtandi for metastatic castration-resistant prostate cancer. Xtandi, which is reshaping pre-chemo and post-chemo treatment for mCRPC patients, recorded $313 million in net U.S. sales in the third quarter and another $205 million in overseas markets. Extrapolated out, Xtandi has become a $2 billion drug, and it has plenty of room to grow. In other words, an early approval for Darzalex could be an encouraging sign based on what happened in Xtandi's case.
Amgen, you've just been put on noticeJohnson & Johnson's victory means much more than just another option for late-line multiple myeloma patients -- meaning it's officially put blue-chip biotech giant Amgen on notice.
Amgen has around a dozen different cogs in its product portfolio and a pipeline that'll help it achieve success in the coming years. One of those important components is Kyprolis, the FDA-approved multiple myeloma drug it acquired when it paid north of $10 billion for Onyx Pharmaceuticals. This past summer, Amgen received great news when the FDA decided to allow Amgen to expand Kyprolis' label to second-line indications and beyond. Previously, Kyprolis had only been used in third-line indications and later. But, just as one new opportunity opens for Amgen, it could see its third-line and fourth-line dominance shrink as Darzalex enters the picture.
Image source: Amgen.
It's not so much that there's merely another choice out there for patients as the clinical trials would appear to favor Darzalex. In clinical studies that led to the approval of Kyprolis in third-line multiple myeloma, 23% of study patients exhibited an overall response. As noted, Darzalex patients responded at a higher rate of 29% in the 106-patient trial and 36% in the 42-patient study. Here's the other kicker: Patients in Kyprolis' clinical trials (for third-line) and Darzalex both had progressed after taking an average of five different treatments.
What does this mean? It would appear there's some level of potential that Darzalex may elicit a higher chance of response in late-line multiple myeloma patients. However, it's important to also note that since Darzalex and Kyprolis have never faced off in a head-to-head trial, any statistical comparisons between the two should be taken with a grain a salt.
Still, J&J's early approval should have Amgen sweating a bit. At its peak, Kyprolis probably could have generated in the neighborhood of $750 million solely from third-line and fourth-line multiple myeloma patients. Now it'll contend with Darzalex. It should also be interesting to see if Kyprolis' and Darzalex's wholesale costs come into play. On an extrapolated basis, Kyprolis costs a little over $120,000 per year, compared with Darzalex and its annual wholesale treatment cost of around $134,500. Normally, insurers pay far less than wholesale, but it's something worth watching.
Is Celgene next?Although it's a bit speculative, it's also worth pointing out that Celgene's blockbuster Revlimid could be on Darzalex's radar.
Image source: Celgene.
Revlimid is a multiple myeloma monster that dominates in first-line and second-line indications. Even with the addition of Kyprolis in the second-line indication, it doesn't look as if Revlimid is ceding any market share. Of course, it remains to be seen if J&J is successful in expanding Darzalex's use to earlier indications. To be clear, with $5.7 billion to $5.8 billion in expected sales this year, neither Revlimid nor Celgene will be hurting anytime soon, but it's something worth monitoring.
As for Johnson & Johnson, this is business as usual. J&J's pharmaceutical segment has "promised" 10 novel blockbuster therapies between 2015 and 2020, and it's very possible that Darzalex is the first of those 10. Given its remarkable dividend, cash flow, and profitability, it remains a company you can stash away in retirement portfolios for a very long time.
The article Johnson & Johnson's Latest FDA Approval Could Spell Problems for Amgen originally appeared on Fool.com.
Sean Williamshas no material interest in any companies mentioned in this article. You can follow him on CAPS under the screen nameTMFUltraLong, track every pick he makes under the screen nameTrackUltraLong, and check him out on Twitter, where he goes by the handle@TMFUltraLong.The Motley Fool owns shares of and recommends Celgene. It also recommends Johnson & Johnson. Try any of our Foolish newsletter services free for 30 days. We Fools may not all hold the same opinions, but we all believe that considering a diverse range of insights makes us better investors. The Motley Fool has a disclosure policy.
Copyright 1995 - 2015 The Motley Fool, LLC. All rights reserved. The Motley Fool has a disclosure policy.