JetBlue Goes Upscale to Compete With Bigger Rivals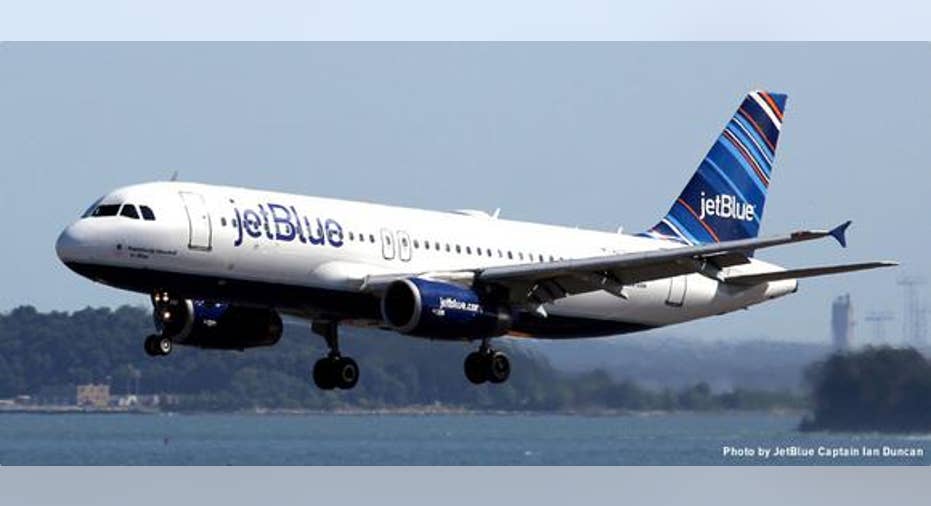 In mid-2014, JetBlue Airways launched its Mint premium service on a limited number of flights between New York and Los Angeles. While JetBlue has offered extra-legroom seats on its flights for many years, this was the first time it ventured into offering a "first-class"-like experience.
JetBlue's Mint premium service has been very well received. Image source: JetBlue Airways.
Mint was a phenomenal success for JetBlue out of the gate. As a result, JetBlue has expanded the scale of its Mint service numerous times in the past two years.
This week, the company announced its boldest move yet. JetBlue will upgrade seven more transcontinental routes to Mint service in 2017 and beyond. This move should help it win over even more business travelers, boosting JetBlue's unit revenue.
A bright spot for JetBlueJetBlue's Mint service utilizes a dedicated fleet of Airbus A321 aircraft configured with 159 seats. That includes 143 "Core" seats, some of which have extra legroom, and 16 full flat-bed "Mint" premium seats.
The Mint seats have the longest bed length of any domestic business class seat and come with a built-in massage function. Four of the seats actually convert to semi-private suites. Customers receive Birchbox amenity kits upon boarding and are treated to a tapas-style meal that regularly gets rave reviews.
JetBlue's Mint planes feature 16 flat-bed seats in the premium cabin. Image source: JetBlue Airways.
Customer acceptance of Mint has exceeded JetBlue's hopes. It originally thought that the Mint premium seats would cater to wealthy individuals and small businesses. It assumed that big corporations would remain loyal to JetBlue's larger rivals: American Airlines , Delta Air Lines , and United Continental .
However, JetBlue has also gained a foothold among large corporations, at the expense of American, Delta, United, and Virgin America . To satisfy surging demand for the Mint premium seats, JetBlue has had to add flights.
JetBlue's initial plan for Mint was to operate seven daily New York-Los Angeles roundtrips and five daily New York-San Francisco roundtrips. It now operates up to 10 daily roundtrips on the LA route and up to six daily roundtrips to San Francisco. Meanwhile, strong demand from corporate customers has allowed JetBlue to achieve much higher average fares than expected.
Mint expands -- rapidlyJetBlue has gone well beyond adding flights on its two original Mint routes. It now offers Mint flights from New York and Boston to several Caribbean destinations. For the most part, these are Saturday-only flights scheduled to utilize the Mint fleet on a day that has less demand for transcontinental flights.
More significantly, JetBlue is in the midst of expanding its Mint transcontinental service to Boston: its second-largest focus city. One of its three daily Boston-San Francisco roundtrips now operates on a Mint-configured A321. A second daily Mint flight on that route will start next week, and JetBlue will move to all-Mint service for Boston-San Francisco flights in September. JetBlue will then introduce Mint service on the Boston-Los Angeles route beginning in October.
On Tuesday, JetBlue announced even grander plans. During the 2017-2018 period, it plans to inaugurate Mint service on seven more routes: New York-Seattle, Boston-Seattle, New York-San Diego, Boston-San Diego, New York-Las Vegas, Fort Lauderdale-Los Angeles, and Fort Lauderdale-San Francisco.
A bold stand-alone planThis massive Mint expansion appears to be JetBlue's response to losing out on its bid to acquire Virgin America. JetBlue already competes with Virgin America on all of its transcontinental Mint routes, and it will go head-to-head with either Virgin America or its soon-to-be parent Alaska Air on all of the newly announced Mint routes, except for New York-San Diego.
JetBlue is challenging Virgin America in the premium market. Image source: Virgin America.
In deciding to expand Mint to more routes, JetBlue was probably encouraged by its strong performance with large corporations. Flat-bed seats have become standard in business class on the New York-LA and New York-San Francisco routes. Only Virgin America has recliner-style first-class seats on those routes, albeit very comfortable ones. However, business travelers don't have good options today on other transcontinental routes.
Indeed, American, Delta, United, and Virgin America use the same planes on other transcontinental routes that they use for much shorter flights. Delta and United have shrunk the first-class pitch (the distance between rows) to 37" or less on many domestic aircraft, whereas 40" or more used to be typical. American Airlines offers only slightly more legroom in first class.
Today, Virgin America is by far the leader in terms of first-class seating quality on all of its routes except for New York-LA and New York-San Francisco. Its plush first-class seats offer 55" of pitch. But for redeye flights, business travelers prefer to have a bed -- and Virgin America only serves a handful of routes anyway.
By offering a vastly superior product for business travelers on more routes than ever, JetBlue has an opportunity to make a much bigger dent in the corporate travel market. This could also have a halo effect, getting more business travelers to consider flying JetBlue even on non-Mint routes.
JetBlue has big potentialBuying Virgin America would have given JetBlue a very strong platform for competing with American, Delta, and United. But this week's big Mint expansion announcement shows that JetBlue is confident in its ability to compete even as a smaller player.
JetBlue currently plans to increase its Mint fleet from 11 planes at the end of 2015 to 26 planes by the end of 2017 -- with more growth beyond that. As the expansion of Mint service brings in more and more high-fare business travelers, it should pull JetBlue's unit revenue higher, driving strong earnings growth.
The article JetBlue Goes Upscale to Compete With Bigger Rivals originally appeared on Fool.com.
Adam Levine-Weinberg owns shares of JetBlue Airways and United Continental Holdings, and is long January 2017 $17 calls on JetBlue Airways, long January 2017 $40 calls on Delta Air Lines,, and long January 2017 $30 calls on American Airlines Group. The Motley Fool is long January 2017 $35 calls on American Airlines Group. The Motley Fool recommends Virgin America. Try any of our Foolish newsletter services free for 30 days. We Fools may not all hold the same opinions, but we all believe that considering a diverse range of insights makes us better investors. The Motley Fool has a disclosure policy.
Copyright 1995 - 2016 The Motley Fool, LLC. All rights reserved. The Motley Fool has a disclosure policy.