JetBlue Goes on the Offensive in Long Beach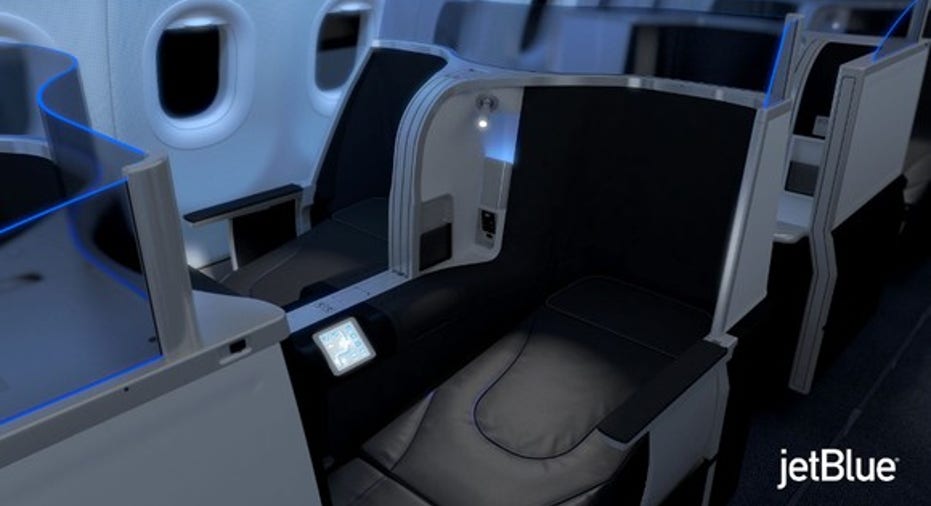 For years, JetBlue Airways (NASDAQ: JBLU) has mainly ignored Southern California's Long Beach Airport, home to its smallest focus-city operation.
JetBlue has eagerly promoted the idea of opening a customs and immigration facility there, so it can start serving international routes. But with international flights off-limits for now, JetBlue has been happy to mark time in Long Beach, operating as few as 22 daily round-trips at the airport.
JetBlue neglected its Long Beach focus city for many years -- until now. Image source: JetBlue Airways.
However, since losing out to Alaska Air (NYSE: ALK) in the competition to acquire Virgin America earlier this year, JetBlue has turned its focus to organic expansion on the West Coast. Furthermore, JetBlue has had to fend off new competition from Southwest Airlines (NYSE: LUV) in Long Beach. As a result, it is now adding tons of flights at Long Beach Airport.
Establishing a beachhead in Southern California
The rationale for Alaska Air's deal to acquire Virgin America is that it will become a major player in the massive California air-travel market. Indeed, when the acquisition closes, Alaska expects to be the largest airline on the West Coast, slightly edging out Southwest Airlines and overtaking all three legacy carriers.
This will leave JetBlue as a distant sixth on the West Coast. To avoid becoming an afterthought, JetBlue has embarked on a huge expansion of its Mint premium transcontinental service. By the end of 2017, JetBlue will roughly double its Mint fleet to 31 aircraft, which will operate more than 70 daily flights.
Mint flights allow JetBlue to capitalize on its strong position in its top three focus cities -- New York, Boston, and Fort Lauderdale -- to support more service to key West Coast markets. But to compete with the likes of Alaska Air and Southwest Airlines for travelers on the West Coast (and particularly in Southern California) JetBlue can't rely on long-haul Mint flights alone.
JetBlue's Mint premium cabin has been critical to its West Coast growth. Image source: JetBlue Airways.
Thus, JetBlue is expanding quickly in Long Beach again, using all 35 slot pairs that it controls there. Earlier this year, JetBlue began daily service from Long Beach to Reno, disclosed plans to resume flights from Long Beach to San Jose in early 2017, and began to boost frequencies on other routes. Just last week, JetBlue announced that it will begin flying from Long Beach to its Fort Lauderdale focus city in May 2017.
Boxing out Southwest Airlines
While JetBlue is clearly looking to bulk up on the West Coast, that wasn't the only motivation behind its growth spurt in Long Beach. It is also trying to limit competition from Southwest Airlines.
Earlier this year, Southwest decided to begin flying to Long Beach. It received four slot pairs, which it uses for flights to Oakland, in direct competition with JetBlue. In July, Southwest Airlines received permission to temporarily fly three times a day from Long Beach to Las Vegas, using unused JetBlue slots. Southwest competes directly with JetBlue on this route, too.
Just two weeks after Southwest announced the temporary Las Vegas route, JetBlue decided to ramp up its Long Beach schedule from 26 daily departures to 35 daily departures. By early January, it will offer seven daily departures to Las Vegas, up from just three daily flights a year earlier.
JetBlue doesn't want to leave any slots open for Southwest Airlines to use. Image source: The Motley Fool.
The only way for JetBlue to hold back Southwest's growth in Long Beach is to use all 35 of its slots there. JetBlue may have to reduce its fares to fill seven daily flights to Las Vegas -- but not as much as it would if it continued to face direct competition on the route from Southwest.
Paving the way for international expansion?
There may be a third rationale behind JetBlue's expansion in Long Beach. The company formally requested that the city apply for a customs and immigration facility in early 2015, after a few years of behind-the-scenes lobbying. Yet many residents in neighboring areas oppose any measures that could lead to more flights at Long Beach Airport, mainly due to noise concerns.
When JetBlue wasn't using all of its slots at the airport, opponents of expansion could easily argue that enabling international routes would lead to more flights and more noise. Now that the slots are being fully utilized, the airline can say that opening the airport for international service wouldn't lead to more flights or more noise: just a greater list of destinations.
A recent feasibility study backed JetBlue's perspective, saying that international flights wouldn't generate more noise and could boost the local economy. JetBlue is using this study to renew its calls for the city to go ahead with applying for a customs facility.
JetBlue has a lot of reasons to expand in Long Beach. But no matter what its motivation, the result will be more competition for its larger rivals in Southern California: Alaska Air, Southwest Airlines, and the three giant legacy carriers.
10 stocks we like better than JetBlue Airways When investing geniuses David and Tom Gardner have a stock tip, it can pay to listen. After all, the newsletter they have run for over a decade, Motley Fool Stock Advisor, has tripled the market.*
David and Tom just revealed what they believe are the ten best stocks for investors to buy right now... and JetBlue Airways wasn't one of them! That's right -- they think these 10 stocks are even better buys.
Click here to learn about these picks!
*Stock Advisor returns as of November 7, 2016
Adam Levine-Weinberg owns shares of Alaska Air Group and JetBlue Airways, andhas the following options: long January 2017 $17 calls on JetBlue Airways. The Motley Fool has no position in any of the stocks mentioned.
Try any of our Foolish newsletter services free for 30 days. We Fools may not all hold the same opinions, but we all believe that considering a diverse range of insights makes us better investors. The Motley Fool has a disclosure policy.