JetBlue Attacks Delta and American Airlines in a Lucrative Market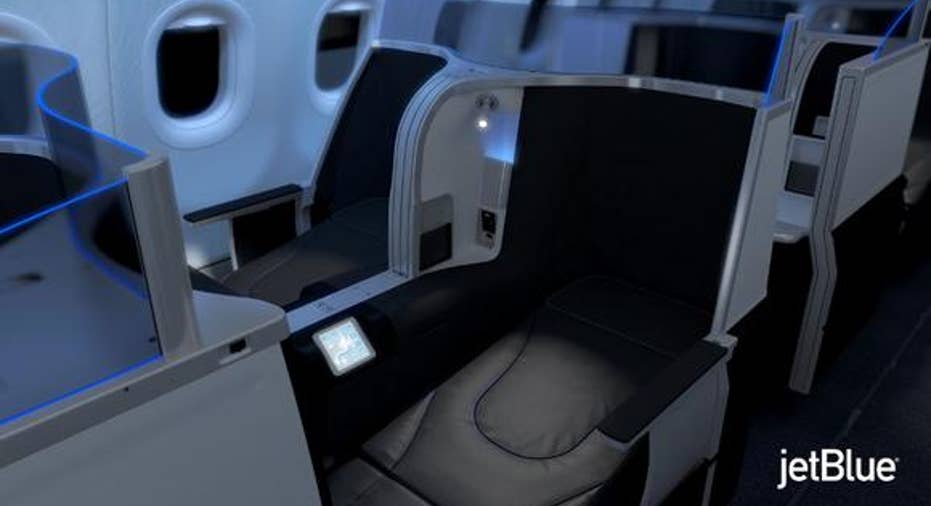 For more than three decades, the market for frequent "shuttle flights" from New York's LaGuardia Airport to Boston and Washington, D.C., has been split between two airlines. The identities of those two airlines have shifted over time, but today,Delta Air Lines and American Airlines are the two competitors.
Since Amtrak debuted its high-speed Acela Express service between Boston and Washington in late 2000, the airline shuttles have lost customers to rail travel. Starting this fall, Delta and American will face a new threat. Plucky upstart JetBlue Airways plans to start flying between LaGuardia Airport and Boston in late October, undercutting the incumbents' fares.
JetBlue will begin flying from Boston to LaGuardia Airport in late October. Image source: JetBlue Airways.
JetBlue seizes an opportunityNew York and Boston are JetBlue's top two markets. As a result, it's probably safe to say the company has been interested in the New York-Boston shuttle market for quite a while.
However, most of JetBlue's New York-area flights are based at JFK Airport, which is farther from Manhattan than LaGuardia. As a result, it's much less popular among business travelers. So, while JetBlue offers fairly frequent flights from Boston to JFK Airport, it's not attracting the same customers as the Delta Shuttle and the American Airlines Shuttle.
To compete seriously for business travelers on this route, JetBlue would need to fly from Boston to LaGuardia. The problem is, JetBlue doesn't have that many slots at LaGuardia Airport. Today, it uses them for lucrative flights to Florida. The high opportunity cost of repurposing those scarce slots for shuttle flights to Boston has kept JetBlue out of the market.
However, something changed recently. The FAA plans to lift the slot constraints on Newark Airport -- the third major New York City-area airport -- as of October 30. This will allow airlines like JetBlue to add flights there.
JetBlue therefore plans to shift six daily flights to Florida from LaGuardia Airport to Newark Airport. This will free up precious LaGuardia slots for JetBlue to operate six daily roundtrips to Boston on weekdays.
Competing on priceWith six daily roundtrips, JetBlue still won't nearly match the schedules offered by Delta Air Lines and American Airlines, which each offer hourly service between New York and Boston. However, JetBlue plans to undercut its rivals on price, with one-way tickets as low as $49.
Delta is the market leader at New York's LaGuardia Airport. Image source: Delta Air Lines.
By contrast, roundtrip tickets on Delta or American typically cost $281 or more, according to Reuters. Tickets for Amtrak's high-speed Acela service also tend to be priced at more than $100 one way, although the slower regional trains are usually cheaper.
It's all about winning in BostonJetBlue is the largest airline in Boston, with nearly 140 daily departures and 30% market share. This has enabled it to make significant inroads in the corporate travel market there. Indeed, short-haul business-oriented routes in Boston have been a bright spot for JetBlue recently.
This move into the Boston-LaGuardia market is just one more piece of JetBlue's strategy to dominate Boston. Over the past few years, it has gradually added new cities to its route map to capitalize on strong business demand out of Boston.
JetBlue has also started to bring its highly acclaimed Mint service to Boston to win over more business travelers. Two of the airline's three daily flights to San Francisco now feature a premium cabin with 16 flat-bed seats. In the next two years, JetBlue's transcontinental flights from Boston to Los Angeles, Seattle, and San Diego will also get Mint service.
JetBlue is bringing its Mint premium service to Boston. Image source: JetBlue Airways.
JetBlue is clearly gaining momentum among business travelers in Boston. It still has plenty of work to do as it fills out its route network there, but adding flights to LaGuardia Airport will further solidify its position as the No. 1 airline in Boston.
The article JetBlue Attacks Delta and American Airlines in a Lucrative Market originally appeared on Fool.com.
Adam Levine-Weinberg owns shares of JetBlue Airways and is long January 2017 $17 calls on JetBlue Airways, long January 2017 $40 calls on Delta Air Lines,, and long January 2017 $30 calls on American Airlines Group. The Motley Fool is long January 2017 $35 calls on American Airlines Group. Try any of our Foolish newsletter services free for 30 days. We Fools may not all hold the same opinions, but we all believe that considering a diverse range of insights makes us better investors. The Motley Fool has a disclosure policy.
Copyright 1995 - 2016 The Motley Fool, LLC. All rights reserved. The Motley Fool has a disclosure policy.