JetBlue Airways: Capital Returns Could Be Coming Soon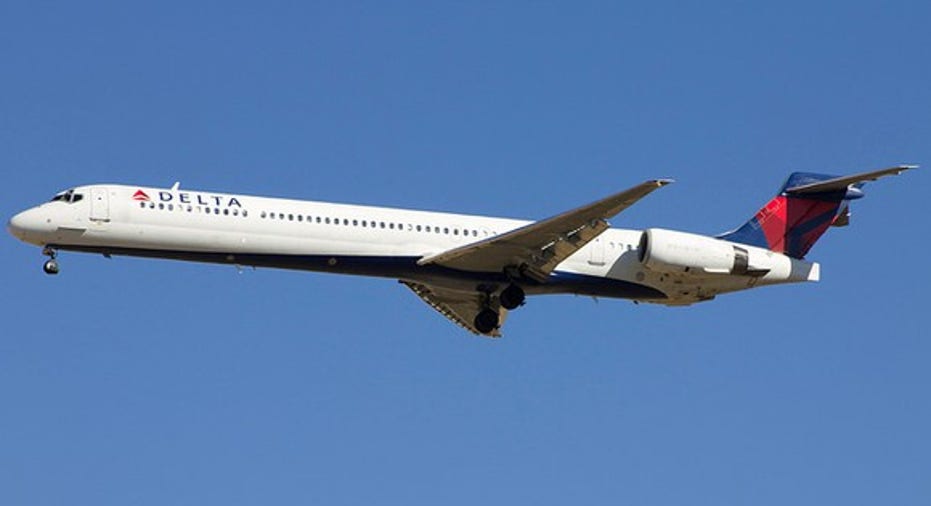 In the past few years, airlines -- led by Delta Air Lines -- have started to return large amounts of cash to their shareholders, through a combination of dividends and share buybacks.
So far, JetBlue Airways hasn't joined the party. Instead, it has used almost all of its free cash flow to reduce its debt burden. However, a combination of rising earnings and a much-improved balance sheet should allow JetBlue to start returning cash to investors in a meaningful way within the next year.
Returning cash responsibly
Three years ago, Delta Air Lines became one of the first airlines to reinstate a dividend and share buyback program. At that time, Delta was already generating strong free cash flow and had made substantial progress in reducing its debt burden.
Delta has spent billions on dividends and buybacks in the past few years. Image source: The Motley Fool.
Delta has continued to reduce its debt even as it has ramped up its dividends and buybacks since 2013. This allowed it to earn an investment-grade credit rating back in February.
JetBlue has opted to follow a similar strategy. In the past few years, it has been laser-focused on paying down debt, and it has only bought back enough stock to offset the shares issued as part of its stock compensation program. However, it will soon be in a position to start rewarding shareholders more directly.
JetBlue's balance sheet improves
In the past few years, JetBlue has dramatically reduced its debt burden. At the end of 2011, the company had $3.1 billion in debt and capital leases on its balance sheet. By the end of 2015, that was down to just $1.8 billion. JetBlue has also reduced its "debt-like" obligations by buying some of its previously leased aircraft.
At the same time, JetBlue's profitability has improved dramatically. After several years with operating profits averaging $300 million-$400 million, JetBlue's operating profit over the past year has surged to a record $1.3 billion. That gives it a greater ability to support its debt load.
JBLU Operating Income (TTM), data by YCharts
Credit-rating agencies have noticed this sharp improvement in JetBlue's financial situation. Moody's has upgraded its credit rating by three notches since the end of 2011, from B3 to Ba3. That still leaves JetBlue three notches behind Delta Air Lines, though.
Debt reduction winds down
Last year, JetBlue generated more than $650 million of free cash flow. In 2016, free cash flow should be similar, as higher net income and somewhat lower capital spending will probably be offset by higher cash taxes. JetBlue plans to use most of that cash flow to make about $450 million in scheduled debt payments.
JetBlue is paying down debt at a rapid rate. Image source: JetBlue Airways.
That will leave JetBlue with around $1.3 billion of long-term debt by year-end, assuming it forces the conversion of its remaining convertible debt. Going forward, JetBlue will have annual debt maturities of about $200 million for the next few years. This means that 2016 will probably be the last year that JetBlue has to devote the bulk of its free cash flow to debt reduction.
Time to return cash to shareholders?
A variety of revenue-enhancing initiatives such as a new co-branded credit card agreement and a broader rollout of the popular Mint premium cabin on long-haul routes should help JetBlue to post solid full-year profit growth in 2016 and sustain its high profitability in 2017. Meanwhile, annual capex will remain roughly flat through 2018, driving strong free cash flow production.
This in turn will allow JetBlue to follow rivals like Delta by returning a significant amount of capital to shareholders through dividends or share buybacks.
Even without any free cash flow growth, JetBlue would generate enough excess cash to support annual dividends and/or share buybacks in the range of 6%-7% of its market cap for the next few years. For comparison, Delta spent $2.6 billion on dividends and buybacks last year: equivalent to roughly 7% of its market cap.
JetBlue has hinted that it will provide more details on its capital allocation strategy in late 2016. A big capital return announcement could serve as a nice catalyst for JetBlue shares.
The article JetBlue Airways: Capital Returns Could Be Coming Soon originally appeared on Fool.com.
Adam Levine-Weinberg owns shares of JetBlue Airways and is long January 2017 $17 calls on JetBlue Airways and long January 2017 $40 calls on Delta Air Lines, The Motley Fool recommends Moody's. Try any of our Foolish newsletter services free for 30 days. We Fools may not all hold the same opinions, but we all believe that considering a diverse range of insights makes us better investors. The Motley Fool has a disclosure policy.
Copyright 1995 - 2016 The Motley Fool, LLC. All rights reserved. The Motley Fool has a disclosure policy.