Jefferson told lawyers to read these; now they'll be online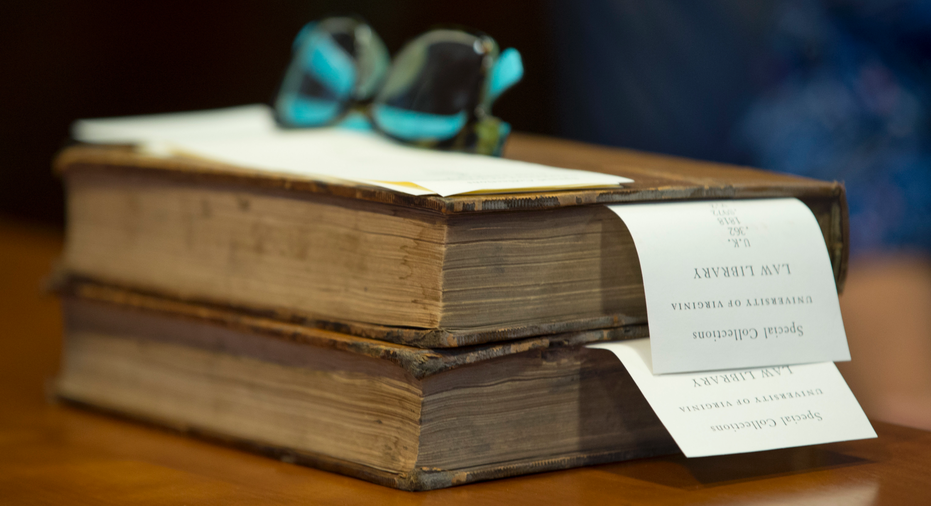 Thick tomes on the laws of England. Half a dozen legal dictionaries. Books on Roman law and maritime law.
Those are some of the books Thomas Jefferson thought aspiring lawyers should be reading or using as reference. Now, almost 200 years after his death, the University of Virginia has been working to make the hundreds of books on Jefferson's legal reading list available to the public through an online library.
The book list goes back to the creation of the University of Virginia, a project Jefferson took on after he finished serving two terms as America's third president. A voracious reader himself, Jefferson believed the school's library would be the heart of the new university, which opened in 1825. So he drew up a list of about 7,000 books ranging in topic from agriculture to zoology that he believed the school should have in its collections. At the time, books were pricey, and Jefferson thought part of the duty of the university was to make great works available for study.
"Great standard works of established reputation, too voluminous and too expensive for private libraries, should have a place in every public library, for the free resort of individuals," Jefferson wrote of the list of works he drew up.
The books were the starting point for the university's collection, but they didn't last. Most were destroyed in an 1895 fire that gutted a historic campus building called the Rotunda, the same building that was the endpoint of an August torch-light rally by white nationalists whose demonstration in the city the following day over the removal of a Confederate statue descended into chaos.
It was a law librarian at the university who, 40 years ago, got the idea of re-creating the collection of law books Jefferson recommended. Since then, the university has collected 336 of the 375 legal works listed by Jefferson, a lawyer himself. It's those works that are now being put online.
"Two hundred years later we're once again creating a different type of library with these books," said Loren Moulds, a librarian at the university who is helping lead the project. "Jefferson was dedicated to democratizing information. This is another attempt by us to do something in a library that opens these up and makes them more broadly available."
The books Jefferson selected range in publication date from 1534 to 1825. About three-quarters are in English, though some are in Latin and French. They address topics law students still commonly study today such as wills, contracts and libel, but there are also many books on subjects that aren't mandatory today, such as ecclesiastical law. The collection includes a two-volume set on the trial of Aaron Burr for treason and a 13-volume set on the laws of Virginia. One recently acquired book, Sir Henry Spelman's "Of the Law-Terms: A Discourse," which was published in 1684, cost $1,750.
"If you're a legal historian these are a great resource," said Jim Ambuske, who is also helping lead the project. Ambuske said that even though some texts are esoteric, "a lot of these cases are still relevant today."
Earlier this year, the project got a grant to help put the collection online, and now two students are using a special camera setup to capture images of the book pages. They use the setup for between 10 and 16 hours a day and get through three or four books each day.
"The only time these cameras aren't in use is when we're sleeping," said Amber Anglada, one of the students assisting with the project.
The aim is for the work to be finished in October or early November. At the same time, those working on the digitization project also want to put the books in context with essays about the library's history and, more generally, about law in the fledgling nation. Melissa Gismondi, a doctoral student in history who did that work, said she wanted to explain what Jefferson's vision of law tells scholars about the period of law after the American Revolution.
As for what Jefferson would think of the project, those involved said they hope he would approve.
"I think he would be reasonably pleased that we're trying to democratize legal knowledge in a way that he envisioned originally," Ambuske said, adding that they hope their work inspires other libraries to pursue similar projects.
___
Follow Jessica Gresko on Twitter at http://twitter.com/jessicagresko .