Jeff Bezos Unveils His Grand Plan to Conquer Space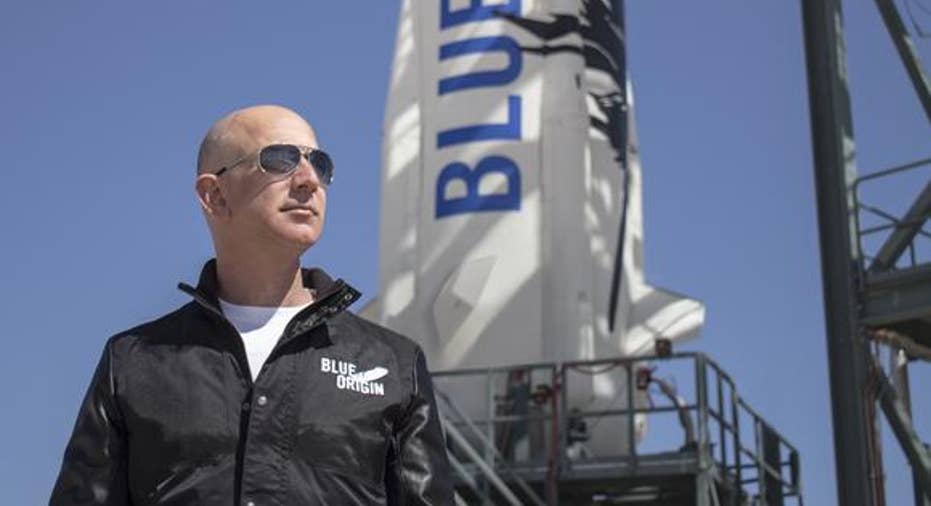 Jeff Bezos: Amazon.comCEO by day, rocketman by night. Image source: Blue Origin.
SpaceX and Blue Origin are engaged in a great battle to conquer space. This much we know. But here's something you might not know: While they're owned and run by Elon Musk and Jeff Bezos, respectively, and both of these space exploration firms are therefore private companies, one of them has historically been much more private than the other.
Hardly a month goes by without SpaceX announcing its next attempt to launch so-and-so's satellite into space, then attempt to reland the Falcon 9 launch vehicle on Earth. When the launch gets delayed, or the rocket goes "splat" on impact, Elon and SpaceX inherit a chorus of catcalls over the failure. In contrast, Blue Origin tends to keep its space launches secret up until they've happened. Successes are announced to great fanfare. But failures?
Not so much. If you're lucky, you might find blog post summing up what went wrong...a week after the fact.
Drawing the veilWhich is exactly why we were so surprised to learn last week that Bezos and Blue Origin had opened up their top secret headquarters facility to the media, inviting journalists in and giving a tour.
Our invitation appears to have gotten lost in the mail. But several enlightening reports by those who were present have since been released. And from what they've revealed, we now have a much better idea of where Blue Origin is heading with its space exploration efforts -- and what this means to investors. Without further ado, let's dive right in.
Tourism, yes -- but not just tourismPerhaps the biggest reveal of last week was the fact that Jeff Bezos has grander ambitions than just launching looky-loos up to the border of space, six at a time, to peer down at the globe before landing back where they started. Indeed, according to a report by The New York Times, Bezos looks forward to a time when "millions of people," in the Times' words, are not just briefly visiting space, but actually "living and working off the planet."
To help reach this future, Bezos and Blue Origin are embarking on three separate but interconnected ventures. The first is the space tourism business, which will help Blue Origin work out the kinks of launching and landing rockets in great numbers. As Bezos explains, "You never get really great at something you do 10, 12 times a year." Blue Origin needs to launch dozens of rockets annually to get truly proficient at this business. Blue Origin will begin sending its own employees up in its New Shepard craft as early as next year, and could open the business to general admission by 2018.
Sometime before 2021, Blue Origin plans to build a bigger rocket, and put it to work sending commercial satellites into orbit. In the meantime, in between time, Blue Origin is developing just one part of such an orbit-capable rocket -- the BE-4 engine -- which customers at Boeing and Lockheed Martin will use on their own United Launch Alliance (ULA) Vulcan rocket.
Dissing the competitionNow, Aerojet Rocketdyne is building a competing engine for Vulcan. But Bezos isn't particularly concerned about Aerojet's AR1. Lockheed Martin has expressed a preference for Blue Origin's engine over Aerojet Rocketdyne's. Indeed, in the words ofFlorida Today, Bezos says "the Vulcan is being designed around Blue Origin's BE-4 engine."
While Bezos acknowledges the naming of "a backup engine" as "logical," he sees little chance of losing Lockheed's business so long as BE-4 does what it's supposed to do.
Don't bite the hand that feeds you Selling BE-4s to ULA will provide cash to fund Blue Origin's future growth. And with so much of its financial future dependent on ULA work, Bezos is very careful not to offend his partners at Boeing and Lockheed Martin.
Responding to a question about whether Blue Origin will attempt to bid on Air Force contracts for launching "national security" satellites, Bezos demurred:
So Bezos isn't just good at launching rockets -- he's pretty good at stroking egos as well.
But can he afford it?Summing up, Bezos has laid out an ambitious battle plan for Blue Origin's future. But can he afford to make it happen?
According to Bezos, he's invested more than $500 million in getting Blue Origin to where it is today -- on the cusp of commercial spaceflight. Going further will certainly cost more, but Blue Origin's commercial contract with ULA should help. And Bezos' personal fortune, earned primarily from his success at Amazon.com, should be plenty to cover the gap while waiting for the ULA money to roll in.
When we last checked in on Jeff Bezos' net worth in June, the billionaire was said to be worth $39.3 billion. Since then, Amazon.com stock is up 28%, however, putting another $11 billion or so in Bezos' pocket, and increasing his net worth to perhaps $50 billion.
Or in other words: Yes, he can afford it.
ARTIST'S RENDERING OF THE NEW VULCAN ROCKET -- built by ULA, powered by Blue Origin. Image SOURCE:ULA.
The article Jeff Bezos Unveils His Grand Plan to Conquer Space originally appeared on Fool.com.
Rich Smithdoes not own shares of, nor is he short, any company named above. You can find him onMotley Fool CAPS, publicly pontificating under the handleTMFDitty, where he's currently ranked No. 278 out of more than 75,000 rated members.The Motley Fool owns shares of and recommends Amazon.com. Try any of our Foolish newsletter services free for 30 days. We Fools may not all hold the same opinions, but we all believe that considering a diverse range of insights makes us better investors. The Motley Fool has a disclosure policy.
Copyright 1995 - 2016 The Motley Fool, LLC. All rights reserved. The Motley Fool has a disclosure policy.