Japan Begins Building Up a Drone Air Force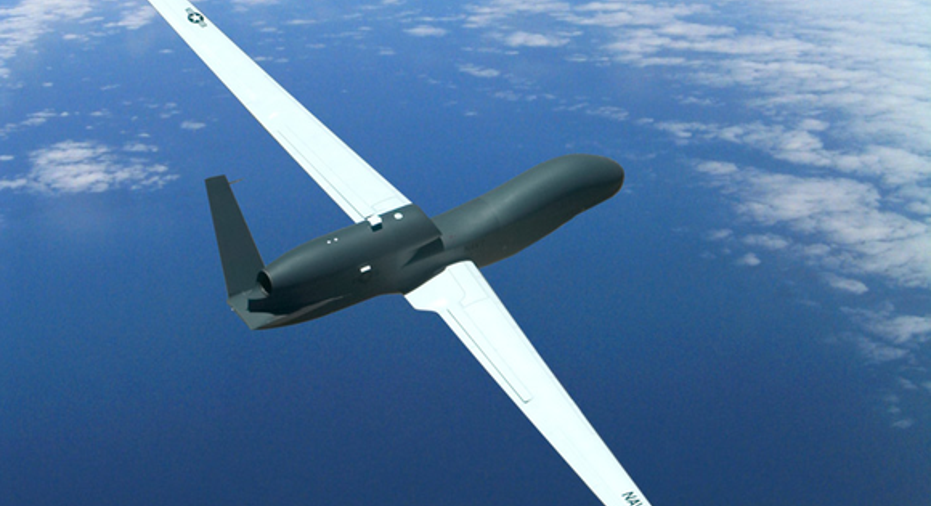 Two years ago, a Chinese land grab in nearby waters (so actually more of a "water grab") sparked an arms race throughout Southeast Asia -- an arms race that continues to this day.
Ever since China unilaterally declared its East China Sea "Air Defense Identification Zone" -- an ADIZ that overlapped a pre-existing ADIZ that Japan had reserved for itself -- Japan has been working to upgrade its military. So far, Japan has "reinterpreted" its constitution to permit military cooperation with allies, passed its biggest defense budget ever -- $42 billion -- and begun building new warships for its navy.
And Japan has also been pestering the United States nonstop to sell it some of our most advanced drones.
Northrop Grumman's Global Hawk UAV. Image source: Northrop Grumman.
Last month, the U.S. finally said yes.
The slow boat to JapanFor at least two years now, Japan has been trying to get its hands on some U.S.-built drones. On Thursday, Nov. 19, the U.S. Defense Security Cooperation Agency -- the arm of the Pentagon responsible for coordinating weapons sales to foreign governments -- asked Congress to approve such a sale.
Specifically, DSCA notified Congress of plans to sell Japan three RQ-4 Block 30(I) Global Hawk unmanned aerial vehicles, complete with "Enhanced Integrated Sensor Suites" and "Inertial Navigation System/Global Positioning Systems." With added equipment necessary to operate, maintain, and repair the craft, and training for other support services, the total value of the contract comes to $1.2 billion. Nearly all of this loot would go to Northrop Grumman as the Global Hawk's manufacturer and the "principal contractor" on the deal.
What it means to JapanJapan's latest defense budgetdescribes the acquisition of drone aircraft as essential "to build defense capabilities to ensure security of the sea and airspace surrounding Japan," an apparent reference to China's ADIZ declaration.
DSCA echoed this sentiment in its notification to Congress, arguing that the sale of these aircraft to Japan's Air Self Defense Force "will significantly enhance Japan's intelligence, surveillance, and reconnaissance (ISR) capabilities." The drones will also "help ensure that Japan is able to continue to monitor and deter regional threats."
What it means to investorsFrom an investor's perspective -- and here at The Motley Fool, we're all about investing, even when we're talking about the defense industry -- this arms sale looks important for at least two reasons. First and foremost (and most obviously), it's an extra $1.2 billion in Northrop Grumman's pocket. At the 13.2% operating profit margin typical in Northrop's Aerospace Systems division (according to S&P Capital IQ, this is both Northrop's largest division by revenue and its second most profitable), that works out to $158 million in new profits for the defense contractor. But the contract could be even bigger than that.
In approving the first sale of American drones to Japan -- and Congress will almost certainly approve this one, because it has never, ever refused to approved a DSCA-recommended arms sale -- Congress opens the door to more drone sales to Japan. Northrop Grumman drones. General Atomics drones. Textron drones. Drones galore.
Viewed more broadly, a Congressional approval of the drone sale to Japan would also play into the trend of loosening restrictions on international drone sales in general. Congress approved a similar sale of Block 30 (I) Global Hawks to Japanese neighbor South Korea in 2012. From 2008 through 2015, sales of General Atomics Reaper drones were approved to France, Germany, Spain, and the Netherlands. And just last month, Congress approved the sale of AeroVironment RQ-11B Raven drones to the Ukraine. (This last sale, worth just $9 million, sounds puny in comparison to the $1.2 billion that Northrop Grumman will get from Japan. But $9 million is actually worth 4% of what tiny AeroVironment gets annually from its drone sales.)
In perhaps the most game-changing announcement of all, last month DSCA sought approval to sell Hellfire missiles to arm a flight of six Italian Reaper drones -- the first such "weaponized" drone deal in years. So the moral of this story? There's a $10 billion global market for military drones out there, and American defense contractors want to own it. Japan's a part of this story, but it's just the start.
One day soon, Global Hawks could cover the globe. Image source: Northrop Grumman.
The article Japan Begins Building Up a Drone Air Force originally appeared on Fool.com.
Rich Smithdoes not own shares of, nor is he short, any company named above. You can find him onMotley Fool CAPS, publicly pontificating under the handleTMFDitty, where he's currently ranked No. 318 out of more than 75,000 rated members.The Motley Fool has no position in any of the stocks mentioned. Try any of our Foolish newsletter services free for 30 days. We Fools may not all hold the same opinions, but we all believe that considering a diverse range of insights makes us better investors. The Motley Fool has a disclosure policy.
Copyright 1995 - 2015 The Motley Fool, LLC. All rights reserved. The Motley Fool has a disclosure policy.