Jamie Dimon: Coronavirus shows 'critical' need for more inclusive US economy
'This crisis must serve as a wake-up call,' JPMorgan Chase CEO says
Get all the latest news on coronavirus and more delivered daily to your inbox. Sign up here.
The economic devastation wrought by the coronavirus pandemic in mere months shows just how many Americans were previously living on the edge during a period of remarkable prosperity, JPMorgan Chase CEO Jamie Dimon says.
Now, as the U.S. seeks to rebuild -- lowering the highest unemployment since the Great Depression while reopening businesses from nail salons to mom-and-pop restaurants -- it's critical to do so in a way that "creates and sustains opportunity for dramatically more people, especially those who have been left behind for too long," Dimon said in a letter to shareholders before the largest U.S. lender's annual shareholder meeting on Tuesday.
IRS TO ISSUE CORONAVIRUS STIMULUS VIA PREPAID DEBIT CARDS
While unemployment in the U.S. had dropped from a peak of 10 percent during the 2008 financial crisis to a 50-year low of 3.5 percent, economists say wage growth failed to keep pace and the twin forces of e-commerce and artificial intelligence were wiping out positions in retail and manufacturing that had long provided livable incomes in the U.S.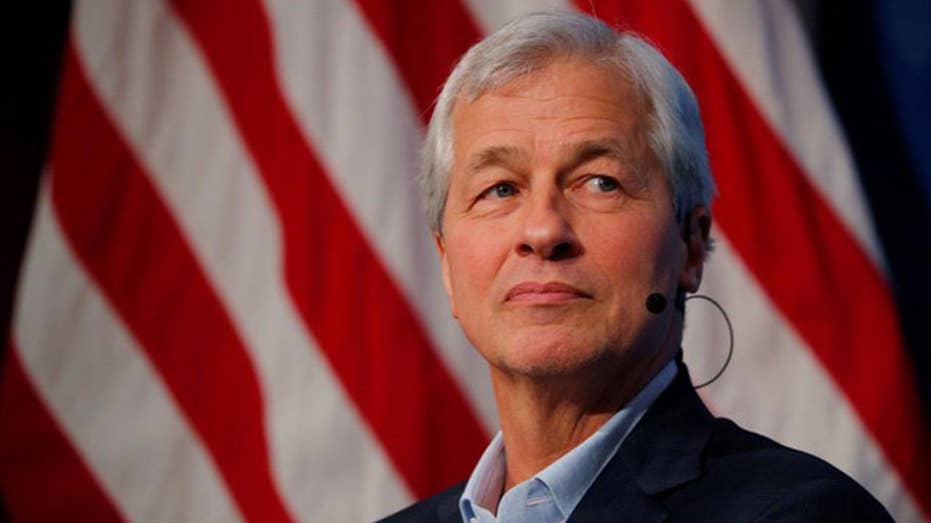 Democratic presidential contenders seeking the party's nod to run against President Trump spent much of 2019 arguing that GOP-led tax cuts had been benefited corporations and the wealthy while bypassing lower-income populations.
FED'S POWELL SAYS CRISIS LENDING PROGRAMS WILL BE UP AND RUNNING BY MID-MAY
This year, when the pandemic forced state and local governments to shut down large swaths of the economy starting in March to curb COVID-19 infection rates, many white-collar employees and senior executives were able to work remotely while retail sales clerks and restaurant wait staffs lost jobs and incomes.
"The last few months have laid bare the reality that, even before the pandemic hit, far too many people were living on the edge," Dimon said. "Unfortunately, low-income communities and people of color are being hit the hardest, exacerbating the health and economic inequities that were already unacceptably pronounced before the virus took over."
In the two months through May 9, more than 36 million people sought unemployment for the first time since losing a job, according to the U.S. Labor Department. Unemployment surged to 14.6 percent in April, the highest since the Great Depression, and all the positions added during the past decade have been wiped out.
"The scope and speed of this downturn are without modern precedent and are significantly worse than any recession since World War II," Federal Reserve Chairman Jerome Powell told members of the Senate Banking Committee during joint testimony with Treasury Secretary Steve Mnuchin on Tuesday.
'This crisis must serve as a wake-up call and a call to action for business and government to think, act and invest for the common good."
To combat the downturn, the Federal Reserve has slashed interest rates to nearly zero, the historically low level where they remained for nearly seven years after the financial crisis, and roughly doubled the size of its balance sheet to $6.93 trillion by buying government securities to bolster liquidity in financial markets.
"This precipitous drop in economic activity has caused a level of pain that is hard to capture in words, as lives are upended amid great uncertainty about the future," Powell said. "People have put their lives and livelihoods on hold at significant economic and personal cost. All of us are affected, but the burdens are falling most heavily on those least able to carry them."
About 40 percent of households earning under $40,000 a year in February lost a job in March, Powell has said.
GET FOX BUSINESS ON THE GO BY CLICKING HERE
As the U.S. begins to reopen, with some states loosening lockdown orders, developing ways to make sure a wider portion of the U.S. population benefits from periods of economic prosperity should be a priority, JPMorgan's Dimon said.
"In the midst of today's uncertainties and the acute impacts – with unemployment high and little economic activity – it's hard to plan for the future," but an inclusive economy with broader access to opportunity will be a "stronger, more resilient economy," Dimon emphasized.
"This crisis must serve as a wake-up call and a call to action for business and government to think, act and invest for the common good and confront the structural obstacles that have inhibited inclusive economic growth for years," he said.