James Comey to Brief Donald Trump on Russian Hacking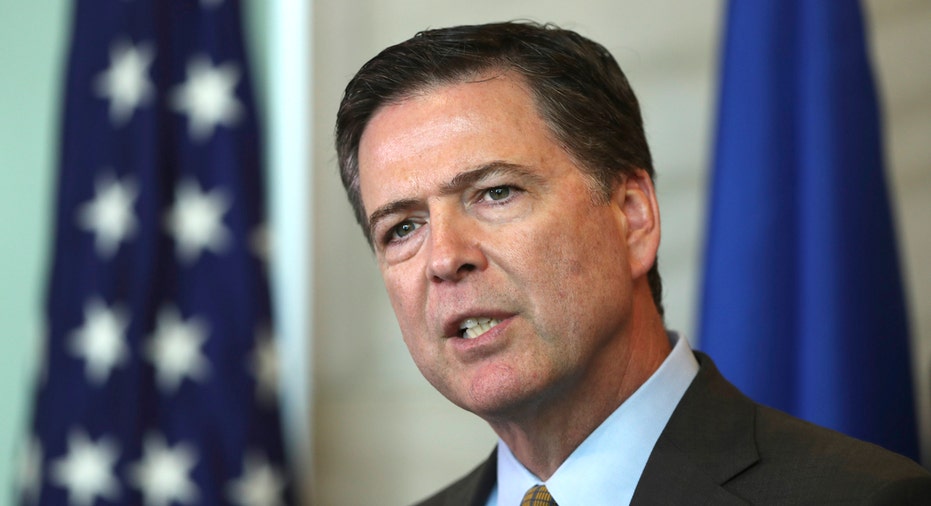 Missing from the current public debate over Russian hacking, the presidential election and U.S. intelligence has been the man who was often at the center of it all: James Comey, director of the Federal Bureau of Investigation.
On Friday, Mr. Comey will join Director of National Intelligence James Clapper, as well as the heads of the Central Intelligence Agency and National Security Agency, in giving President-elect Donald Trump a classified briefing about what U.S. agencies have concluded about alleged Russian hacking efforts aimed at influencing the presidential election. Mr. Trump has already publicly indicated he is skeptical of such claims, even poking fun at the intelligence agencies for making them.
Friday's meeting will take place at Trump Tower, not in a secure compartmented information facility, or SCIF, which is typically used to discuss classified information. The meeting will be in a private space with some surveillance-defeating technology, according to people familiar with the matter.
Mr. Comey was excoriated by Democrats for his decision to tell Congress 11 days before the election that the FBI was examining newly discovered emails related to a previously closed probe of Democratic presidential nominee Hillary Clinton's email server. Two days before polls closed, the FBI said a review of the new evidence gave it no reason to reverse its earlier recommendation that Mrs. Clinton not face charges related to her email practices while secretary of state.
Mrs. Clinton and others have blamed those announcements, in large part, for her defeat, saying it resurfaced voters' doubts about her at a critical moment. Republicans, in turn, have blamed Mr. Comey for the decision not to prosecute Mrs. Clinton.
U.S. intelligence officials briefed members of Congress on the alleged Russian hacking findings on Thursday. Several officials testified publicly before the Senate Armed Services Committee before the briefing. Mr. Comey didn't, though he did join the subsequent, classified briefing behind closed doors, according to officials.
Mr. Comey has said he doesn't plan to speak publicly before the new president takes office and that he is reluctant to do so before meeting with Mr. Trump, according to people familiar with the discussions. Mr. Comey, who took office as FBI director in September 2013, serves a 10-year term, though he can be dismissed by the president at any time. Since Mr. Trump's election, he has repeatedly signaled to FBI employees that he has every intention of serving the entire term, according to people familiar with the discussions.
For much of 2016, Mr. Comey was a larger-than-life public presence, testifying in Congress, speaking at universities and holding occasional sit-downs with groups of reporters. The most intense spotlight came in July, when he announced that the email probe would be closed without any recommendation of charges.
While there was evidence of extreme carelessness in the email setup, Mr. Comey said, no reasonable prosecutor would file criminal charges over it. Following that unusually detailed announcement, Mr. Comey spent hours testifying before Congress explaining his reasoning.
Since the unexpected victory of Mr. Trump two months ago, however, the director hasn't made any public appearances. Just before the election, he spoke at a memorial service inside the Justice Department for one of its most highly regarded employees, David Margolis.
People close to Mr. Comey noted that he began scaling back his public schedule weeks before the election, and while he may not have given any speeches in the last two months, they say that is because none had been scheduled. He hasn't canceled any appearances, they add.
Since Nov. 8, the director has visited FBI field offices and spoken to small groups of employees, as well as gatherings of current and former agents. In those talks, he has defended his decisions to sometimes skeptical FBI veterans, including at least one event over the holidays, according to people familiar with those meetings.
Within the FBI workforce and among former agents, there are still significant pockets of skepticism and concern about the decisions he made, according to people familiar with the discussions. Some fault his July announcement as saying too much and creating a political dynamic in which he felt compelled to continue speaking publicly about the case.
Other former FBI personnel remain angry about the decision not to pursue charges in the email case. And still other agents grew irate after they concluded that a separate probe into the Clinton Foundation was sharply curtailed by the Justice Department and FBI leadership.
The director, according to people familiar with the discussions, has decided not to speak publicly about such matters until after Mr. Trump is sworn in as president, and will probably do so first before Congress.
"He was in the eye of a political hurricane, with forces on both sides not wasting time to examine the validity or credibility of what he was saying -- they just knew it didn't match their political agenda," said Ron Hosko, a former senior FBI official. "Because those winds were whipping him so strongly, perhaps more strongly than he would have guessed, I think it's more judicious for him to hold down, get out of the glare of the klieg lights put on him, and go about the business of the FBI with a lower profile, if he can do it."
Mr. Hosko said that if an external event, such as a fresh terror attack on U.S. soil, had forced his hand, Mr. Comey likely would have spoken publicly.
In an internal New Year's message to FBI staff sent earlier this week, Mr. Comey wrote, "I would be lying if I said the external criticism doesn't bother me at all. But the truth is, it doesn't bother me much because of the way we made the decision." He added, "At every turn last year, we were faced with choosing among bad options and making decisions we knew would bring a torrent of criticism." The message was first reported by ABC News.
--Shane Harris contributed to this article.