J. Crew Follows in JCPenney, Macy's Footsteps as it Trims Jobs, Shakes Up C-Suite
J. Crew on Tuesday followed in the footsteps of a long list of retailers, including Ralph Lauren (NYSE:RL), Macy's (M), and JCPenney (NYSE:JCP), trimming job count and reassessing business strategies as it tries to soften the blow of changing consumer shopping habits.
The fashion-forward apparel retailer said as part of a larger reorganization it will eliminate 150 full-time and 100 open positions from its corporate headquarters. It sees an approximately $30 million annualized pre-tax savings from the move and expects to take a $10 million charge in the first quarter due to severance payments and other termination costs.
"We take these difficult decisions very seriously, but believe they are absolutely necessary," said J. Crew chairman and CEO Mickey Drexler in a statement. "We are streamlining our teams as we evolve our business and process to cater to the new demands of the retail industry."
The changes at J. Crew come at a time of increased volatility for the industry. As consumer spending continues to tick higher and confidence among American shoppers remains at lofty levels, traditional bricks-and-mortar retailers are at the same time facing decreasing foot traffic as consumers flock to discount chains like Marshalls and TJMaxx (NYSE:TJX) and online platforms like Amazon (NASDAQ:AMZN) to make purchases.
Fourteen retailers – including Payless ShoeSource, HHGregg, the Limited, and Wet Seal – have filed for bankruptcy protection so far this year, rivaling last year's total of 18, according to data compiled by S&P Global Market Intelligence.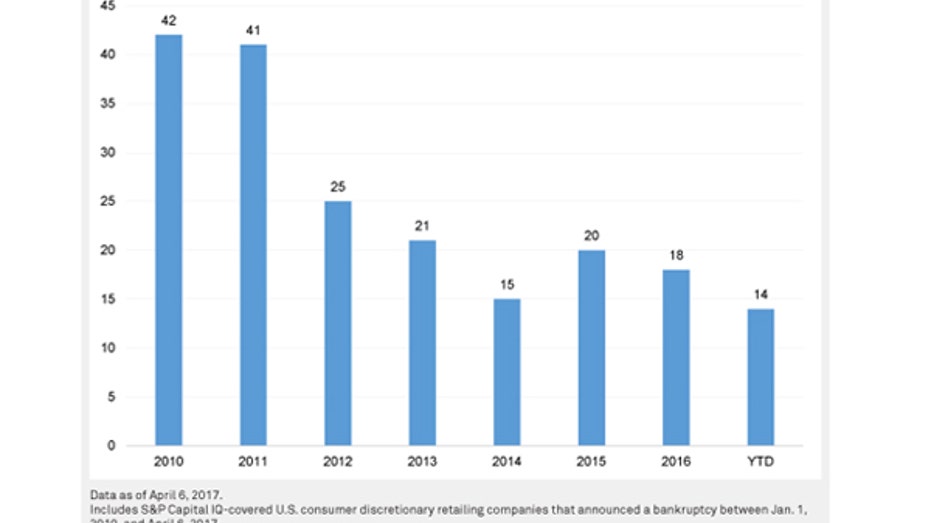 "The convenience of online shopping, and the downward pressure it has put on pricing,  has radically altered consumer behavior," S&P Global Market Intelligence analysts said. "Most shoppers now browse for value online, and the younger cohort of the prized millennial demographic, some of whom may never have developed a penchant for long afternoons at the mall, clearly prefers that channel."
The group has developed a statistical model calculating the probability of default over a one to five-year time horizon for public and private companies around the world. Of the top 10 most vulnerable companies the model identified were U.S. retailers Sears (NYSE:SHLD) and Bebe – which last week said it would close all of its physical retail stores.
"Retail's troubles are manifold, and the diagnosis is different in each struggling company's case, but it is widely agreed that the U.S. is over-stored and that the solution for flat or declining in-store sales resides to a significant degree online, where the most sales growth is now taking place," the analysts said.
In his statement, Drexler acknowledged the rapid change in the overall retail environment stemming from increased customer demand for on-trend styles, convenience, and personalized shopping experiences.
As part of the shift in strategy, the company earlier this month parted ways with longtime creative director and President Jenna Lyons – a person with whom many credit J. Crew's unique style and signature looks. Lyons was a 26-year veteran of the company and continues to serve as a consultant until her contract expires in December.
In the wake of Lyons' step back, the company on Tuesday said its current president and chief operating officer, Michael Nicholson, will take over the planning, allocation, merchandising, marketing and design functions of the brand, while Lisa Greenwald was promoted to the role of chief merchandising officer after having served as senior vice president of merchandising for Madewell.
Additionally, J.Crew named Somsack Sikhounmuong chief design officer, which was made effective April 5, and appointed Libby Wadle president of the Madewell Brand.
For the fiscal year ended January 28, J.Crew posted a $23.5 million loss as revenue dropped 3% to $2.43 billion.
Correction: A previous version of this story incorrectly included Limited Brands as part of 14 retailers to have filed for bankruptcy protection this year. Limited Brands, now called L Brands, spun off The Limited in 2007. The Limited filed for bankruptcy protection in January.