Italy's Monti Wins Confidence Vote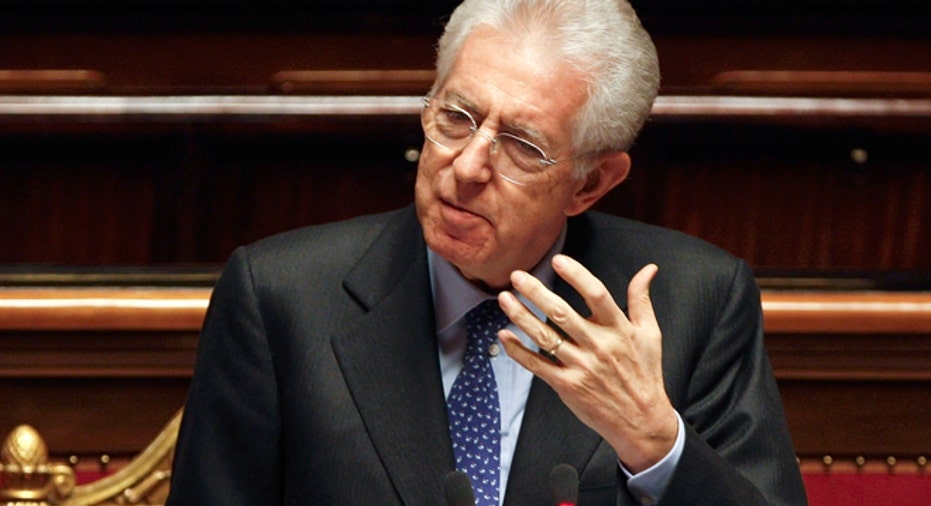 Prime Minister Mario Monti won an overwhelming vote of confidence on Friday after warning politicians they would have to face the Italian public if they sabotaged a sweeping package of reforms aimed at ending an acute debt crisis.
Monti won the vote by 556 to 61 after a similar comfortable vote in the upper house on Thursday. His unelected government of technocrats is now fully empowered.
Monti, who also holds the economy portfolio, has outlined to parliament a broad raft of painful reforms to shore up public finances and increase competitiveness after a decade of stagnant growth.
Monti, appointed on Wednesday to succeed Silvio Berlusconi after the discredited centre-right leader lost his majority, said he intended to serve until the next scheduled election in 2013.
Politicians have been suspected of wanting to topple the technocrat government, which many of them opposed, within months.
But Berlusconi said on Friday he was ready to see it serve out the full term. He denied telling supporters he could "pull the plug" whenever he wished.
Monti told the lower house before the vote his success in passing deep and painful reforms would depend on the support of parliament.
"I'm not asking for a blind vote of confidence. We're asking for a vigilant vote of confidence," he said.
"But we think that if we do a good job, then you too, when you give us a vote of confidence or withdraw it, should remember what the consequences will be for citizens' confidence in you," he said.
The remark was a clear warning to squabbling politicians who have attracted public outrage for failing to take action as Italy slipped closer to an economic abyss after its borrowing costs soared out of control under Berlusconi.
The politicians were forced to acquiesce to an unelected government of technocrats by the power of international markets.
POLICY PRIORITIES
Monti had laid out his policy priorities in a maiden speech to the upper house on Thursday in which he outlined a mix of pension and labour reforms and hinted he would reintroduce a housing tax scrapped by Berlusconi.
The former European Commissioner has won the backing of all the main parties except the pro-devolution Northern League, Berlusconi's key partner in the outgoing coalition.
However Berlusconi's centre-right People of Freedom (PDL) party made clear its support is conditional. The biggest force in parliament has opposed key options in Monti's reform agenda, notably the possible levying of a wealth tax on privately held assets.
Monti told reporters after the successful vote that he would meet the euro zone's most powerful leaders, German Chancellor Angela Merkel and French President Nicolas Sarkozy, next week. He would also meet EU Commission chief Jose Manuel Barroso and European Council President Herman van Rompuy.
Financial markets, upset by the escalating euro zone debt crisis, appeared to welcome Monti's speech on Thursday, with yields on 10 year bonds dipping below the 7 percent level widely seen as a symbolically critical red line.
But they remain at untenably high levels of over 6.7 percent and the spread over German Bunds, the risk premium paid by investors to hold bonds considered less safe than benchmark German paper, is more than 480 basis points.
Italy, the third largest economy in the euro zone with a decade of anaemic growth and one of the world's highest public debts, has been at the centre of the Europe-wide financial crisis because of fears it would be forced to seek a bailout that would overwhelm the EU's financial defences.
But with the European Central Bank in the market buying Italian bonds, attention has shifted to other countries including France and Spain, which are also considered vulnerable.
Monti dismissed complaints that his non-elected administration had been imposed undemocratically by the so-called "grandi poteri" or great powers, the big business and church establishment which had become openly hostile to Berlusconi's scandal-plagued government.
However protests against the "bankers' government" by thousands of students across Italy on Thursday highlighted the problems his administration will face in pushing through painful austerity measures that will hit millions of Italians.