Italy populists win Senate confidence vote, put EU on notice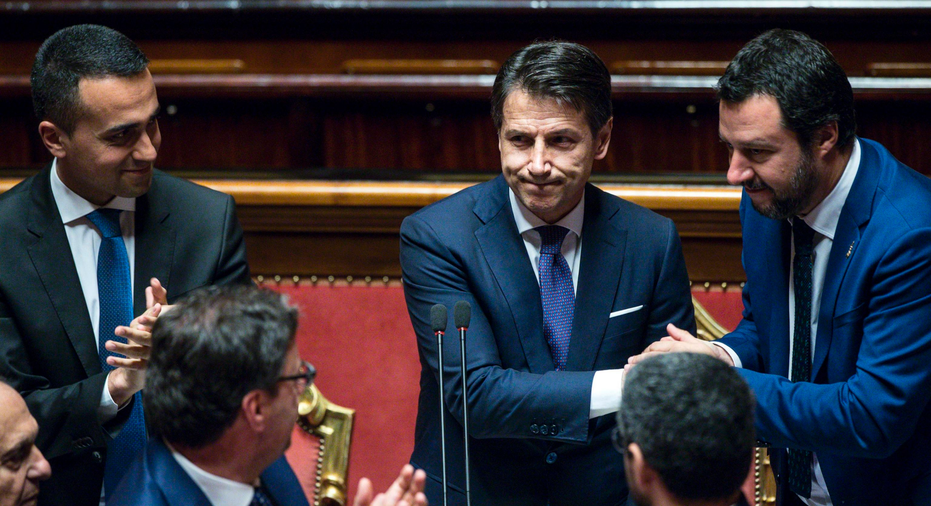 Italy's new populist government won the first of two votes of confidence needed to start governing after its leader denounced Europe's "failed" immigration policy and warned Tuesday that his Cabinet would renegotiate Italy's fiscal obligations so it can help struggling Italians.
The 5-Star-League alliance secured 171 votes in favor from Parliament's upper chamber, well beyond the minimum needed to pass. Another 116 senators voted against the coalition government and 25 abstained.
Lawmakers in the lower Chamber of Deputies, where the two parties also have a majority, are set to cast confidence votes Wednesday that would launch western Europe's first populist government.
In his inaugural policy address ahead of the Senate vote, Premier Giuseppe Conte readily acknowledged that the 5-Star-League partnership marks a radical shift from the Italian status quo.
"If 'populism' is the attitude of leaders to listen to the people ... and if 'anti-system' means introducing a new system that removes the old privileges of power, then this government deserves both these descriptions," said the premier, who was sworn into his first political office Friday.
Conte, who until last week was still teaching law classes at the University of Florence, was interrupted with applause nearly three dozen times during his 75-minute speech.
But during the debate that followed, opposition senators from left to right ridiculed the government's proposed agenda as contradictory, superficial and fiscally unrealistic.
The heavy-spending plan calls for a two-tiered flat tax, a basic income for poor Italians, reforms to the pension system and a "dignified" minimum wage for workers.
"You're deceiving the good faith of Italians if you're trying to make us believe that it's enough just to list these things, without saying how you'll do it or how you'll convince Europe," said Sen. Annamaria Bernini of the center-right Forza Italia, which campaigned in an alliance with the League before the March parliamentary election but voted against the new government.
"Mr. President, you need heavy doses of reality, not just good intentions," she said.
Conte sought to assuage fears in Europe about his fiscal program, but he offered no details on financing Tuesday and limited his comments to responding to concerns that Italy at some point might leave the eurozone.
"Do we have to repeat it? Leaving the euro was never up for discussion. It is not up for discussion," he said. "The issue is another: Is it legitimate or not for a government of a country to re-negotiate economic policy?"
Fears of a possible exit strategy were stoked when an early draft of the government's policy agenda leaked, showing plans to delineate rules to leave the euro and for the European Central Bank to cancel 250 million euros in debt. Those points were dropped in the final policy document.
Conte also said Italy was a "convinced" member of NATO and reaffirmed its "traditionally privileged" alliance with the United States.
However, he also called for the lifting of European Union sanctions on Russia, citing Moscow's strategic role internationally and the risk that sanctions will crush Russian civil society.
Conte responded to concerns about the xenophobic League's rhetoric, insisting that Italy "isn't racist" and accepts its responsibilities to welcome and integrate legitimate refugees.
But he said the rest of the EU must take on a greater burden of accepting refugees as well as negotiating with migrants' home countries and helping send back those who don't qualify for asylum.
"It's obvious to everyone that the way migrant flows have been managed has been a failure," he said. "We will put an end to the business of immigration that grew disproportionately under the cloak of a pretend solidarity."
Conte gave his speech standing between his two political masters: 5-Star Leader Luigi Di Maio and League leader Matteo Salvini, who both gave up their own ambitions to be premier to find a compromise candidate to head a previously unthinkable alliance.
The 5-Star-League's financial platform has worried economists and EU policymakers who warn it will increase Italy's debt burden, already Europe's heaviest after Greece.
Conte said Italy was committed to reducing its public debt, but said it wouldn't do so through austerity measures. He said the government plans to grow the economy through environmentally sustainable development, reduction in bureaucracy and a more business-friendly administrative climate for the small and medium-sized companies which are the backbone of the economy.
Leading the opposition in the Senate on Tuesday, Democratic Party Sen. Franco Mirabelli said it was fine to call for decent salaries and a speeding-up of public works contracts. He said the Democrats could support some of the new government's policy proposals.
"But the point is: How do you do it? With what resources?" Mirabelli said.