It Was CheckMate for Bristol-Myers Squibb Company in 2016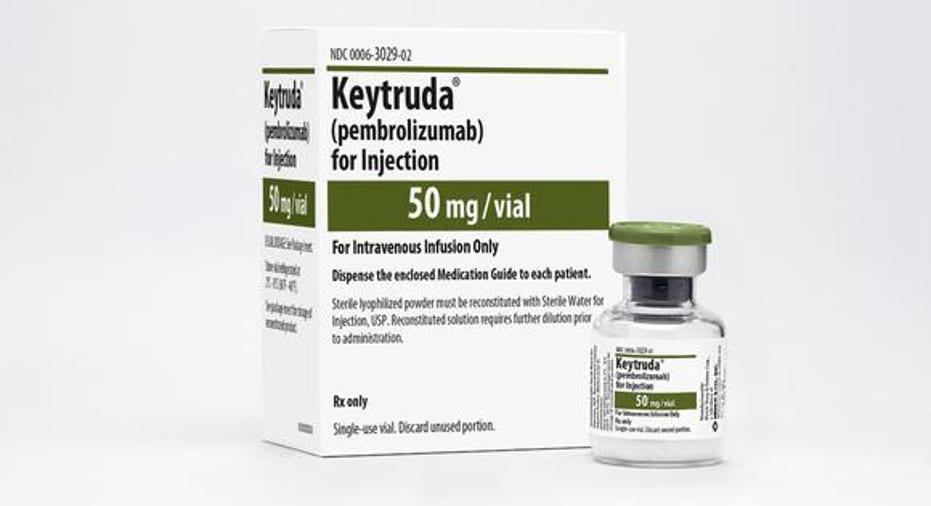 Image source: Getty Images.
What happened
According to data fromS&P Global Market Intelligence, shares of global drug giant Bristol-Myers Squibb (NYSE: BMY) tumbled 15% in 2016,meaning it underperformed the broad-based S&P 500 by nearly 25 percentage points. The catalyst for Bristol-Myers' fall is ironically the reason it's rallied so successfully in previous years: Opdivo.
So what
In particular, the CheckMate-026 study involving cancer immunotherapy Opdivo wound up stinging Bristol-Myers and its shareholders twice in 2016.
CheckMate-026 was designed to examine Opdivo as a monotherapy treatment for treatment-naive patients with advanced non-small cell lung cancer (NSCLC) whose tumors had PD-L1 expression of at least 5%. Considering how successful Opdivo had been in metastatic melanoma, second-line renal cell carcinoma, and second-line NSCLC, Wall Street pegged Opdivo for success. Unfortunately, that's now the way the cookie crumbled. In August, Bristol-Myers Squibb announced that Opdivo had missed its primary endpoint of a statistically significant improvement in progression-free survival (PFS), and its secondary endpoint of median overall survival.
Image source: Merck.
It was a crushing blow considering that Opdivo's biggest rival, Merck (NYSE: MRK), with cancer immunotherapy Keytruda, met its primary endpoint in first-line NSCLC patients whose tumors had PD-L1 expression of at least 50% in the KEYNOTE-024 trial. Keytruda wound up cutting the risk of disease progression or death by 50% versus the placebo.
Amazingly, things got even worse in September when Bristol-Myers Squibb released the primary data from CheckMate-026. What Wall Street and investors saw was a drug that didn't even come close to outperforming the chemotherapy placebo. Median PFS was only 4.2 months for the Opdivo group compared to 5.9 months for patients with platinum-based doublet chemotherapy. Furthermore, the hazard ratio of 1.15 implied favorability toward the chemotherapy arm, not the Opdivo arm. The last straw was the median overall survival data, with a modest edge of just 1.2 months (14.4 months vs. 13.2 months) for the Opdivo arm over the placebo.
Needless to say, Opdivo won't be nabbing a label expansion to first-line NSCLC anytime soon.
Now what
CheckMate-026 was clearly a crushing blow, but there's so much more to Bristol-Myers that Wall Street may be overlooking.
Image source: Bristol-Myers Squibb.
One of the most important things to realize is that drugs can react completely different to certain cancer types and cancer stages and as a monotherapy versus a combination therapy. We've witnessed dozens of ongoing cancer immunotherapy studies from Bristol-Myers, Merck, and other drug giants, and combination therapies have appeared to work better than monotherapies. Thus, Opdivo's failure in first-line NSCLC as a monotherapy may not be such a bad thing after all.
What's more, Opdivo is probably going to remain a foundational therapy in numerous indications for years to come. It's currently the leading market share drug in second-line renal cell carcinoma, and it has solid market share in second-line NSCLC. One failed study doesn't mean Bristol-Myers or investors should pack up the suitcase on Opdivo.
Beyond Opdivo, Bristol-Myers and Pfizer (NYSE: PFE) are raking in the dough hand over fist because of oral anticoagulant Eliquis, which has a number of label expansion opportunities. Worldwide revenue soared 90% year over year in Q3, and for Bristol-Myers, they're now on track for more than $3.5 billion annually.
Now sporting a reasonably low PEG ratio of 1.1, Bristol-Myers Squibb should be on the radar of both growth and value investors.
10 stocks we like better than Bristol-Myers Squibb When investing geniuses David and Tom Gardner have a stock tip, it can pay to listen. After all, the newsletter they have run for over a decade, Motley Fool Stock Advisor, has tripled the market.*
David and Tom just revealed what they believe are the 10 best stocks for investors to buy right now... and Bristol-Myers Squibb wasn't one of them! That's right -- they think these 10 stocks are even better buys.
Click here to learn about these picks!
*Stock Advisor returns as of January 4, 2017
Sean Williamshas no material interest in any companies mentioned in this article. You can follow him on CAPS under the screen nameTMFUltraLong, and check him out on Twitter, where he goes by the handle@TMFUltraLong.The Motley Fool has no position in any of the stocks mentioned. The Motley Fool has a disclosure policy.