Is Wall Street Too Fixated on Apple?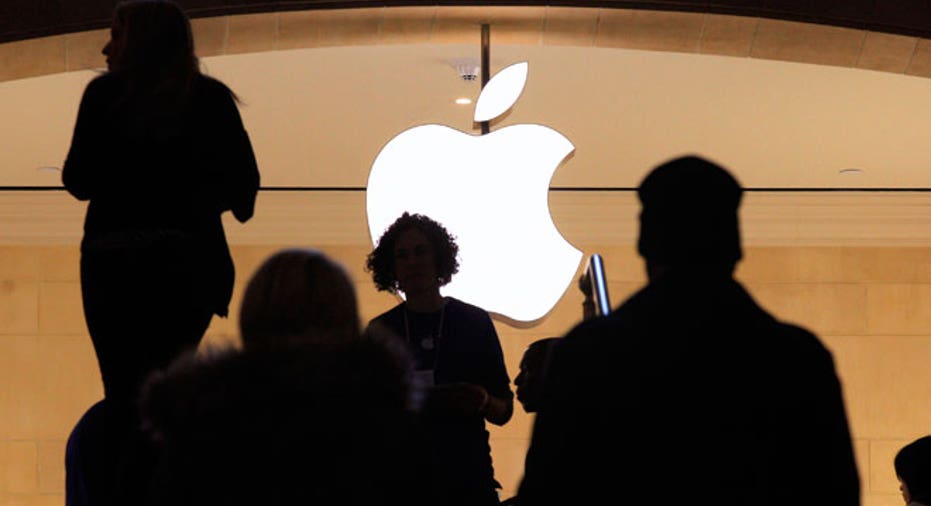 Given its meteoric rise, record-shattering sales and iconic brand, it's easy to understand why Wall Street pays very close attention to all things Apple (NASDAQ:AAPL) these days.
While the markets' tendency to track red-hot Apple has paid off much of this year, some are worried this focus has turned into an unhealthy obsession that masks negative factors in the economy.
"The market has become fixated on Apple as a big, super-cap name and whenever you see that much of the oxygen taken up by one name, that's a sign there isn't a lot of confidence in anything else," said Nicholas Colas, chief market strategist at ConvergEx.
There are a number of obvious reasons why investors are zeroing in on the iPhone and iPad maker, including its recently-cemented title as the world's most valuable company (move over, ExxonMobil (NYSE:XOM)) and its role as a barometer of consumer health.
Plus, Apple is constantly generating media buzz, especially through its dramatic unveiling of innovative products.
Traders also realize that because of its enormous $465 billion market cap, Apple naturally plays an outsized role in moving the broader indexes.
For example, Apple accounts for a whopping 16.48% of the Nasdaq 100, which is a closely-watched, weighted basket of 100 of the world's largest tech stocks. That's more than the combined weightings of Google (NASDAQ:GOOG), Intel (NASDAQ:INTC) and Amazon.com (NASDAQ:AMZN). Then again it stands to reason that Apple would have a stronger weighting because its market value stands above those companies' combined market cap of $415 billion.
Logically, when a single stock has a heavy weighting in an index, it tends to get a lot of attention. But too heavy of a weighting could make it harder to understand what else is going on inside that index.
"Indexes are supposed to be indicators of broad market activity, but sometimes they get out of whack," said Colas, who compared the focus on Apple with the attention paid on a number of high-profile stocks like Google and Research in Motion (NASDAQ:RIMM) before the tech bubble popped a dozen years ago.
Others don't believe Wall Street has reached the obsession level with Apple just yet.
"Apple is due a fair amount of credit for the success it has had in transforming technology as we know it over the last five years," said Michael James, director of equity trading at Wedbush Securities.
To that point, Apple's stock only began to seriously take off this year after it reported blockbuster earnings that blew analysts' expectations out of the water. Powered by record iPhone, iPad and Mac sales, Apple's sales nearly doubled to $46.33 billion and its gross margins skyrocketed. Since that earnings report on January 24, Apple's shares have soared 25% to as high as a record of $526.29 this week.
"There's not one other company on the planet that is doing what they're doing," said Jason Weisberg, senior vice president at Seaport Securities, who said he owns Apple stock. "When   it's the largest market cap stock in the United States, it's hard to ignore -- and it shouldn't be ignored."
Still, some are concerned about one stock distorting the overall picture.
According to The Wall Street Journal, strategists at Morgan Stanley (NYSE:MS), Goldman Sachs (NYSE:GS), UBS (NYSE:UBS) and others have published a separate version of their quarterly earnings updates to exclude Apple, whose outsized profits tend to boost the overall picture.
Fourth-quarter earnings at S&P 500 companies are on track to rise 6.6% year-over-year, compared with just 2.8% when Apple is excluded, the paper said, citing UBS data.
In a sign of Wall Street's focus on Apple, the Dow Jones Industrial Average suffered its worst day of the year on Wednesday, shedding nearly 100 points in part due to market chatter that Apple may have its stock reweighted. Those rumors helped slash $10.9 billion off Apple's market cap in a single day.
"We always talked about Apple, but not every five freaking minutes. It's almost like Greece," said Joe Saluzzi, co-head of trading at Themis Trading.
Some believe investors need to be more concerned about other events, such as Europe's scary sovereign debt mess, which reemerged as a major market worry in recent days.
"I have never seen the attention on one huge name get to this level," said Colas. "I worry we are focused on one entity because the overall market doesn't have the fundamental to grab our attention."
Colas compared the attention showered on Apple with the almost-unfair pressure placed on Jeremy Lin, the New York Knicks point guard who has burst onto the basketball scene out of nowhere this month.
"Just like you can't put it all on him, you can't put all on Apple. No one stock can drive the market in a healthy fashion," said Colas.