Is TrueCar, Inc. Behind AutoNation's November Sales Decline?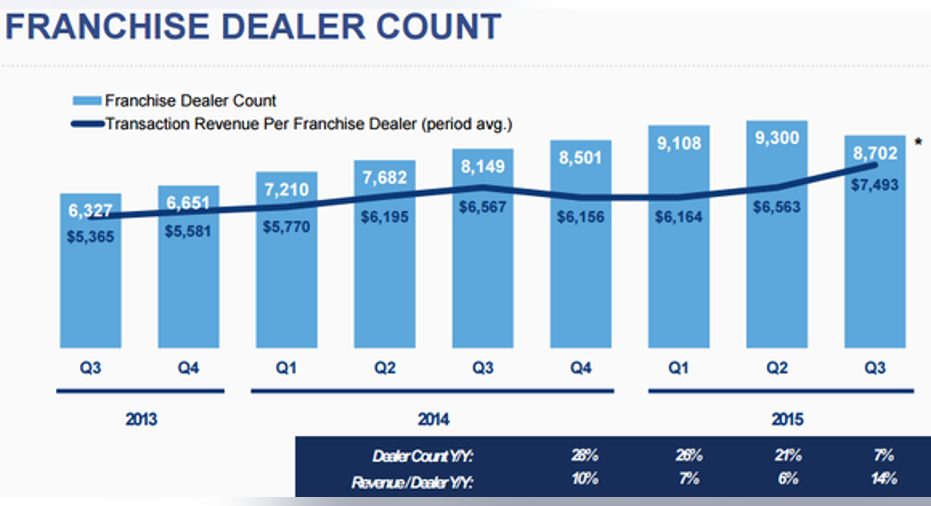 To say 2015 has been a year to forget for TrueCar, Inc. and its investors would be an understatement. Just to name a couple of events: talented executives left the company, earnings plummeted, and the stock price cratered.
Beyond that, AutoNation , America's largest auto retailer, walked away from its partnership with TrueCar in July. At the time, I wrote that TrueCar had the leverage, because AutoNation leaving the business partnership wouldn't hinder TrueCar's sales leads. Rather, TrueCar would simply send its sales leads to another dealership within its network. Interestingly enough, after AutoNation reported its recent sales decline, it appears TrueCar sending its leads elsewhere is having an impact.
Sales tumble at AutoNationAt the time of the public separation between the two, AutoNation claimed about 3% of its sales were generated from TrueCar, but the latter claimed it was closer to 7%. If sales in November are any indication, it appears that TrueCar's estimate was closer to reality.
AutoNation announced its retail sales declined 6% year over year to 25,555 new vehicles in November 2015. This comes at a time when new-vehicle sales in the U.S. moved 1.2% higher in November compared to last year.
Taking an even closer look, sales checked in 8% lower for its import vehicles, 4% lower for its domestic brands, and 3% lower for its premium luxury vehicles. Furthermore, investors should keep in mind that, on a same-store basis, AutoNation's new-vehicle sales were actually down an additional 100 basis points, for a 7% decline.
It should also be noted that last month had two fewer selling days compared to November 2014, which helps explain part of AutoNation's sales decline -- but the fact that its sales still lagged the total industry's sales gains by about 8% speaks volumes.
On the flip side, TrueCar's business has trended as expected. As you can see in the graph below, though AutoNation's roughly 300 stores took a chunk out of TrueCar's dealership network count, the latter's revenue per dealership increased due to the company sending its sales leads to other dealerships.
Image source: TrueCar's Q3 presentation.
One-off wonder? To get a better idea of whether AutoNation's sales decline in November was largely because TrueCar's sales leads disappeared, let's take a look at the last couple of months' data.
In October, AutoNation's new-vehicle sales rose 14%, which matched the pace set by the overall industry. However, the dealership group's same-store sales lagged the industry, with only an 11% gain. In September, AutoNation's same-store new-vehicle sales jumped 18% compared to the prior year, which was slightly better than the total industry's 16% gain. In August, AutoNation lagged the industry, with a same-store sales decline of 7% compared to last year's August, while the industry posted a meager 0.6% decline.
Unfortunately for investors hoping for a solid answer, there might not be one yet. It certainly appears that the breakup between TrueCar and AutoNation is hindering sales for the latter, but gauging just how much is difficult to nail down. It's absolutely in investors' best interest to keep an eye on this development in 2016, because it could be proof that dealerships walking away from TrueCar's network will come at a cost.
The article Is TrueCar, Inc. Behind AutoNation's November Sales Decline? originally appeared on Fool.com.
Daniel Miller owns shares of TrueCar. The Motley Fool recommends TrueCar. Try any of our Foolish newsletter services free for 30 days. We Fools may not all hold the same opinions, but we all believe that considering a diverse range of insights makes us better investors. The Motley Fool has a disclosure policy.
Copyright 1995 - 2015 The Motley Fool, LLC. All rights reserved. The Motley Fool has a disclosure policy.