Is TransEnterix Inc a "Bad News Buy"?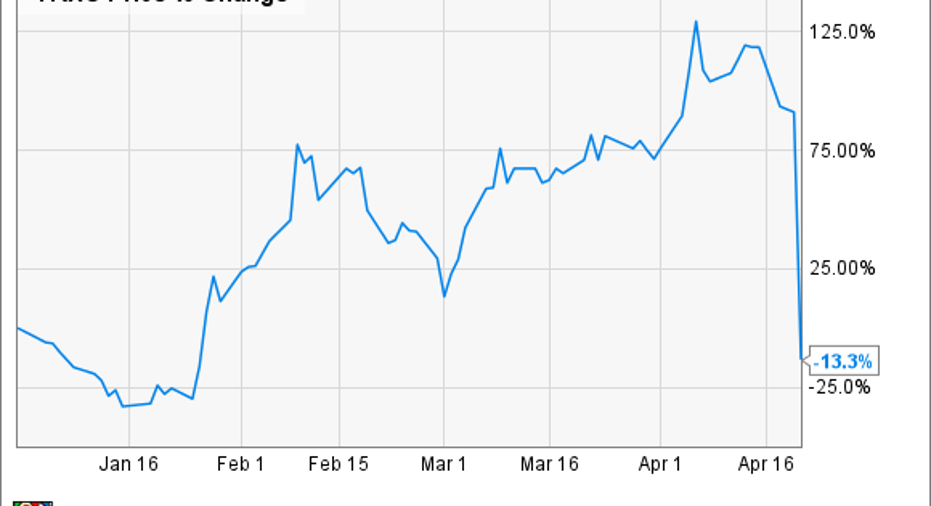 PHOTO SOURCE: TRANSENTERIX
2016 was suppose to be a dream year for investors in TransEnterix , a small cap medical device company that specializes in robotic surgery. The company's stock was flying high in anticipation of the FDA giving the green light to its SurgiBot System, which on paper looked like it could be a promising alternative to Intuitive Surgical's expensive da Vinci system.
Unfortunately, those dreams have since morphed into a bit of a nightmare after news broke that the FDA has outright rejected the company's 510(k) submission. The agency's decision stem from their belief that TransEnterix's filing failed to demonstrate a "substantial equivalence" to an existing medical device.
The news caused the company's share price to collapse and it is now in negative territory year-to-date. So could the newly discounted share price represent a buying opportunity?
There's still a case for optimismInvestors should remember that just because the FDA rejected its recent 510(k) application that doesn't mean that the product won't see the light of day. Rather, TransEnterix has a handful of options for how to proceed from here, one of which could be to gather additional data on its system and then resubmit another 510(k). Management stated that they will provide investors with a plan on their next earnings call, which is scheduled for May 10th.
There's also more to the TransEnterix story that just SurgiBot, too. The company also owns another robotic system called the ALF-X which it got its hands on late last year from an acquisition. The device looks remarkably similar to Intuitive's da Vinci system but it promises a handful of additional features such as haptic feedback and eye-tracking that could be enough to win over some reluctant surgeons.
IMAGE SOURCE: TRANSENTERIX
Thus far the ALF-X has been a bust. Its former owner didn't get a lot traction for the product since it won European approval in 2011, but TransEnterix has hired an experienced team of leaders -- including former Intuitive Surgical executives -- to change that. The company plans on putting the ALF-X is the FDA's hands before the end of the year.
But time is working against themOf course, gathering additional clinical data for the SurgiBot System and building awareness for its ALF-X won't come cheap, which will put a lot of pressure on the company's balance sheet. While TransEnterix reported having slightly more than $47 million in cash on its books as of February 29th, it reported a comprehensive loss last year of more than $50 million. Expanding itssales and service infrastructure overseas and having to pursue additional regulatory work will likely push those costs even higher this year.
As of its last earnings release the company stated that they had enough cash on hand to get it through the end of the year, but with costs rising the company will likely have to do something to beef up its cash balance.
The most likely option will be another round of common share offerings as it already has clearance to sell an additional $68.8 million if it chooses. However, doing so will be horribly dilutive in the wake of the share price collapsing.
Then again, a low share price hasn't stopped the company from issuing shares in the past.
Is TransEnterix a buyout candidate?It's also possible that the company's suddenly discounted share price could make it an acquisition target. After all, the company's ALF-X system has already received regulatory approval in Europe, and the company currently has 13 patents in hand with another 30 on file around the world. It's possible that a potential acquirer could see those assets as valuable.
There are a number of companies that might be interested in getting their hands on the company's technology, includingIntuitive Surgical. As the top-dog in the robotic surgery space, it has the most to lose if the company's SurgiBot of ALF-X systems do eventually win regulatory approval in the U.S.
IMAGE SOURCE: TRANSENTERIX
It's not like Intuitive couldn't afford to buy TransEnterix either, as it had more than $3.8 billion in cash on its books as of March 31st and it generates hundreds of millions in free cash flow each year. Even if it offered to pay a big premium to make a deal happen it would barely put a dent in its cash hoard.
While that may sound like a prosperous proposition, it's worth remembering that Intuitive Surgical's own history shows that its not shy about acquiring potential competitors to beef up its intellectual property. It did just that in 2003 when Intuitive merged with Computer Motion, a move that not only ended a patent dispute but firmly made the combined company the leader in the space.
Another potential acquirer is Verb Surgical, a robotic surgery company backed by Johnson & Johnson and Alphabet'sLife Sciences division. These two behemoths announced their partnership in early 2015and recently hired the former CEO of Volcano to run the show, so you can bet that they are deadly serious about competing in thespace. It's also worth noting that Johnson & Johnson recently announced that it has plans to restructure its medical device business to focus on higher growth markets like robotic surgery.
Is TransEnterix a buy?While it is true that buying out the company today would be a heck of a lot cheaper than it was yesterday, I'd caution investors from buying shares in the hopes of the company being acquired. After all, if any of the big boys were to swoop in and buy the company they'd be on the hook for paying all of the company's loses out of their own pockets, which might be an unattractive proposition. In addition, despite being fairly young, the ALF-X and SurgiBot already have a spotty history that the big boys will likely find unattractive.
While I'm willing to admit that there is potential for the company to be a multi-bagger from these levels, I personally have big questions about its financial position and future regulatory pathway that I want answered before I'd even consider calling shares a buy. For that reasons I for one plan on staying far away from the stock, even with today's discounted share price.
The article Is TransEnterix Inc a "Bad News Buy"? originally appeared on Fool.com.
Suzanne Frey, an executive at Alphabet, is a member of The Motley Fool's board of directors. Brian Feroldi owns shares of Alphabet (A shares) and Intuitive Surgical. The Motley Fool owns shares of and recommends Alphabet (A shares), Intuitive Surgical, and Johnson & Johnson. Try any of our Foolish newsletter services free for 30 days. We Fools may not all hold the same opinions, but we all believe that considering a diverse range of insights makes us better investors. The Motley Fool has a disclosure policy.
Copyright 1995 - 2016 The Motley Fool, LLC. All rights reserved. The Motley Fool has a disclosure policy.