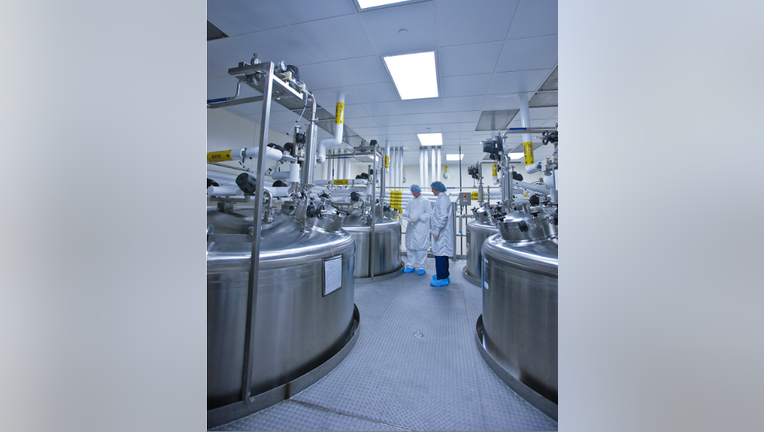 Image source: Alexion Pharmaceuticals.
Alexion Pharmaceuticals is a big player in the treatment of rare diseases, but its dominance in atypical hemolytic uremic syndrome (aHUS) could be in jeopardy if a soon-to-begin clinical trial at Omeros Corporation pans out. Could Omeros Corporation's study put billions of dollars in Alexion Pharmaceuticals' sales at risk? Read on to find out more about how Omeros Corporation's plans challenge Alexion Pharmaceuticals.
First, a bit of backgroundThere are rare diseases, and then there are really rare diseases, like aHUS.
It's estimated that just 1 to 4 people per million have aHUS, and that means the global population of aHUS patients is measured in the low four digits, including about 500 patients in America.
Typically, aHUS is caused by mutations to genes in the complement system, a part of the body's immune system that helps fight off unwelcome invaders. In patients with aHUS, genetic mutations cause an uncontrolled activation of the complement system that causes inflammation and leads to the formation of dangerous clots within the kidneys. Eventually, about 60% of aHUS patients suffer kidney damage or kidney failure.
Transforming outcomesSoliris is the only FDA approved therapy for aHUS, and it won accelerated FDA approval in 2011 after mid-stage trials showed that it improved kidney function and reduced disease activity.
Specifically, Soliris works by binding to the human C5 complement protein, restricting the immune system's inflammatory response. In one of two 26-week trials, the majority of aHUS patients on dialysis were able to discontinue dialysis treatment. In the second trial, the majority of patients on plasma therapy were similarly able to stop treatment. In 2015, a review of patients in Soliris trials showed that Soliris' benefits were maintained at a two-year follow-up point.
Because Soliris improves kidney function and can reduce disease activity for a sustained period, it's become a standard aHUS treatment.
Image source: Alexion Pharmaceuticals.
Crossing the moatLast August, a small mid-stage study of Omeros Corporation's OMS721 showed OMS721 improved platelet count from baseline in three aHUS patients.
That's important because improvement in platelet count can indicate a reduction in disease activity.
Following a meeting with the FDA to discuss those mid-stage results, Omeros Corporation announced this week that it will start enrolling patients in a single phase 3 aHUS trial later this year.
If that trial goes smoothly, Omeros Corporation may not have to wait long to challenge Alexion Pharmaceuticals' dominance. The FDA has awarded OMS721 orphan drug designation and fast-track status, and it has said it will allow Omeros Corporation to use safety data from non-aHUS patients in order to accelerate the application timeline.
Payers are probably motivated to see a new competitor hit the market, too. Soliris costs $537,000 in the United States, and last year, it generated $2.6 billion in sales for Alexion Pharmaceuticals -- a lot of which was from aHUS patients.
Looking aheadThere's no guarantee Omeros Corporation's OMS721 will be as effective or as safe as Soliris, or that if it is, the FDA will approve it. However, if OMS721 does make its way to market, it could represent a game-changing drug for Omeros Corporation. Currently, the company's revenue comes solely from sales of its cataract surgery drug Omidria, and given that Omidria's quarterly sales were just $6.7 million last quarter, it's far from a barn burner.
Ultimately, Alexion Pharmaceuticals could be forced into a price war by OMS721 that dents its top and bottom lines, and for that reason, Alexion Pharmaceuticals investors will want to keep close tabs on Omeros Corporation's progress.
The article Is This Upstart the Biggest Threat to Alexion Pharmaceuticals? originally appeared on Fool.com.
Todd Campbell has no position in any stocks mentioned. Todd owns E.B. Capital Markets, LLC. E.B. Capital's clients may have positions in the companies mentioned. The Motley Fool has no position in any of the stocks mentioned. Try any of our Foolish newsletter services free for 30 days. We Fools may not all hold the same opinions, but we all believe that considering a diverse range of insights makes us better investors. The Motley Fool has a disclosure policy.
Copyright 1995 - 2016 The Motley Fool, LLC. All rights reserved. The Motley Fool has a disclosure policy.