Is This the Next Big Tobacco Merger?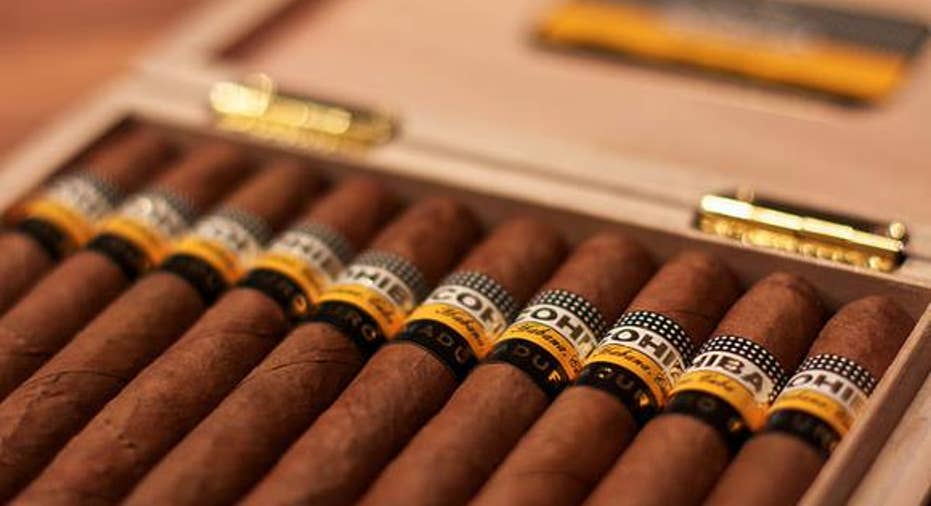 Before being catapulted into third place by the merger of Reynolds American and Lorillard, U.K.-based Imperial Tobacco was perhaps best known for its cigars. Photo: Gerald Gabernig.
While the markets have moved past the $29 billion acquisition of Lorillard by Reynolds American earlier this year, sending its shares nearly 50% higher this year, analysts suspect there may be another takeover in the works, this time the third biggest cigarette company, Imperial Tobacco .
Until the big tobacco stock union, Imperial was a rathernondescriptU.K.-based player with just a 3% share of the U.S. cigarette market and arguably best known in the U.S. for its Cohiba and Partagas cigars than its cigarettes. But with the tobacco giants needing a foil to allow their deal to go through, they sold to Imperial their Winston, Kool, Salem, and Maverick brands, as well as the blu eCig electronic cigarette, for $7.1 billion, and in theprocess created the No. 3 tobacco company in the U.S. with a 10% share of the market (it's now seventh in the world). Reynolds and industry leader Altria, however, control nearly 90% of the U.S. market.
Now the rumor mill is suggesting Imperial may be a takeover target itself and there are reputed to be several big-name tobacco companies interested in making the acquisition, including Philip Morris, British American Tobacco , and Japan Tobacco.
According to Wells Fargoindustry analyst Bonnie Herzog,British American may be the best positioned to make a play, though shouldit move it would likely have to shed its U.S.-based assets to make it happen because of the 42% stake it holds in Reynolds.
The concentration of the tobacco industry is a natural outgrowth of shrinking demand for combustible cigarettes. In its third quarter earnings report this past October, Altria estimated total industry cigarette volumes declined approximately 1% for the quarter and was down 0.5% year to date. Even its powerhouse brand Marlboro, which owns half the cigarette market by itself, saw a 0.7% decline in volumes in the quarter, though they're up 1.1% for the first nine months of 2015. Reynolds puts industry volume decreases at 2.2% during the period, but when it adjusts for wholesale inventory changes it estimates they were down just 0.8%, in line with what Altria saw.
Yet Herzog thinks it's "very probable" a deal will be made for Imperial, as she believes further consolidation is needed, but because of tough British takeover laws that would require Imperial to disclose any negotiations that were entered into, it's likelyno talks have yet been held.
Still, the speculation brings up what a deal would look like if one did materialize. The Wells Fargo analyst sees British American's ITG Brands getting spun off rather than put onthe block as Japan Tobacco apparently has little interest in the U.S. market -- it's buying the international business of Reynolds' Natural American Spirit brand -- while Philip Morris is seen as making a play for Altria if it wants to enter, or vice versa. Herzog put a potential valuation on any ITG spinoff at around$12 billion.
The value for Imperial itself would be considerably richer, perhaps as much as $67 billion, or $82 billion with debt included. The tobacco and electronic cigarette company operates in 160 markets, with analysts seeing possible regulatory concerns in 22 of them if BAT is the suitor.
While it is indeed all speculation at the moment, it could be a case of where there's smoke there's fire, and the tobacco industry may see yet another player rolled up into a larger rival. The U.S. market may be controlled by a duopoly, but there remains plenty of room internationally for a big competitor to get even bigger.
The article Is This the Next Big Tobacco Merger? originally appeared on Fool.com.
Rich Duprey has no position in any stocks mentioned. The Motley Fool owns shares of and recommends Wells Fargo. The Motley Fool has the following options: short January 2016 $52 puts on Wells Fargo. Try any of our Foolish newsletter services free for 30 days. We Fools may not all hold the same opinions, but we all believe that considering a diverse range of insights makes us better investors. The Motley Fool has a disclosure policy.
Copyright 1995 - 2015 The Motley Fool, LLC. All rights reserved. The Motley Fool has a disclosure policy.