Is This the Biggest Threat Yet to Illumina?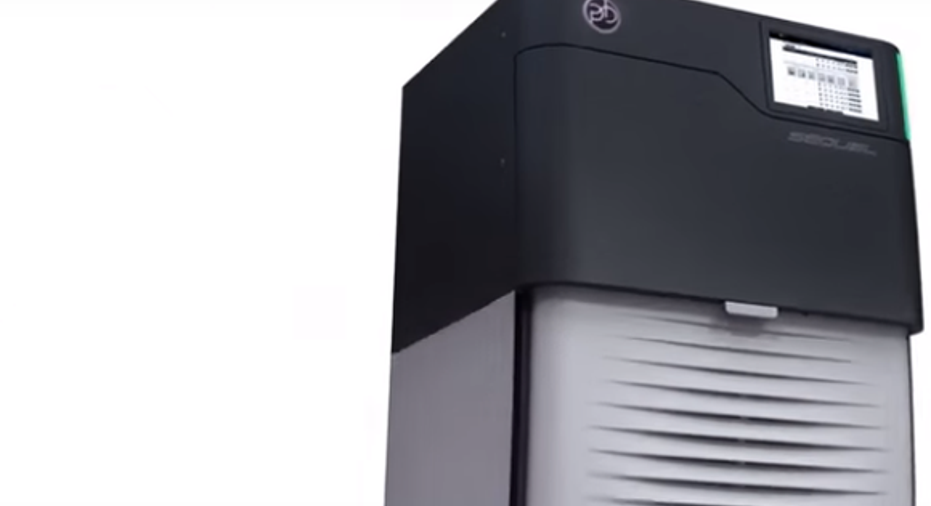 IMAGE SOURCE: ILLUMINA INC.
Illumina has held go-to status as the dominant maker of gene-sequencing devices for years, but a new, next-generation gene-sequencing machine made by Pacific Biosciences aims to change that. Can Illumina fend off this competitor?
First, a bit of backgroundAs the cost to sequence a gene falls and researchers increasingly discover the genetic causes of disease, drugmakers are flocking to create genetically inspired, personalized medicine. As a result, there's been a tidal wave of demand for gene-sequencing machines that allow researchers to peer into and analyze DNA.
Currently, Illumina, which markets high-throughput machines that can sequence an entire genome for less than $1,000, is the leading manufacturer of these machines, controlling an estimated 90% market share. Globally, Illumina boasts an installed base of more than 7,500 machines, including 300 top-of-the-line HiSeq X sequencers. As a result, sales of Illumina's sequencers and the consumables used to run them topped $2.2 billion last year, up 19% from 2014.
IMAGE SOURCE: PACIFIC BIOSCIENCES.
Mounting a threatUp until now, Pacific Biosciences has been a bit player in the gene-sequencing industry.
The company's installed base of 160 units and its $93 million in 2015 sales, including $30 million in milestone payments from Roche Holdings, positions it a far cry south of Illumina.
However, Pacific Biosciences next-generation sequencer -- the Sequel -- may allow it to mount its most significant threat to Illumina yet.
The Sequel's $350,000 price tag is roughly half the price of the company's previous RS II model and thanks to new technology, the Sequel is far smaller and less heavy than its predecessor too. Additionally, the Sequel can deliver longer read data than Illumina and researchers may find that advantage compelling, especially if they're working in clinical research.
Overall, Sequel's cost and performance advantage could lead to Pacific Biosciences selling a bunch of them -- something that may already be beginning.
In Q4, Pacific Biosciences reports that they received 49 orders for the Sequel, including orders for 10 machines that they installed at customer sites in December. That's arguably a solid start for the Sequel considering that the company only recorded 40 orders for the RS II in 2014.
Hang on a minute...Does the Sequel mean that Illumina's best days are behind it?
Not necessarily. The Sequel is an intriguing machine, but Illumina is far from on the ropes. Illumina's product line is broader, it's deeply entrenched with its customers, and it's got deep pockets that can allow it to respond to the Sequel with products of its own. Pacific Biosciences has less than $85 million in cash on the books exiting last quarter, while Illumina has a $1.2 billion cash stockpile. That's a big advantage and it should give Illumina the financial flexibility to navigate around the Sequel.
Perhaps, a bigger risk to Illumina will come from Roche Holdings. Roche's deal with Pacific Biosciences allows it to rebrand the Sequel and sell it to clinicians in the field of in vitro diagnostics. Given Roche is a global powerhouse and the role of sequencers as a tool for diagnosing illness and determining treatment protocols could be huge, Roche's sequencing business could pose a big threat to Illumina'sMiSeqDx machine, which targets the in vitro diagnostics market.
Looking aheadGenetic sequencing is fueling the development of increasingly complex medicine and, arguably, that's where the drug industry is heading. If Pacific Biosciences can convince researchers that Sequel's cost and long read advantage are worth it, then this stock could become one of the market's most intriguing growth stories over the next few years.
However, the Sequel's launch is in the early days, so there's no guarantee that customers will continue to flock to it, or if they do, that Pacific Biosciences will turn profitable. Because of those risks, Pacific Biosciences may be worth keeping an eye on, but it's still a high-risk investment.
The article Is This the Biggest Threat Yet to Illumina? originally appeared on Fool.com.
Todd Campbell has no position in any stocks mentioned. Todd owns E.B. Capital Markets, LLC. E.B. Capital's clients may have positions in the companies mentioned. The Motley Fool recommends Illumina and Pacific Biosciences of California. Try any of our Foolish newsletter services free for 30 days. We Fools may not all hold the same opinions, but we all believe that considering a diverse range of insights makes us better investors. The Motley Fool has a disclosure policy.
Copyright 1995 - 2016 The Motley Fool, LLC. All rights reserved. The Motley Fool has a disclosure policy.