Is this the best job market, ever? It could be. Here's why
There was a record-setting 6.7 million jobs available in the country in the month of April exceeding the more than 6.3 million job seekers – which translates to a red hot market for job hunting.
"Never before have we had an economy where the number of open jobs exceeds the number of job seekers," said U.S. Secretary of Labor Alexander Acosta.
The data, tracked by the U.S. Department of Labor's Job Openings and Labor Turnover Survey (JOLTS), re-enforces that the U.S. economy is on a tear.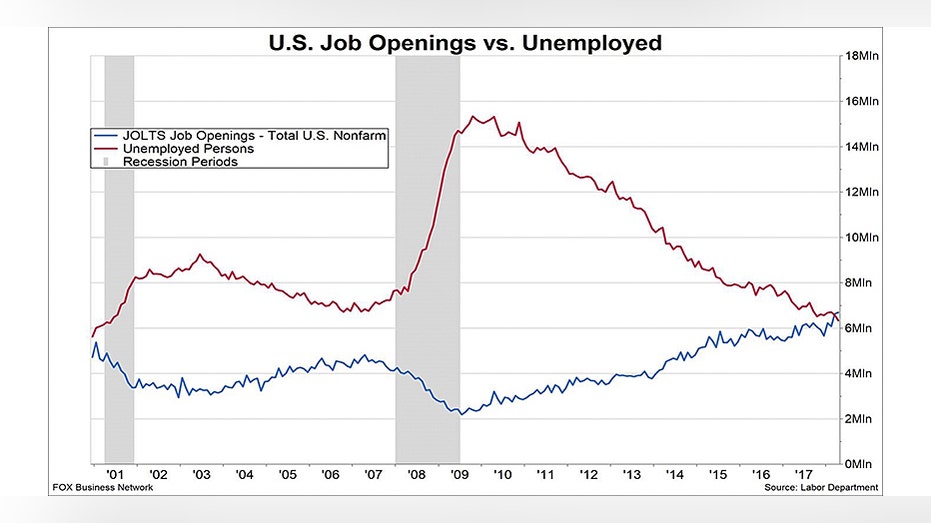 Last Friday the U.S government reported that the country's unemployment rate has fallen to an 18-year low of 3.8%.
While there are plenty of jobs – wage growth has been modest, and that could be a good thing. Modest wage growth means inflation has been tame. Recessions are typically sparked by excesses in the economy.
"While the jobs market is extremely healthy, it isn't tight enough for employers to start hiking wages, and that isn't necessarily a bad thing. In fact, this could delay the recession that will eventually come," Sameer Samana global quantitative and technical strategist for Wells Fargo Investment Institute, told FOX Business.