Is This Tech Company the Future of Cold Storage for Food?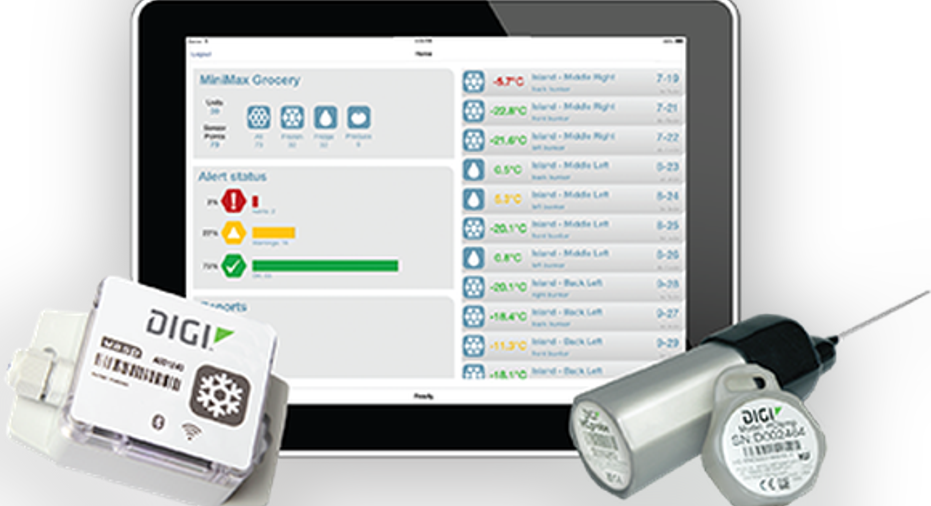 Internet of Things device maker Digi International (NASDAQ: DGII) has been expanding into the food business. Over the last six months, the company made a couple of strategic acquisitions, and it has been adding new clients as a result of those purchases. Here's what's behind the company's strategy.
What Digi bought
Digi has purchased two food temperature monitoring and task management companies since last fall. Like other industries, the logistics business is getting hooked up to the internet to improve efficiency and give those in the need-to-know more information on what's happening.
Back in November, Fresh Temp was bought for an undisclosed amount. Fresh Temp provides connected food safety services and operation management for commercial kitchens. The team at Fresh Temp was merged with Digi's Cold Chain Solutions division, which already housed the Honeycomb service for the food industry.
Image source: Fresh Temp.
That acquisition was more recently supplemented with the buyout of Smart Temp in January. In addition to temperature monitoring for restaurants and grocery stores, Smart Temp also has clients in the education and healthcare fields. The business will also operate under the Cold Chain division but expand operations into temperature monitoring for hospitals, laboratories, and pharmacies.
The strategy in the connected business
Digi already sells products primarily in the industrial and energy IoT, but adding recurring service revenue has been a key strategy in the latest round of expansion. As of its last reported quarter, service revenue including the Cold Chain business was $2 million. That's only 4% of the company's total sales.
Digi sees the food industry's exposure to IoT as being underserved and abig driver of future growth. However, the acquisitions not only deepen Digi's exposure to previously untapped industries, they also provide a stable and recurring source of revenue that can help bridge periods when device sales weaken.
Digi's Honeycomb service, which includes a connected thermometer, a gateway, and mobile app for monitoring. Image source: Digi International.
Case in point, the company recently announced two big new clients: Pizza Ranch and Love's Travel Stops.
Back in December, Love's signed a multiyear contract with Digi for connected food monitoring and task management services. The private company operates over 400 service stations across the country, with each location also offering snacks and restaurant items.
More recently, Digi picked up business from Pizza Ranch, a Midwest restaurant chain of about 200 locations. The buffet-centric business also signed on with Digi for help keeping food fresh and safe, as well as simplifying compliance with local food regulations.
The future of food management?
Speaking to the reason for the acquisitions and how they're paying off, Digi COO Kevin Riley had this to say after the Pizza Ranch deal was announced:
Addressing service-based client needs was the only revenue growth generator for Digi last year. It grew by 9.4%, while device sales fell 7.4%. To kick off its new fiscal year, sales of hardware fell again, this time 10.5% compared to the same quarter a year ago. Service revenue was basically flat, down 0.5%.
2016 provided proof that service revenue can be a winning growth strategy for Digi, but the new food management business has not provided a big boost as of yet. Last year's high single-digit rate of growth was a good start, but the business segment is still very small. It has a long ways to go before it has any meaningful effect on the big picture. In the meantime, Digi is still very much a hardware company.
10 stocks we like better than Digi InternationalWhen investing geniuses David and Tom Gardner have a stock tip, it can pay to listen. After all, the newsletter they have run for over a decade, Motley Fool Stock Advisor, has tripled the market.*
David and Tom just revealed what they believe are the 10 best stocks for investors to buy right now...and Digi International wasn't one of them! That's right -- they think these 10 stocks are even better buys.
Click here to learn about these picks!
*Stock Advisor returns as of April 3, 2017.
Nicholas Rossolillo has no position in any stocks mentioned. The Motley Fool has no position in any of the stocks mentioned. The Motley Fool has a disclosure policy.