Is This NVIDIA's Next Big Opportunity?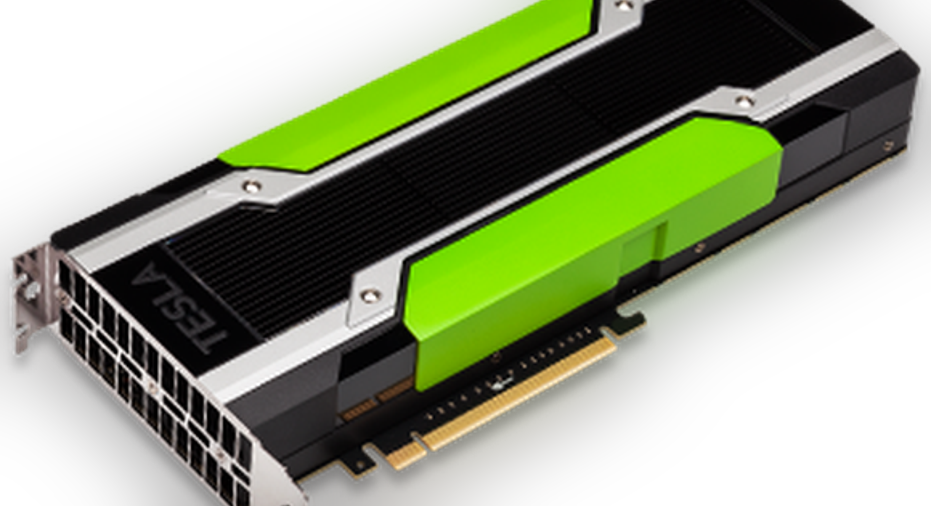 Image source: NVIDIA.
Gaming is NVIDIA's (NASDAQ: NVDA) biggest revenue source while the automotive business is said to be its next big play. However, the company's data center business -- which has Amazon (NASDAQ: AMZN) and Microsoft (NASDAQ: MSFT) as clients -- is putting both gaming and automotive to shame in terms of growth.
Data from NVIDIA. Chart by author.
The 205% year-over-year growth in NVIDIA's data center revenue during the fourth quarter eclipsed both gaming and automotive, which reported "moderate" growth of 66% and 37%, respectively over the same time period. Data center is the company's second-largest business, with over 13% of revenue, and it could continue to grow for two reasons: the deployment of more data centers and upgrades to the existing ones.
Data centers will need more GPUs
Nowadays, the type and volume of information that data centers process has become more complex than ever. The growing usage of 3D applications in virtualized workspace environments is creating the need for high-performance computing that is enabled by GPUs. Instead of deploying a 3D-graphics-enabled application on an individual workstation, enterprises are now using the data center to install the 3D apps so they can be accessed by users remotely.
Apart from the complexity, the volume of data processed in data centers is also rising thanks to concepts such as the Internet of Things.
TheInternet of Things generates two categories of data. The first is the large data type that consists of images and videos generated by different electronic devices. The second is the passive or small data type that is generated by different sensors and low-energy devices powering the Internet of Things. As data centers handle both these data types, they will need upgraded GPUs to enhance computing speeds and control costs simultaneously.
As it turns out, NVIDIA's Tesla GPUs for the data center deliver on both counts -- faster speed and lower costs. These are capable of enhancing computing speeds by five times and reduce costs by 60%, according to Shanker Trivedi, the company's VP of Enterprise Business. The advantages delivered by these GPUs have allowed the company to rack up an impressive clientele in datacenters, especially in high-performance computing.
NVIDIA's GPUs are powering major cloud service providers such as Amazon Web Services, Google Cloud, Microsoft Azure, and Softlayer. The company's client list in datacenters will continue expanding as global mobile data traffic is expected to grow eightfold from 2015 to 2020, driven by Internet of Things applications.
The increasing data traffic will spawn the need for more datacenters, with TechNavio forecasting that the global data center market will grow 11% annually between 2016 and 2020. But, apart from the construction of new datacenters, NVIDIA will also benefit from the upgrades to the existing ones.
Upgrades will drive GPU demand
Cloud service providers have started upgrading their existing data centers to meet the rise in data volumes and tackle complexity. Amazon, for example, upgraded its services using NVIDIA's Tesla GPU accelerators late last year. Amazon Web Services used eight Tesla accelerators, with each of them being powered by a pair of GPUs.
The NVIDIA GPUs were used to add a new virtual server, known as P2, to Amazon's data center. The new server carries seven times the computational capacity of Amazon's previous platform, known as G2, which was running a legacy GPU.
Similarly, Microsoft has also started offering a preview of NVIDIA's accelerated data center solutions on the Azure platform to give customers a taste of supercomputer-class performance. Azure clients can now deploy professional grade graphics solutions to remote workstations and accelerate their computing speeds over the cloud.In this way, Microsoft is providing infrastructure-as-a-service (IaaS) to its clients by upgrading its existing data centers.
The IaaS market will be worth $43 billion in 2020 as compared to $22 billion last year, according to IDC. This will increase the demand for NVIDIA's GPUs as they will be used to accelerate computing power and capacity in data centers to enable IaaS growth.
The Foolish takeaway
The data center market is going to get bigger in the long run and NVIDIA counts the biggest cloud service providers as its clients. This will allow it to get more of its GPUs into data centers to enable high-performance computing needs and eventually boost its business.
10 stocks we like better than NvidiaWhen investing geniuses David and Tom Gardner have a stock tip, it can pay to listen. After all, the newsletter they have run for over a decade, Motley Fool Stock Advisor, has tripled the market.*
David and Tom just revealed what they believe are the 10 best stocks for investors to buy right now...and Nvidia wasn't one of them! That's right -- they think these 10 stocks are even better buys.
Click here to learn about these picks!
*Stock Advisor returns as of February 6, 2017.
Teresa Kersten is an employee of LinkedIn and is a member of The Motley Fool's Board of Directors. LinkedIn is owned by Microsoft. Harsh Chauhan has no position in any stocks mentioned. The Motley Fool owns shares of and recommends Amazon and Nvidia. The Motley Fool has a disclosure policy.