Is There Too Much TV? Netflix Doesn't Think So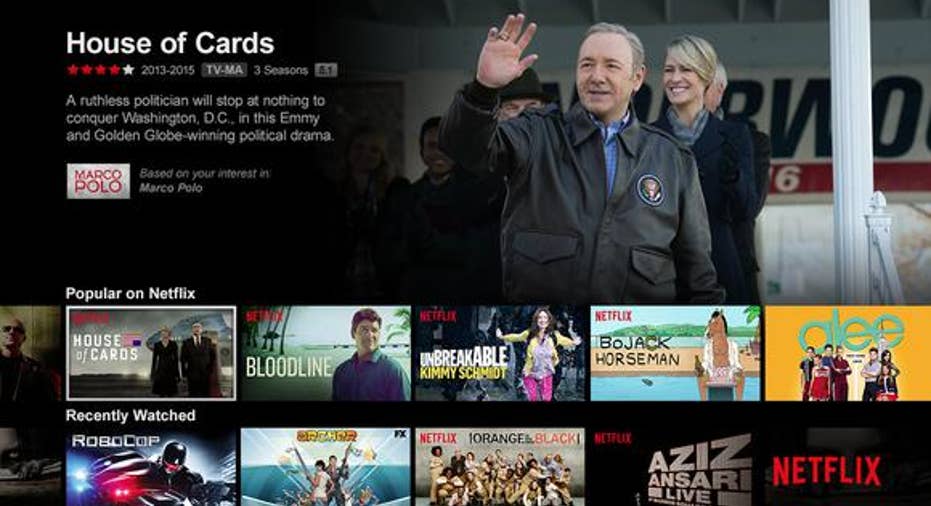 It was not that long ago when original programming meant shows on the broadcast networks, syndicated schlock likeHerculesorBaywatch, and whatever HBO created.
That notion, of course, expanded in recent years, with basic and premium cable joining the fray and streaming services including Netflix (NASDAQ: NFLX), Hulu, and Amazon (NASDAQ: AMZN) Prime Video all becoming content creators. Now, from what's airing live to your DVR to whatever you can binge through a streaming service -- not to mention original YouTube programming and outliers like Jerry Seinfeld's Comedians in Cars Getting Coffee on Crackle -- the choices can be overwhelming.
But is quality television something you can never have enough of, or has the market become saturated with too much of a good thing? Is there too much TV? Netflix Chief Content Officer Ted Sarandos doesn't think so, and shared his thoughts at January's Television Critics Association's (TCA) press tour in Pasadena, California.
What does Sarandos think?"Is there too much TV?" Sarandos asked, Entertainment Weekly reported, "I'll pause for a second...We don't think there's too much TV. And if there is too much TV, someone else is going to have to slow down,because we have big plans for 2016 and beyond."
While Hulu and Amazon have been somewhat restrained in their content efforts, Netflix has operated closer toTime Warner's (NYSE: TWX) HBO model, where the idea is to have broad and niche hits. Like the premium cable service, Netflix has a broad slate of shows, and it plans to increase its spending going forward.
Sarandos said Netflix plans 600 ours of original programming in 2016, EW reported.
"We're going to spend in 2016 about $5 billion on content on a P&L basis, which means about $6 billion in cash," he said, though that number includes acquiring existing content as well as originals. The goal for the streaming giant is simple: adding users.
Netflix has a number of popular originals with more planned. Source: Netflix
Not everyone agreesWhile Sarandos and Netflix are arguing that you can't have too much of a good thing, FX CEO John Landgraf thinks the 400 scripted original shows expected in 2016 are too much.
"This is simply too much television," he said at the same Television Critics Association's event where his counterpart spoke, Vanity Fair reported.
A number of his colleagues shared similar concerns with The Hollywood Reporter at the January TCA event.
HBO programming President Michael Lombardo told the magazine that his biggest concern was "chasing noise to break through the plethora of choices." Even Netflix's Cindy Holland revealed she was worried about the "health of all the networks," while CBS' Glenn Geller, meanwhile, stressed that there is a "misperception that network television is dead." Landgraf reiterated the spirit of his "too much TV" comment by saying: "We make more shows than we can afford, collectively."
Consumers are winningIt's hard to argue against the idea that we're in a golden age for original scripted programming. But calling it too much TV sees things from a non-Netflix corporate view, and that's not how consumers see it.
Yes, it's harder to get attention for another sitcom where a wacky uncle comes to live with his uptight sister and her family, but quality programming finds an audience. That has raised the bar for all programmers and content creators. There is a lot of TV, yes, but plenty of it remains easy to ignore.
It's hard to think that there could be a time when we have too much good TV, especially because that description varies so much now. There are very few hits watched by the whole nation. Instead, we now have programs like Netflix's Jessica Jones or Amazon's Transparent -- quality shows with specific appeal.
In many ways the TV world has gone from courting Friends-style home runs to looking for Daredevil-sized doubles or even sneaky singles like the aforementionedComedians in Cars Getting Coffee. The increased amount of good TV may just mean people watch less bad TV, which is great for consumers, but probably pretty bad for the broadcast networks and lesser cable channels.
Quality TV may have a saturation point, but it's hard to think we're there yet when 2 Broke Girls still has an audience and Fuller House has been renewed for season two.
The article Is There Too Much TV? Netflix Doesn't Think So originally appeared on Fool.com.
Daniel Kline has no position in any stocks mentioned. He is eagerly awaiting Daredevil's second season The Motley Fool owns shares of and recommends Amazon.com and Netflix. The Motley Fool recommends Time Warner. Try any of our Foolish newsletter services free for 30 days. We Fools may not all hold the same opinions, but we all believe that considering a diverse range of insights makes us better investors. The Motley Fool has a disclosure policy.
Copyright 1995 - 2016 The Motley Fool, LLC. All rights reserved. The Motley Fool has a disclosure policy.