Is There Life After Chiptopia at Chipotle?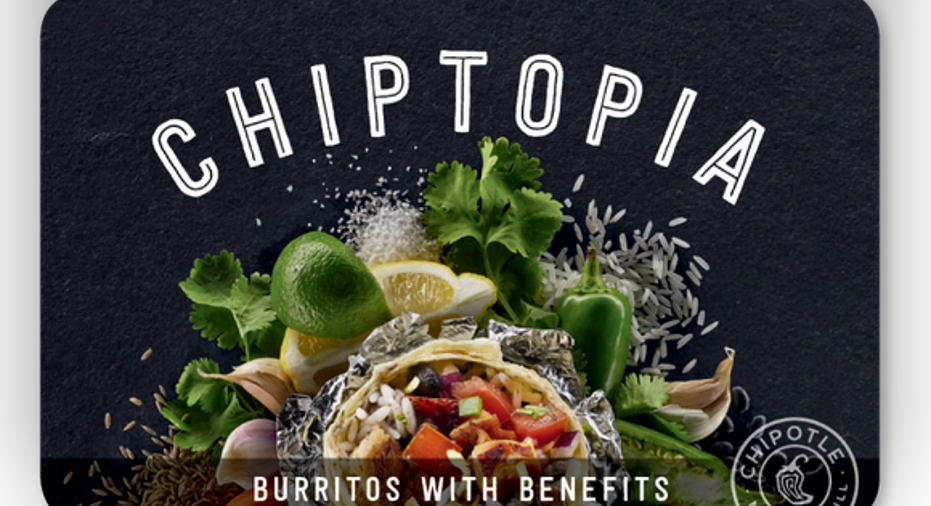 Image source: Chipotle.
It's halftime for Chiptopia. We're at the midpoint ofChipotle Mexican Grill's(NYSE: CMG)first stab at a loyalty rewards program. The three-month promotion -- where folks receive a free entree after every three or four visits within the same month -- rolled outat the start of July. It will conclude at the end of next month, unlike the more prolific card-based offerings by Starbucks (NASDAQ: SBUX) and Panera Bread (NASDAQ: PNRA), which are ongoing programs.
Chipotle signed up more than 3.6 million customers to Chiptopia through the first three weeks of the program, but the pace of enrollment has likely slowed down dramatically. The program was designed to incentivize Chipotle's more loyal burrito eaters to pick up the pace of their return visits. If someone's showing up in late August for the first time this summer, she probably wasn't part of the target audience for the program.
The chain has also run out of ammo to encourage sign-ups. It dangled a free order of chips and guac for anyone who registered in July. It then toned things down with a contest, offering weekly burritos for a year to three winners who registered by mid-August. That incentive ended on Monday, and there likely isn't going to be any other cilantro-laced carrot to motivate registrations as Chiptopia plays out the final few weeks of the program.
Success is all about perspective
Chipotle offered up plenty of nuggets on the initial impact that Chiptopia was having on the chain of 2,124 fast-casual restaurants during last month's quarterly earnings call. Three weeks into Chiptopia found roughly 30% of transactions participating in the program. Comps were still brutal, down by about 21% when pitted against the first three weeks of July in 2015. That sounds awful, but it's actually better than the declines it was posting through the first six months of the year.
Traffic has been in the negative mid-teens, translating into customers spending less since comps were declining by a larger amount. That's the risk of Chiptopia. Folks who registered the first time and got the free chips and guac aren't going to order another side of chips that time. The comparisons will only prove more challenging when they return to redeem their free food.
Chipotle is also seeing a smaller group size per transaction, something that was easy to predict. Couples or friends who would've just made a combined order a single transaction are now splitting them so everyone scores Chiptopia points. It's an unfortunate, line-slowing byproduct of the promotion.
The lack of a meaty rebound may make it seem as if Chiptopia is a dud. Things may get even more painful when Chipotle has to defer some of the revenue from sales recorded during the third quarter if they result in rewards that will be claimed in October. However, Chipotle still sees this as a success. Its goal was to get its regulars to come back more often, and that appears to be happening.
Wake me up when September ends
Chipotle is also arming itself with information that was difficult to mine for in the past. It's now been matching up specific customer behavior using credit card data. It's building up its mailing list that it can tie to order habits to offer custom-tailored marketing missives. If someone's always ordering its Sofritras seasoned tofu protein, Chipotle may not want to hit them up with an email blast on the upcoming chorizo rollout.
Chiptopia may be billed as a temporary customer rewards program, but does anyone really think the chain will be empty-handed come October?
"It's very, very likely that we'll have something to follow on when Chiptopia ends at the end of September," Chipotle's CFO said during last month's earnings call.
Chipotle went on to admit that it's evaluating an evergreen loyalty program, following in the footsteps of other quick-service darlings such as Starbucks and Panera. The plan at Panera rewards repeat customers with discounts. Starbucks -- armed with 12.3 million Starbucks Rewards accounts -- tweaked its offering in April so it's based on the money spent instead of just the number of visits.
Even if the actual sales have been uninspiring at Chipotle, there is too much to gain by following other leaders in fast casual with card or digital card programs. The second half of the program's run won't be as exciting as the first, but this won't be the end of Chiptopia. Halftime? The game's just getting started.
A secret billion-dollar stock opportunity The world's biggest tech company forgot to show you something, but a few Wall Street analysts and the Fool didn't miss a beat: There's a small company that's powering their brand-new gadgets and the coming revolution in technology. And we think its stock price has nearly unlimited room to run for early, in-the-know investors! To be one of them, just click here.
Rick Munarriz has no position in any stocks mentioned. The Motley Fool owns shares of and recommends Chipotle Mexican Grill. Try any of our Foolish newsletter services free for 30 days. We Fools may not all hold the same opinions, but we all believe that considering a diverse range of insights makes us better investors. The Motley Fool has a disclosure policy.