Is the Department of Justice Killing Obamacare?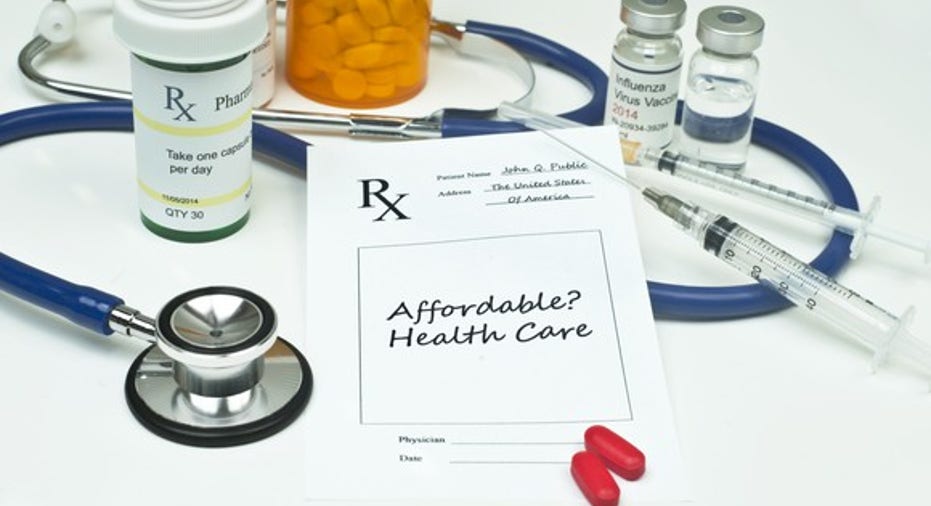 Image source: Getty Images.
The public healthcare exchanges that form the backbone of The Affordable Care Act, affectionately dubbed Obamacare, have been moving in the wrong direction for the insurers providing coverage.Due to mounting losses from individual public exchanges, Aetna (NYSE: AET) is slashing its participation, a move it contends would be unnecessary if it were allowed to merge withHumana(NYSE: HUM).
By revenue, Aetna and Humana are the third- and fourth-largest U.S. insurers, and they're not the only big players trying to get together. The second- and fifth-largest insurers, AnthemandCigna, want to join forces, too, but theDepartment of Justice intends to block both mergers.
The DOJ arguesthat the mergers would reduce competitive pressure to charge lower premiums. That's an easy argument to understand, but Aetna's logic is fuzzy at best. Here's why.
Where does it hurt?
Since Obamacare's rollout in early 2010, all five of the largest insurers are bringing in more revenue, and only Anthem has less profitable operations. Humana's margins have suffered, but its operations churned out 26.7% more profit over the trailing 12-month period than in 2009. Revenue for the largest,UnitedHealth Group, and the smallest, Cigna, has more than doubled, though their margins have contracted somewhat, leading to operating profit growth of about 83% and 67%, respectively.
UNH Revenue (TTM) data by YCharts.
Since Obamacare went into effect, Aetna has outperformed all of its big peers. Its operating margin widened significantly, with operating profit jumping 153% on a 77% increase in revenue. Unfortunately, the healthcare exchanges haven't contributed to its recent success.
Why the exchanges are losers
In California, a state with strong insurer participation, 78% of eligible individuals without coverage ahead of the first Obamacare open enrollment period in 2013 are now insured. That's an outstanding improvement, but this is shocking: Among Californians who still aren't covered, 27% are eligible for Medicaid, and 30% are eligible for Obamacare individual plan subsidies based on their reported income. This means there are heaps of people who can afford healthcare plans but aren't bothered enough to get one.
Given the number of people who won't sign up for (practically) free Medicaid or take advantage of a government subsidy in California, I'd wager the ratio of healthy enrollees to unhealthy (and therefore costly) enrollees signing up on the exchanges nationwide is horribly lopsided.
Lack of participation by the nation's healthier individuals is probably hurting the exchanges more than any other single factor. Adding insult to injury is a woefully inadequate risk-management strategy known as the three "R"s:
Risk adjustment is a permanent feature that involves shifting funds from plans with lower average risk scores to plans with riskier enrollees.
Reinsurance was intended to offset the most expensive patients by pooling funds from all plans to help insurers pay for high-cost claims and mitigate losses.
The risk corridor diverted excess profits from thriving insurers to insurers that suffered losses.
The three "R"s were meant to address insurers' biggest gripes about Obamacare -- namely, that it does not allow insurers to deny coverage based on pre-existing conditions or to raise premiums for policies with higher risk scores.Without the ability to adjust premiums for riskier individuals, insurers had to simply guess what the average enrollee's healthcare costs would be -- and most of them guessed wrong. In 2014, after factoring in all available three "R" payments, losses totaled $2.7 billion nationwide. Meanwhile, the risk corridor proved to be a failure, having paid out only a small fraction of the losses claimed.
Obamacare's risk-management strategy was designed not to cost U.S. taxpayers anything, which meant the federal government couldn't bail out money-losing insurers. As a result, many insurers were left with only two options: raise their premiums dramatically or exit the exchanges.
Reinsurance and the risk corridor were intended to last just three years while insurers adjusted premiums to the right levels. Aetna's recent results suggest it might take longer.
Still getting it wrong
Aetna's percentage of premiums collected diverted to healthcare costs (the medical benefit ratio) suggests it guessed wrong this year. In the first quarter, Aetna's medical benefit ratio was a healthy 77.8%, and management was fairly enthusiastic about the 1.2 million enrolled in its individual commercial business.
What a difference a few months can make. Aetna's medical benefit ratio soared to 83.4% in the second quarter. Although new healthcare exchange enrollees constitute a small portion of the company's 23 million members, they were largely blamed for the rising costs. As a result, management estimates that individual products lost $200 million in the second quarter,enough to lower pre-tax profits by roughly 13% for the three-month period. As a result, Aetna intends to slash its exchange participation from778 counties to just 242 counties next year.
Why not just leave quietly?
Aetna's suggestion that a merger with Humana will result in$1.25 billion in annual synergies by 2018is wonderfully optimistic. Even if the deal goes through, and Aetna achieves those cost savings, mispricing individual plans on healthcare exchanges will still result in losses. Its suggestion that a post-merger Aetna would suddenly become a charitable organization willing to absorb those losses is not very believable.
Aetna's attempt to hold the exchanges hostage if it doesn't get its way seems downright desperate. If I had to guess, I'd say management's hyperbolic posture comes down to the regulatory termination fee of $1 billion that Aetna will have to pay Humana if the deal doesn't go through under certain circumstances.
Image source: Getty Images.
Even if those circumstances don't include DOJ litigation, a failure to merge could get expensive. In order to fund the Humana acquisition, Aetna issued $13 billion in debt this June, triggering a downgrade byMoody'sthat will increase its capital costs in the years ahead.There's plenty of cash on the balance sheet to pay it back if the deal doesn't happen, but Aetna would be required to redeem $10.2 billion at 101% of the aggregate principal amount, plus interest, and a heap of related costs that will hit the company's bottom line hard.
The DOJ might be threatening Aetna's near-term results, but I think weak penalties for remaining uncovered are more harmful to Obamacare's future than any single factor. Raising the shared responsibility payment from a maximum of $285 per family in 2014 toat least$695 per adult this year is a small step in the right direction.Until the penalty exceeds the price of the cheapest available plans, though, expect premiums to continue rising.
A secret billion-dollar stock opportunity The world's biggest tech company forgot to show you something, but a few Wall Street analysts and the Fool didn't miss a beat: There's a small company that's powering their brand-new gadgets and the coming revolution in technology. And we think its stock price has nearly unlimited room to run for early, in-the-know investors! To be one of them, just click here.
Cory Renauer has no position in any stocks mentioned. You can follow Cory on Twitter @TMFang4apples or connect with him on LinkedIn for more healthcare industry insight.
The Motley Fool recommends Anthem, Moody's, and UnitedHealth Group. Try any of our Foolish newsletter services free for 30 days. We Fools may not all hold the same opinions, but we all believe that considering a diverse range of insights makes us better investors. The Motley Fool has a disclosure policy.