Is the Chinese Growth Story Fading for Detroit Automakers?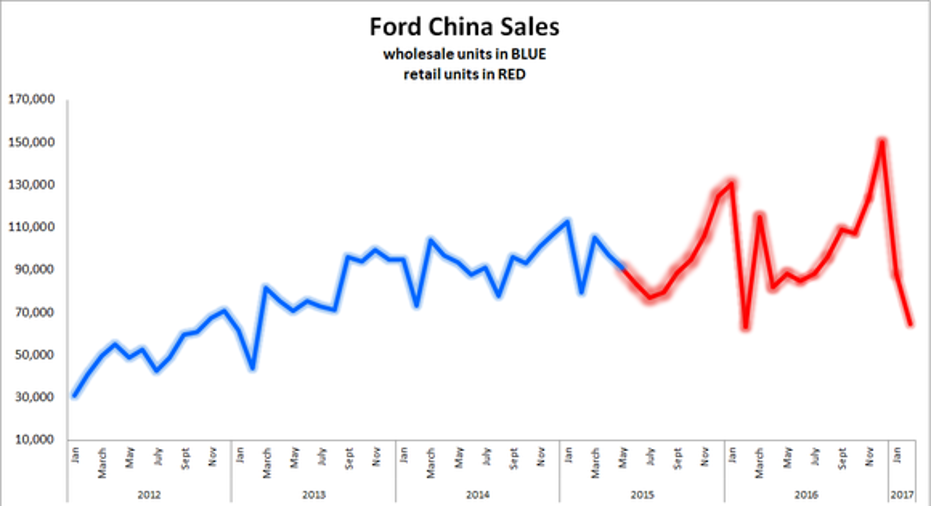 At a time when new-vehicle sales in the highly profitable U.S. market are plateauing, investors have increasingly turned to China for an auto industry growth story. But it appears even that growth story is beginning to lose momentum, especially early in 2017, as the purchase sales tax increased from last year's 5% level to 7.5% on January 1st, hindering demand. Digging into the data, Japanese automakers outperformed their Detroit counterparts; here are some of the highlights.
Say it isn't so, Detroit
Starting with Ford Motor Company (NYSE: F), the folks at the Blue Oval recorded a 2% sales gain during February in China. Unfortunately, that result is actually much more disappointing than it appears at first glance. Due to the week-long Lunar New Year shutdown, which was observed in January, investors were hoping for February to bring a large rebound in sales. That wasn't the case, and Ford's combined January and February results in China were down 21% compared to the prior year.
Image source: Ford Motor Company.
There was some good news in Ford's data, though, as sales of more profitable SUVs continued to rise. Sales of the Ford Edge and Everest were up 20% and 34%, respectively. One curious development to watch will be the response to Ford's pricey F-150 Raptor in China, as the country hasn't typically been a seller of trucks -- but if that changes, it would certainly be a positive for Detroit automakers. Peter Fleet, vice president of marketing, sales and service, Asia Pacific, noted that the early response for the Raptor in China was fantastic. Ultimately, despite a lackluster start to 2017 in China for the Blue Oval, it's trendline over the past half decade has been a consistent trendline higher, albeit volitle month-to-month.
Information source: Ford sales press releases. Image source: author.
Meanwhile, Ford's cross-town rival, General Motors (NYSE: GM), also posted a lackluster sales result in February. GM's China sales moved a meager 0.4% higher compared to the prior year, to 246,730 units. February's small gain couldn't offset January's 24% slump, though, and the automaker's sales for the two months combined were down 15% compared to the first two months of 2016.
The remainder of 2017 will likely be brighter for GM as it just recently launched its Baojun 510, the second crossover for the entry-level and more affordable brand. Up next is Chevrolet's redesigned Equinox crossover followed by a total of 18 new or freshened models that GM plans to launch in China this year.
How about the Japanese automakers?
Honda Motor Co (NYSE: HMC) was essentially the lone bright spot in terms of sales gains. The Japanese automaker posted an 18% gain in sales for the combined first two months of 2017, up to 194,169 units, which was enough to narrow the gap with Nissan and narrowly edge out Toyota. Nissan's deliveries were up 3.1% to 194,241 units during the same time periods, and Toyota recorded a 3.6% decline to 183,600 units. http://www.autonewschina.com/en/article.asp?id=15836
Honda's been on a roll in China recently, with its 2016 sales jumping 24% to 1.25 million vehicles, which was enough to overtake Toyota last year. However, thanks to modest expectations for China's economy this year, even Honda has pulled back on expectations: It expects its sales growth to slow to a more meager 7.4% this year.
Ultimately, investors of Detroit automakers shouldn't be incredibly concerned yet. Despite the sales decline through the first two months of the year being larger than expected, investors knew that with the purchase tax increasing from 5% to 7.5%, some sales demand was pulled into 2016 as consumers on the fence of purchasing a vehicle had incentive to buy before the calendar flipped to 2017. As long as Detroit automakers can continue to increase sales of SUVs, China is still a viable growth story.
10 stocks we like better than FordWhen investing geniuses David and Tom Gardner have a stock tip, it can pay to listen. After all, the newsletter they have run for over a decade, Motley Fool Stock Advisor, has tripled the market.*
David and Tom just revealed what they believe are the 10 best stocks for investors to buy right now...and Ford wasn't one of them! That's right -- they think these 10 stocks are even better buys.
Click here to learn about these picks!
*Stock Advisor returns as of February 6, 2017.
Daniel Miller owns shares of Ford and General Motors. The Motley Fool owns shares of and recommends Ford. The Motley Fool recommends General Motors. The Motley Fool has a disclosure policy.